The 'Hidden Figures' Trailer Is Absolutely Perfect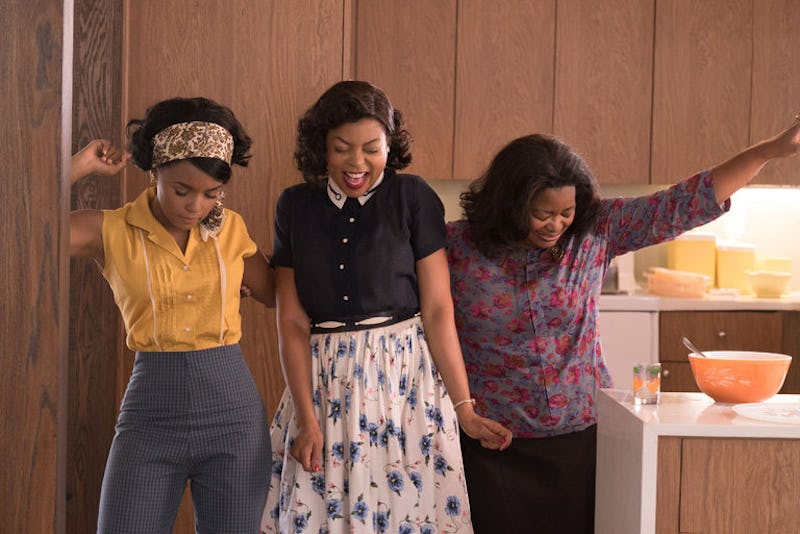 Leave it to the brilliant trailer makers behind Hidden Figures to come up with the perfect song for the perfect movie. I'm such a sucker for anyone who can find right music for a specific occasion, so that might be why the song in the Hidden Figures trailer is getting me all kinds of emotional. But it might also be because the song really does fit the occasion of this momentous movie. Based on the life of three black women who worked at NASA and were the mathematic brains behind the launch that blasted John Glenn into space, Hidden Figures needed a song that could capture these women's amazing contributions. And, really, there couldn't be a more appropriate song than this swelling and classic piece whose title and overall mood capture the feat and failures that these women faced.
The song is "Destiny's Vision" by Q-Factory, and I invite anyone to listen to it within the context of this trailer without feeling starting to well up a bit. Go ahead. Try it. The title alone is enough to get my heart racing with excitement, because these three women were clearly significant figures, striking out and forging their own destiny in the process. But then add the sound of the song's orchestra, building its momentum and volume as the trailer reaches its highest point, and I just turn into a puddle of nerves and goose bumps.
But that's what happens to me when really good music is paired with a really good story. It's why I can't watch So You Think You Can Dance without a sweater on. (All those chills!). The song is from Q-Factory's album Heroic Tales, and I can see why they chose a song like this to include in the trailer. Theirs is a heroic tale, and the song perfectly captures that feeling of accomplishment and exhilaration in these women's journeys to be taken seriously as people and as mathematicians.
The film stars Taraji P. Henson, Octavia Spencer, and Janelle Monae as the three "hidden figures" breaking through the glass ceiling at a time when men — especially white men — were the only ones getting far in science. The film, which also stars Kevin Costner, Kirsten Dunst, and Jim Parsons premieres on January 13, and, judging by this moving trailer, is bound to be epic.
Image: 20th Century Fox