Is 'Miss Peregrine's Home' Scary?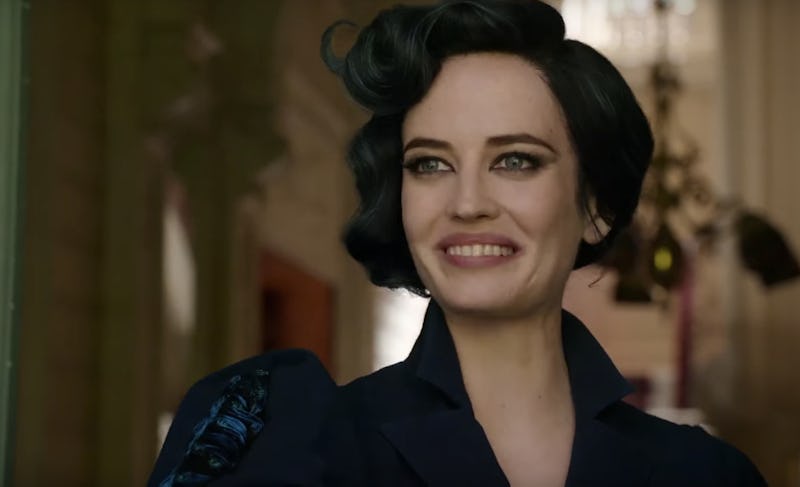 It looks like our favorite spooky director, Tim Burton, is poised for a comeback with Miss Peregrine's Home for Peculiar Children thanks to some newly released images. The upcoming film still has elements of Burton's trademark creepiness but this is no Sleepy Hollow or Sweeney Todd. No, instead, Miss Peregrine's Home looks like an exciting blend of darker fantasy and storybook charm —think more Alice In Wonderland than Dark Shadows. In combination with some thoroughly delightful trailers, these new images from Miss Peregrine's Home promises enough darkness to keep longtime Burton fans happy while not being to scary as to keep younger viewers away. From the looks of these new images, we should all be ready to sink into another fully-realized Burton world, where there's a mix of oddity and fantasy and just enough weirdness to keep us hooked.
Invisible children is unusual white costumes, a girl with a full set of teeth in the back of her head, a young woman capable of manipulating air...While it's easy to mistake Miss Peregrine's Home for an X-Men spinoff, don't be fooled. The children in Miss Peregrine's care live in a constant, well-maintained time loop to keep them safe from some very evil forces. Both the elements of a place out of time and a display of good against evil were the subject of new images released via Entertainment Weekly. I don't know about you guys, but I've been a lifelong Burton fan and this mix between period drama, fantasy and the supernatural delights me to no end.
Now that she's gone Burton blonde for her role as air-manipulator Emma Bloom, I'm excited to see how Ella Purnell squares off against Samuel L. Jackson's very sinister Barron. The two seem locked in an epic duel with Emma literally blowing away her foe. Purnell's be poised to breakout into the mainstream for some time now, putting in her dues in smaller roles in Never Let Me Go and Maleficent. Now, she looks like she finally get center stage and will be able to act as a leading heroine in the story. Can you say, "Heck yes, more Purnell please!"?
How charming is this dining room set though? It looks like that time loop will keep us squarely in the a nostalgic/vintage state of mind if these costumes and set pieces are anything to go by (no objections here). I'm curious to see how the film will actually build on this idea of time freezing and whether there will be any callbacks aside from the costumes and sets to this uniquely WWII-era timeframe the characters are living in.
If there's one major takeaway from these new images, it's that we should get ready to fall in love with the work of Tim Burton all over again. There's little to be scared of with these new images but more than enough to excited about.
Image: Movieclips Trailers/Youtube