How To Feel More Relaxed Before A Date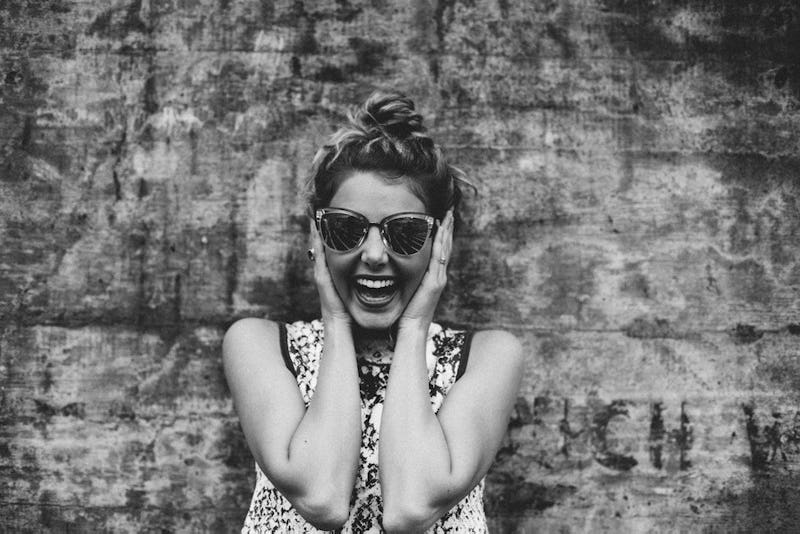 I totally understand that nerves can sit in before a date. Dating can be hard, and it's even scarier when your prospect is someone you might be more invested in or curious to meet. Thus, doing things to relax and feel confident before a date can help you release those butterflies and gain your composure to go in feeling excited and ready to spark conversation and get to know each other.
As a certified health coach, I work with clients on feeling happier and healthier overall, and relationships prove to be a major component in determining their quality of life and connectedness to their community and social surroundings. Having a good support group and making time for social commitments and fun can boost wellbeing and confidence, which can carry over into other areas, such as work and openness to new experiences. While having a nice network of friends, co-workers and family is always beneficial, leaving room for that special someone to be a partner in your life is incredibly important, as it can increase happiness for many people. Instead of letting nerves get to you, use these eleven steps to feel more confident and easy going into the dating scene, so that you can open yourself up to love long-term.
1. Wear Something Comfortable
Feeling constricted or uncomfortable in what you are wearing can make a date harder than it needs to be. For instance, if you're a sweater, wearing something looser or of lighter fabric might be best. Plus, if you are wearing something that you don't feel hot and confident in, then you might become more nervous and insecure throughout the date.
2. Don't Stress About Who's Paying For What
Whether you end up paying or not, don't expect that your date will pick up the check at the end of the night. At the same time, don't stress about who will be spending or how to order, as long as you are prepared to offer to pay either for the whole affair or for your own portion. If you are comfortable paying for yourself, go in feeling confident in your position and abilities and don't fret about the money.
3. Keep Great Posture & Walk The Walk
According to Dr. Stuart Fischer, physician, educator, and author of 'The Park Avenue Diet' in interview with eHarmony, holding yourself tall and proud and keeping a nice, relaxed and confident gait can make you feel more prepared for embarking upon the dating world. Plus, this posing can make you feel more in control over the situation and energized!
4. Listen To Music
Listening to music could hep you feel more relaxed and confident before heading out to a date, says Mark Tyrrell, therapist, trainer and author in interview with PickTheBrain. So, put together a playlist that matches your needs, whether it's a soothing, calming arrangement or an energizing, upbeat, medley that you can dance to.
5. Look At Their Photos Before
According to Chicago based therapist, Chelsea Hudson, LCPC, over email with me, you might notice some excitement for a date if "you were physically and intellectually attracted to them," or "if thinking about them brings an involuntary smile to your face." Looking at some photos beforehand could test out this theory and boost your eagerness to go on the date.
6. Hit The Gym
According to Ron Geraci, New York City-based online dating coach in interview with Match.com, working up a sweat before a date could help set the mood by making you feel more confident in your overall appearance and can release feel-good hormones, endorphins, to calm down the body and enhance levels of happiness.
7. Take Some Deep Breaths
Breathing, yoga and meditation can help relax the body and quiet the mind in order to center the self to focus on the present moment and to stabilize the mood, advises Jonathan Fields, founder of Sonic Yoga in interview with Match.com. Thus, take some deep breaths or do some exercises to calm jitters and start feeling more relaxed and confident.
8. Make Fun Plans Before
Spending time with family or friends before can aid as a distraction from pre-date jitters, it can enhance your mood and make you feel positive, and it can build up excitement about the upcoming date, says Jane Garapick, relationship coach. Do something enjoyable to relax and feel connected to a supportive network in preparation.
9. Recite Positive Mantras
According to Diana Kirschner Ph.D., in an article for Psychology Today, reciting positive mantras regarding love, relationships, dating, and self-love can help boost excitement, comfort and confidence before meeting up with whomever you are set to see. You can say things like, "I deserve love and I will find it" or, "I look awesome in this dress. My date will flip."
10. Look In The Mirror
According to Dr. Joe Rubino on his blog, he says that looking in the "magic mirror" and saying positive affirmations to yourself, while visually seeing your face, can boost self-esteem. This increase will help you feel more confident for the date ahead and more excited to get out there and just be yourself. Do it each day for daily benefits!
11. Have A Glass Of Wine
One glass of wine or a cocktail might be just what you need to loosen up and feel more relaxed, confident and comfortable, according to David L. Katz, M.D., the founding director of Yale University's Prevention Research Center, and the author of Disease-Proof in interview with Today. So pour yourself a drink and mellow out for a bit.
So, instead of letting nerves get to you, do something that will help you feel energized and excited before a date so that you give yourself the greatest opportunity to open up to someone else and see if there is room for potential moving forward. You just might meet the one!
Images: Pexels (12)