Emily Ferguson Seems Single After 'BiP'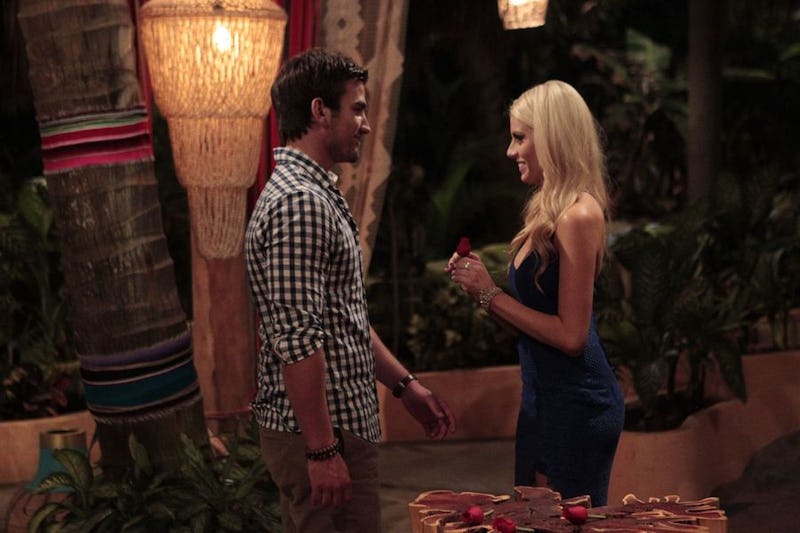 Caila Quinn was pretty much every woman on Bachelor In Paradise's worst nightmare, but especially Emily Ferguson — one half of the professional twin duo got dumped because Jared decided he'd rather hang out with the newly arrived Caila instead. Oh, Emily. Your heart was certainly hurting. But is Emily Ferguson single after Bachelor In Paradise ?
Everything was going just fine between Jared and Emily before Caila showed up. They were hanging out a ton, smooching a little, and generally just seemed to be enjoying each other's company. So when Jared came along to ask Emily if it was OK if he took at Caila, I screamed at my television — no woman wants to know that they're your silver medal, Jared. But that's basically what happened, and, even though Emily asserted her feelings for Jared, he said he wanted to pursue things with Caila and cut her loose. Given a look through Emily's Instagram, it seems like she's still not pursuing love. Her snaps are mostly ads for Sugarbear hair vitamins (like the rest of Bachelor Nation) or pictures with her sister. There are no dudes in her photos that she seems like she could even be remotely dating, so maybe Emily is still getting over Jared.
Jared was super in the wrong not to cut Emily loose the minute he wanted to date Caila. Getting her "approval" wasn't enough. To have Emily sit there hashing out the date with Nick Viall and feeling bad about herself was pretty crummy, and I hope that Jared knows that now. Nick had some advice for her, since he's lost twice on The Bachelorette — he told Emily that it's OK that she feels sad and doesn't want Caila and Jared to have fun. It's just being human! Hopefully, Emily keeps her chin up, because Jared or not, she'll definitely find a man who is worthy of her time.
Images: Rick Rowell/ABC