Evan Is Keeping Secrets After 'BiP'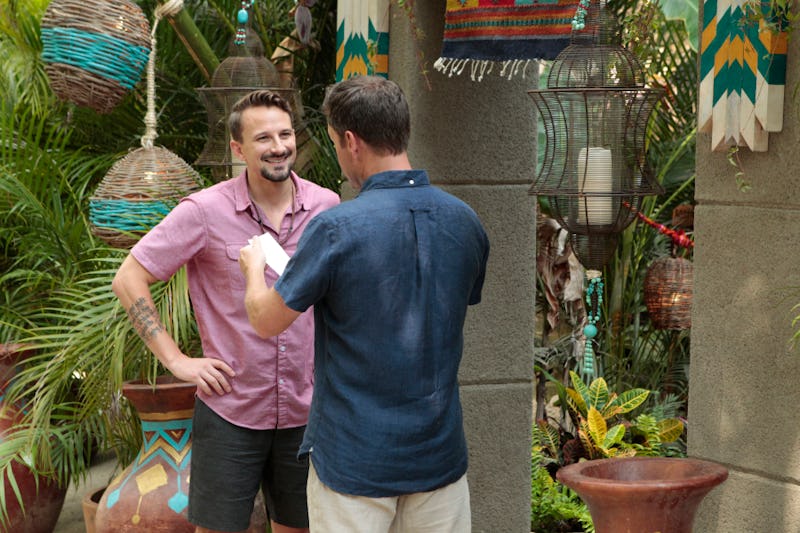 Bachelor In Paradise only lasts for, like, five weeks, so it's no surprise that many of the couples on the show don't make it to the end. Is it really possible to want to marry someone after that long a time, anyway? Evan Bass, who is Chad Johnson's and now Josh Murray's least favorite person ever on the show (but my favorite for calling those guys out), has had his ups and downs on Bachelor In Paradise, and we're only on like the third week. But, is Evan single after Bachelor In Paradise?
Evan seemed to start things off pretty nicely with Carly, but that went south as soon they were forced to kiss for way too long a time. There was a reason for it — Carly and Evan went on a date where they had to eat some habanero peppers and then kiss for as long as possible to make it into the Guinness Book Of World Records. Yes, there is a record for kissing with habanero juice in your mouth. Who knew? Anyway, Carly threw up afterwards, and that pretty much cemented Evan's fate in the "friend zone." I can't say I would see barfing after a kiss as a good omen.
Rejected, Evan then tried to get together with Amanda, and that didn't work, since she was too busy sucking face with Josh. Carly did choose him again for a rose, but considering she said how gross he was and that the rose was "platonic," I don't see great things happening for them.
Luckily, social media exists, and I peeked through Evan's to see if there are any clues about his relationship status online. Unfortunately for us, there really aren't. Instead, Evan is posting cryptic messages about his life and Bachelor In Paradise.
Here's A Winnie The Pooh Quote
Evan will never let Chad go. Ever.
When He Gives Zero You-Know-Whats
I think it's good for Evan to not care about what people think about him (minus Carly, since he's obvious in love with her).
Or He Hangs With His Kids & Bachelorette Bros
Basically, I have no idea if Evan is single or not. If he keeps his shock-and-awe campaign to get Carly to fall in love with him, Evan may come home with a new woman, but she doesn't seem that receptive just yet. They both live in Nashville, though, so there's something to be said for actual real-life convenience. In any case, Evan's social media gives no indication of whether he's in love or not, so we'll just have to wait until the end of Bachelor In Paradise to find out.
Images: Rick Rowell/ABC