'The Get Down' Gets Creative With Disco's History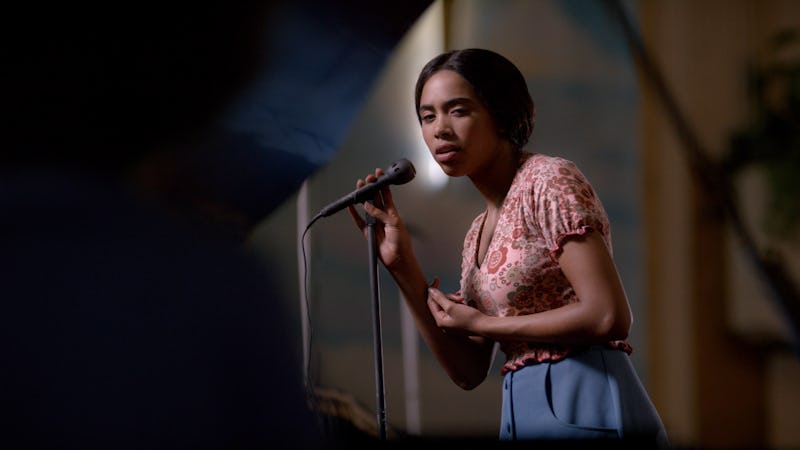 In the Netflix series The Get Down, a group of original characters find their way through the 1970s Bronx music scene. And while most of the characters are DJs or MCs helping to form hip hop, the female lead, Mylene Cruz (played perfectly by Herizen Guardiola), has a different dream: to become a disco star. Clearly, disco was very real, so are Mylene and the Soul Madonnas a real group? Well, let me be clear: these characters are fictional, and so is their disco soul group. But that doesn't mean you can't learn anything about musical history from The Get Down. One of creator Baz Luhrmann's best qualities is his ability to make thrilling musical sequences that make you feel like a part of the contemporary audience. In Moulin Rouge! he achieved that effect by pairing modern music with the period setting, while The Get Down does this by creating original songs that feel like they could belong to this period.
Mylene, who breaks away from a religious upbringing in order to pursue her musical dreams, forms Mylene and the Soul Madonnas with two of her friends after they realize they have amazing musical chemistry. By the end of the first part of The Get Down, (spoilers for the first six episodes) the group has a hit song, "Set Me Free," and a record deal to go along with it. If Ezekiel represents the nascent rap scene and DJ Shaolin Fantastic the intersection of hip hop and the city's existing rebels like graffiti artists, then Mylene and the Soul Madonnas are a demonstration of exactly what the musical establishment was already like.
The series had several rappers and MCs behind the scenes in order to make sure that the gestation of hip hop was treated accurately. But there was no such attention needed for the disco portions of the show's musical history, since at this point, disco stars like Donna Summer were already incredibly popular (not unlike Misty Holloway, Mylene's fictional idol).
And "girl groups" like The Supremes may have been off the charts at this point, but they certainly could have served as an inspiration for Mylene and the Soul Madonnas when they were younger. Vulture theorized that Mylene's synthesis of spirituality and disco could be inspired by Loletta Holloway and/or Albertina Walker, who sang both popular music and gospel music over the course of their careers.
Mylene and the Soul Madonnas were never a real group, and "Set Me Free" was never a real chart-topping hit. But by using real musical influences of the time and showing exactly what it takes to turn a disco song into a sensation, The Get Down makes viewers feel like Mylene Cruz was a real star.
Image: Courtesy of Netflix