Here's How To Upcylce Your Kylie Cosmetics Package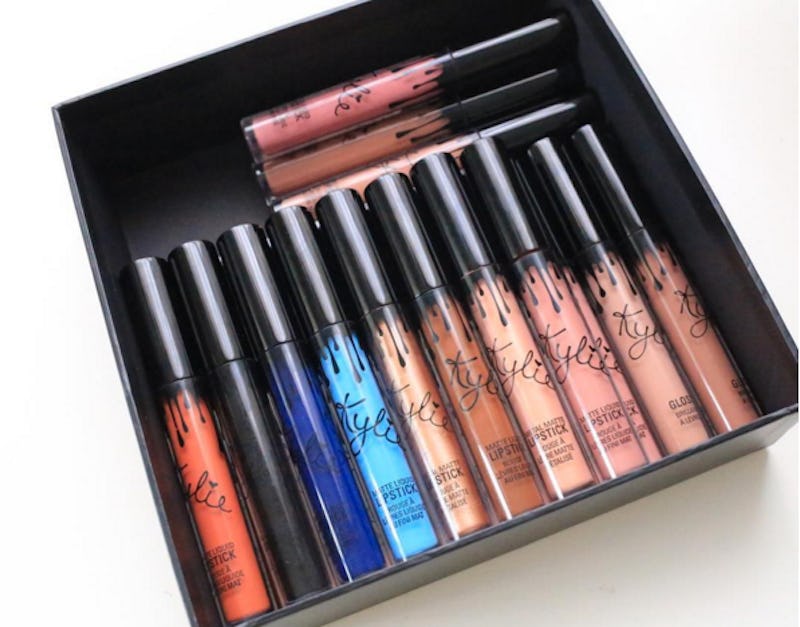 I'm a sucker for great packaging. And even though it isn't always the greatest method of saving space, if I like a box, I'll keep the products in it. Is it a pain to have to practically unwrap the items I use everyday as if they are brand new? Yes, but I'm willing to do it for amazing design. It's all about aesthetic, you know? But there's a way to use the Kylie Cosmetics packaging long after your shipment has arrived without taking up too much room.
Kylie Jenner's made some updates to her packaging and now the shipments are sleek and black on the exterior and filled with the iconic dripping logo on the interior. A fan of the brand showed a way to use the boxes as storage on Twitter, and honestly, it's a pretty genius storage solution if you ask me.
All you have to do is remove the top part of the box and you've created little drawers that you can slide in and out of your vanity or easily place on a bathroom shelf. Perfect! Plus, if you didn't snag the limited edition makeup bag, then this is the next best thing. You can keep the Kylie Cosmetics logo and still have your makeup tucked away. So, if you've got those packages on hand (and you know you do!) then get those scissors out and start saving space in a super cute way!
This works especially well if you've got a lot of Kylie Cosmetics products to store. Because where else would you put all of those Lip Kits, you know?
This many products can easily get out of hand when left loose in a makeup drawer.
But, you shouldn't have to sacrifice your love of lipstick just to save space.
This box method makes it super simple to keep all of your Kylie Cosmetics products in a safe place.
It's nice to know that you've got the perfect excuse to never throw this beautiful delivery item away. The more organized the makeup, the better, after all.
Images: kyliecosmetics/Instagram (1)