How To Get The Most Out Of Your Hair Appointments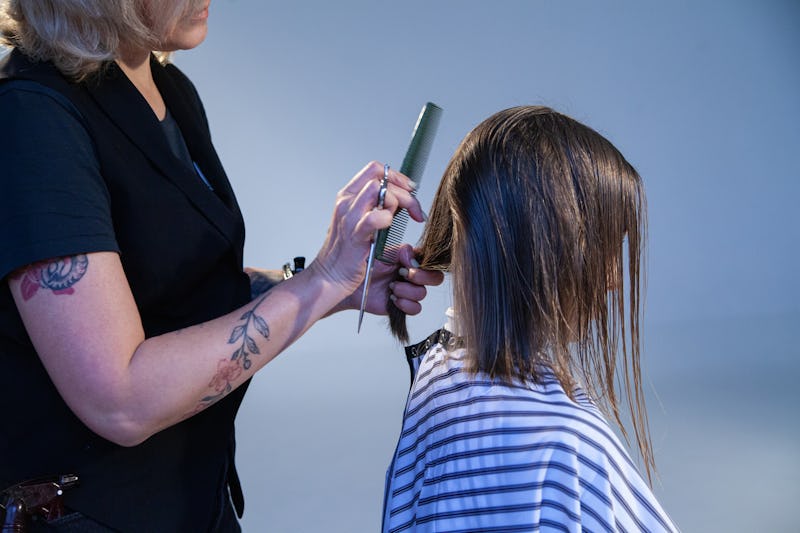 Iuliia Isaieva/Moment/Getty Images
You truly haven't lived until your trusty hair stylist since seventh grade suddenly packs his scissors, quits the salon, and basically destroys everything you've built together. This is when panic mode sets in: who will tend to my tresses now? The relationship between a client and her hair stylist is a personal one, which is why you want to make sure you're getting the best hair appointment experience possible.
BFFs and significant others are important, of course, but the relationship you have with your beloved hair stylist is something else entirely — they're the one working magic with combs and blow dryers to create the 'do of your dreams. You trust them to know your hair type, preferred style, the amount of inches to chop — all the intimate details, you know? You're essentially placing the fate of your locks in their hands, and it can be risky.
Luckily, the secret to making the best of your hair appointment is out — or shall I say, secrets. Bustle spoke to two professional hair stylists and got their advice on how to properly navigate salon etiquette. So, let's say you just booked an appointment with your stylist — you might think there's no prep required, but you'll be surprised at the number of ways you can elevate your experience from zero to hundred. Time to take some tips from the pros themselves.
1. Be Specific About What You Want
Give material for your stylist to work with — you can't expect them to know what exactly you have in mind. "Bringing a reference photo is always great since clients don't always know the correct terminology — partial highlights, half-head highlights, double process, ect. A photo reference will ensure both you and your stylist are on the same page," Bumble and bumble colorist Amelia Trammell tells Bustle over email. "Love it when a client brings a picture – it's never insulting or blocking creativity. It's great to be able to have a clear direction," adds David Babaii, Vive celebrity hair stylist.
2. Start With A Consultation
Salons offer numerous services, with everything from foil highlights and partial perms to color correction. If you're unsure of which service to spring for, Trammell suggests scheduling a consultation in advance. "Always book a consultation so you and your stylist are on the same page as far as timing, price and maintenance," she recommends.
3. When In Doubt, Book More Time
"I personally would always prefer an appointment booked with extra time as it's never good to rush a stylist," Trammell says. In doubt of how long to make your appointment? Allocate for more time just in case — it's better to be safe than sorry, especially when it comes to your beloved tresses.
4. Always Plan Ahead
What's the best way to maintain your blowout or 'do post-salon session? Plan ahead. "Avoid working out right after. Think about going to the gym beforehand and having your blowout scheduled on a Friday, knowing that you won't have major activities over the next couple days so it lasts longer," Babaii advises.
5. Tipping Is Generally The Same Everywhere
Speaking generally, tipping etiquette is the same everywhere. Trammell suggests tipping 18-20 percent if you feel that you've had quality experience and are happy with the finished result.
6. Wet Hair Is A No-Go
Whatever you do, try not to walk into your appointment fresh out of the shower — or with wet hair, at all. "When you're having a consultation and we're talking about what you want to do with your hair, I can't wash it — I have to look at it dry when you come in," hair stylist Mirna Jose told InStyle. "Unless I already know you and I know what you want, I have to see it dry, and I have to be able to feel it."
7. Build A Relationship With Your Stylist
Establishing a relationship with your stylist will be crucial in the long run. After all, they know your hair the best and the two of you will have to work together to craft your desired look — it's a two-way street here, and communication is especially vital. For Babaii, his job as celebrity stylist has enabled him to travel the world and work with talent of all backgrounds. "One of the most interesting things that has happened to me on the job is when I was doing a shoot with Angelina Jolie and she introduced me to beach spray. At the time, I had no idea that it can create so much volume. It was just water in a bottle with salt! It was fascinating and also amazing to be able to get feedback and learn from a client."
Images: Getty Images (4); Giphy