The Force Is Strong With This 'My Last Days' Star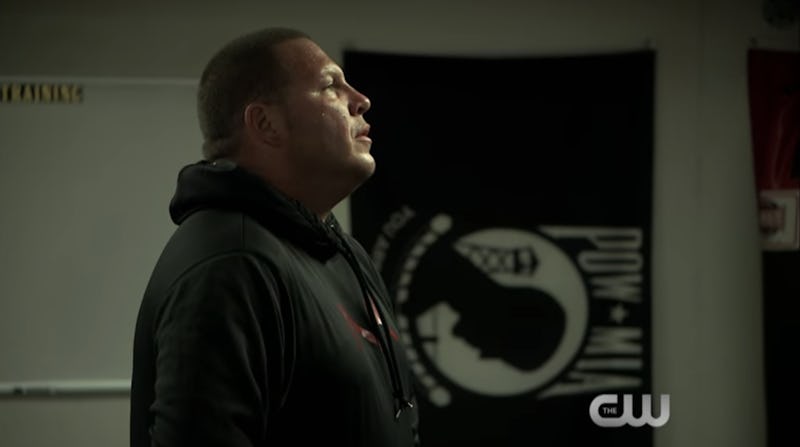 The Darth Vader from the Star Wars saga is known as one of the most villainous movie characters of all time. However, you won't be afraid of the real-life Darth Vader (yes, there really is one). In fact, this Darth Vader, who is featured in the first episode of the CW's three-part documentary series My Last Days , will make you feel all warm and fuzzy inside.
That's because this series, which kicks off on Wednesday, Aug. 17 at 9 p.m. ET on The CW, profiles individuals who are living with terminal illness but who are courageously living their lives to the fullest regardless of their circumstances. Darth is one such person, and believe it or not, his name is just the tip of the iceberg when it comes to why he's so fascinating.
And that's why you should get to know a little bit more about Darth now before My Last Days airs because there's only so much that can fit in one episode. Get yourself ready to meet Darth during the premiere of My Last Days by finding out a little bit about his background below. You'll soon realize that Darth's life story is so amazing, it could probably fill a whole movie — or seven and counting.
Yes, His Name Really Is Darth Vader
Not so long ago (about 44 years) in a galaxy not so far, far away, Darth was born as Eric Welch. But about two years ago, he decided to legally change his name to Darth Vader, Rochester's Democrat & Chronicle first reported. Yup, that's the name that's on his driver's license.
Unsurprisingly, Darth has long been a fan of the Star Wars franchise, and he also identified with the Dark Side while watching the films. "They had better weapons, better vehicles," Darth told the Democrat & Chronicle in December 2015. "I just gravitated toward Darth Vader, he was the man. He carried an aura of leadership, toughness and didn't say much to get his point across."
He's Got His Own Battle To Fight
Darth, who hails from Canandaigua, New York, has been battling leukemia for the past 14 years. He has undergone 13 surgeries, several rounds of chemotherapy, and bone marrow biopsies. Darth continues to live with the long-term effects of his chemotherapy treatments, which include memory loss, fatigue, permanent hair loss, chronic headaches, and emotional stress, according to the description of a GoFundMe page established to help support the cost of his bone marrow transplant. One of his legs also requires below-the-knee amputation, according to a Wayne Post article published in May. A Crowdrise campaign has also been set up by one of his friends to help offset the cost of the amputation.
He Was A Marine, Not A Stormtrooper
Darth Vader led the Empire in an attempt to crush the Rebel Alliance in the Star Wars saga, and this Darth has some military experience as well. He once served as a Marine, the Democrat & Chronicle reports. Since then, Darth has also worked as a handyman and in security. He went on to own Allegiant Fitness, a gym in Canandaigua.
The Force Is Strong With This One
As the Darth Vader from Star Wars would do, Darth has laughed in the face of danger and has accomplished some major physical feats in spite of the setbacks he has experienced with his health. Darth has competed in more than 50 Tough Mudder competitions, as well as 37 half-marathons, according to a CW press release announcing the premiere of My Last Days . Now that is badass.
Darth Is Her Father
Darth has a daughter in her 20s, Alexis Welch, who was also filmed for My Last Days, according to a photo posted on his Facebook page. She has also competed in several Tough Mudder competitions with her dad, the Democrat & Chronicle says.
He Dresses The Part
Not only does Darth channel the Star Wars character by wearing a gas mask while participating in his intense competitions, but he also dresses up in full Sith Lord garb at local events to entertain attendees for free, according to the Democrat & Chronicle.
Now just tell me this Darth doesn't have the biggest heart you've ever seen.
Images: The CW; Giphy