Jared Could Leave 'Bachelor In Paradise'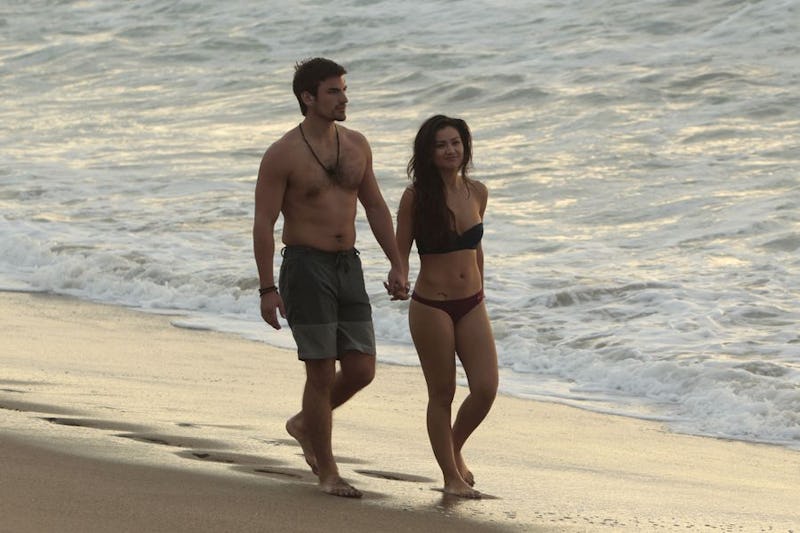 Tuesday night's episode of Bachelor in Paradise has me feeling for so many people, and all of them are in the Caila/Ashley I./Jared love triangle of death. Ashley's sad about Jared being into Caila, Jared's stressed out about Ashley being sad, and Caila's just kind of caught in the middle. And, when Ashley and Jared got to talk about the situation and Ashley confessed that she's worried she'll never find anyone she feels as deeply for as she does for him, Jared announced that he was ready to pack up. So will Jared leave Bachelor in Paradise ? It seems possible, but at this point, anything could happen.
In fact, during their chat, he seemed fully convinced on the idea of heading home early. And honestly, can you blame him? He's just trying to find love with someone, breaking hearts left and right, and it seems like a pretty volatile situation. Who wouldn't want to book the first flight home and hightail it out of there? But I'm not so sure that's going to happen. In the promo for next week's eps, Jared is still very much in Paradise, and possibly about to experience his own heartbreak. Seems like he's sticking around, at least for a little while longer!
Plus, I really don't want Jared to go. Admittedly, he's not my favorite guy in Paradise — that is an award that belongs to Nick Viall and Nick Viall only — but he definitely keeps things interesting. And, if he and Caila do end things, I have a feeling Ashley will be there to pick up the pieces.
Jared, please don't go! I mean, we've already lost one contestant this season outside of a rose ceremony (Chad, duh) so can we really afford to lose another? It will be OK, dude. Just stick around and see what happens.
Image: Rick Rowell/ABC