The 11 Best Angelina Jolie Outfits From The '90s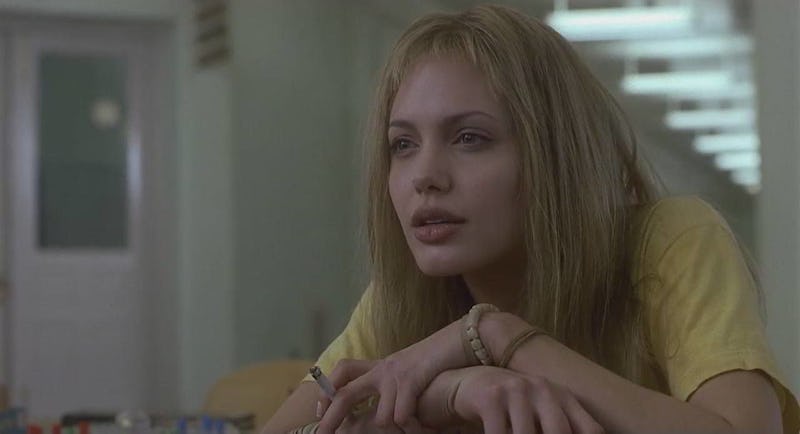 Human rights activist and actor Angelina Jolie may not be best-known for her sense of fashion — nor should she be, per se — but she's always kept things timely when it comes to personal style. Angelina Jolie's best outfits from the '90s and early 2000s may not be the most notable aspect of her time in the public eye — considering she has a career spanning over 20 years, a string of charitable achievements, and uncountable red carpets under her belt — but they're certainly worth remembering anyway.
Originally beloved for her gothic, vampy style when she broke onto the scene in the late '90s wearing vials of blood on the red carpet and showing off her ever-increasing tattoo collection, the UN Ambassador is better known today for making an impact with her work as a human rights activist and philanthropist than for her once-controversial sartorial decisions.
But that doesn't mean we can't take the time to step back and appreciate the looks served in decades gone by. Jolie may have ruffled a few feathers back in the '90s, but looking back, many of her style decisions seem totally on-point as opposed to outlandish. From red carpet satin-clad glamour to leather trousers and bejeweled chokers, the 11 looks below are certainly wearable in 2016.
1. The Metallic Trench In Hackers
Rocking cyborg chic as a teenage hacker, Jolie's iridescent lip and oversized metallic collar look was just as at home on the silver screen as it would be on our smartphone screens while scrolling through Instagram.
2. As A Bleach Blonde In Girl Interrupted
The peroxide locks paired with a barely-there, super micro fringe fill me with green-eyed envy for every time I've mistakingly messed up a home hair-dye job.
3. Sporting Drawn-On Eyebrows In Gia
In 2016, it's rare to see a bare brow. Although Jolie's take on the full-brow look way back in '98 may seem a little OTT, her resting bitch face helped her pull them off for sure.
4. The Gothic Slip
From the spaghetti straps to layers of dreamy black tulle, this red carpet look saw Jolie effortlessly juggle goth undertones with elegance.
5. The Shimmery Halter
Crystals and glitter never go out of style.
6. All Black Everything
If in doubt, wear black. As an all-black-everything kind of gal myself, the enduring appeal of the darkest color is completely timeless in my eyes.
7. The Pleated Mini Skirt In Mojave Moon
Proving that no short skirt is too short, this thigh-scraper would be a welcome addition to my modern-day wardrobe.
8. The Satin Evening Gown
Every girl should arguably have a princess dress in her closet (provided she wants to). Despite Jolie's usually laid-back style, she nailed this aesthetic.
9. The Leather Pants
The increasing influence of BDSM and S&M in fashion cannot be missed. While Jolie's original effort may have included the undeniable early '00s bootcut flare, her black leather pants would still qualify as totally in.
10. The Bejeweled Choker In Original Sin
Chokers are everywhere right now, from tattoo styles to dog collars. But here Jolie gave the accessory a sophisticated slant.
11. The Scarlet Pout In Gia
Because there's nothing more classic than a good red lipstick.
With an almost equal number of her most memorable and wearable outfit decisions coming from both onscreen while acting and off-screen during public appearances, it's undeniable that Jolie is an extremely well-dressed woman. And while she may have personally left her '90s and early '00s wardrobe at the back of the closet, I'll definitely be pulling some style tips from her previous wardrobe decisions.
Images: Columbia Pictures (1); United Artists (1); HBO (2); Initial Entertainment Group (1); Metro-Goldwyn-Mayer (1)