The New 'Ben-Hur' Could Come Back For More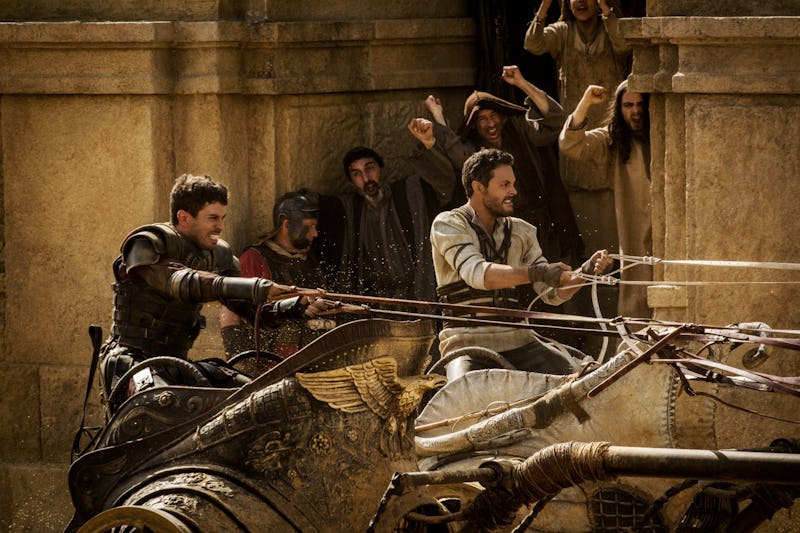 There is nothing Hollywood loves more than a remake. It's true — it seems like every other day, there's news of a movie being remade or rebooted. Not that I'm complaining, as I was a huge fan of the new Ghostbusters, for instance, but sometimes there are certain movies that shouldn't be remade, ones that seem so perfect and pure that they must be left untouched. That never really stops Hollywood, though, so here we are with a remake of Ben-Hur the 1959 classic that's amongst some of the top films of all time. And the remake, in theaters on Aug. 19, might only be the first step in bringing the original movie back to life — a Ben-Hur sequel could happen, if this new movie does well at the box office.
Based on the 1880 novel Ben-Hur: A Tale of the Christ, the 2016 Ben-Hur is the fifth film adaptation of the text. The most prominent adaptation is, of course, the 1959 Academy-Award winning film Ben-Hur. According to Slashfilm, this upcoming iteration of the film is technically a "reimagining" since the rights to the 1959 film are not available, but the novel is in the public domain. Therefore, while it might not be a shot-for-shot remake, certain elements definitely remain the same. So if it's not a "traditional" remake, perhaps the filmmakers took some liberties to leave storylines open for a sequel, and it seems quite possible that a follow-up film will happen.
As of right now, no one from the film or studio has come forward with any affirmation of a sequel, and it's possible they're waiting for the film's release and box office numbers before making any type of decision. Yet much about the film and its ending suggest that if there were to be a sequel, it would most likely be drastically different from the premise of the first movie, but still just as exciting. After all, Ben-Hur takes place during a tumultuous period in history, a time where religions clashed and the Romans were in power. It would be interesting to see what the filmmakers could do with a sequel in that regard, as there's surely enough excitement from that time period to keep audiences entertained.
And while author Lew Wallace did not write a sequel to the original novel, there is an "unofficial sequel" out in the world. Messala: The Return from Ruin, written by Lois Scouten, focuses on Messala post-race and follows his journey of self-discovery. It'd be a nice twist to see a sequel to the movie not actually focusing on Ben himself, but on his brother, Messala.
I would welcome any type of sequel, however, because it would truly be an original piece of workm and there's surely plenty of characters and material to expand upon. Whether or not a follow-up does happen, the re-imagining of Ben-Hur is sure to be an exciting one.
Images: Giphy; Paramount Pictures