TV Bands We All Wish Were Real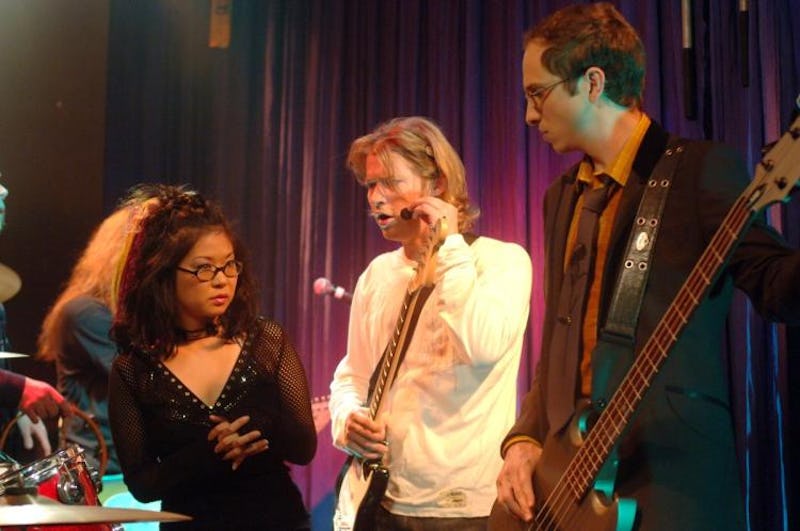 In the past, when music and television have collided, it's resulted in some of the best fake musical acts ever created. These made for TV bands may not be real, but it's hard to deny that the music they create often happens to be really, really good. Or, at least, very memorable. These well-crafted songs are sometimes as amazing, if not better, than the pop songs that you hear on the radio — and it probably helps that these bands have been created by professional writers who are working hard to write the perfect song. But, nonetheless, it worked, and has given us some great musical TV moments in the process.
These 21 musicals acts from TV — which include unforgettable bands, duos and solo artists — were created with great care and are often inspired by the real things. There's more than one boy band on this list that will have you drawing comparisons to One Direction or the Backstreet Boys, that's for sure. But, most are just spot-on parodies of the real thing, like The Beets from the Nickelodeon carton Doug being a funny take on The Beatles and the Bill Hader and Fred Armisen-created soft rock band Blue Jean Committee being a very believable Steely Dan cover band.
But, the joke isn't on these television show, since the acts they've given the world may actually be better than the acts they're poking fun at. Funny how that works. Though, I'm sure that was the point.
1. Hep Alien, Gilmore Girls
This indie band from Stars Hollow truly rocked Kyle's house party while his parents were away, and then went on to rock the world — or, at least, a lot more of the Connecticut area.
2. Mouse Rat, Parks And Recreation
The legendary local band of Pawnee, Indiana had a classic on its hands with "Sex Hair," a beautiful mess just like actual sex hair. But, "5000 Candles In the Wind," an the band's ode to the late great mini-horse Li'l Sebastian, is what these guys will be remembered for. Surely, Li'l Sebastian up in horsey heaven would agree.
3. The Beets, Doug
This British pop band from Liverpool gave the Fab Four a run for their money with hook-laden tracks like "Killer Tofu" and "I Need Mo' Allowance." Too bad that banana ended up breaking them up.
4. Jessie And The Rippers, Full House/Fuller House
Jesse Katsopolis' band made us all swoon with his cover of the Beach Boys' "Forever." Unfortunately, that wasn't how long Katsopolis was meant to be with his namesake band. A falling out would leave him to start the band Hot Daddy and the Monkey Puppets, which, unlike Katsopolis' hair, never really gelled. Now he works as the music composer for General Hospital, but there's still hope he reunite with the old band for one last world tour. I hear they're still very popular in Japan.
5. Boyz 4 Now, Bob's Burgers
This boy band make all the girls lose their minds — even little Louise Belcher. While we're all sad to hear that Boo Boo is leaving to go solo, like One Direction after losing Zayn Malik, these guys will be going on with the show. At least 4 now.
6. Drive Shaft, Lost
This band led by brothers Charlie and Liam Pace was at its best with its chart-topping single "You All Everybody." Unfortunately, it was the band's only hit before the untimely loss of Charlie in a tragic plane crash off a remote island in the South Pacific Ocean.
7. Zack Attack, Saved By The Bell
These high school friends started out in a basement and ended up selling out stadiums. Not to mention, found a fan in legendary radio host Casey Kasem. It wasn't always easy balancing friendship and music, but in the end Bay Side-based band of Zack Morris, Kelly Kapowski, A.C. Slater, Samuel "Screech" Power and Lisa Turtle, their bond lived on. Friends forever, never forget it.
8. 2Gether, 2Gether
As this boy band taught us back in 2000, U+Me=Us, which also happens to be the perfect equation for a pop hit.
9. Subtle Sexuality, The Office
With "The Girl Next Door," the duo of Kelly Kapoor and Erin Hannon from Scranton, PA basically created the best song Taylor Swift didn't write and gave all the girl next doors a much-needed anthem to listen to while they eat their ham sandwiches in their office nooks.
10. The Rocking Knights of Summer, Wet Hot American Summer: First Day of Camp
Eric, a reclusive musician with no last name who lives at Camp Firewood and happens to look a lot like Chris Pine, gave us this hit song that's been saving friendship since the summer of 1981. Sounding like the golden god he clearly is, Eric would unfortunately only have one hit before mysteriously disappearing. Luckily, this song still continues to soundtrack training montages today.
11. Dr. Teeth And The Electric Mayhem, The Muppets
These guys and girl (hey Janis!) have been rocking for years — since 1975, to be exact. No easy feat being that this psychedelic band's drummer Animal can be, well, a bit of an animal. But, perhaps they may be ready to get back out there. They recently played the Outside Lands Festival in 2016. Unfortunately, it was their one and only stop on their world tour.
12. The Blowholes, The Adventures of Pete and Pete
As little Pete taught us, if you love a song and can't find a copy of your own, you may as well form your own band. The band may have only had one song in its repertoire, but boy, was it a good one. That's one thing I know for sure.
13. Robin Sparkles, How I Met You Mother
Tiffany ain't got nothing on this Canadian pop star, who made you crave an Orange Julius and wish you had a cool robot friend with her hit single, "Let's Go To The Mall." Rock your body until Canada Day indeed, eh?
14. Josie And The Pussycats, Josie And The Pussycats
This all-female trio, known for their leopard print costumers, weren't just a great band, they also happened to be great at solving capers. Someone should definitely get these women their own show.
15. Mystik Spiral, Daria
The grunge band Mystik Spiral had a way with words. Lead singer Trent Lane sang about love feeling like a punch to the face on "Ow! My Face" and an angel in black who is just plain cold on "Icebox Woman." It's too bad that Trent was way too lethargic to keep the band going.
16. Phoebe Buffay, Friends
This coffee house folk singer, known for her gigs at Central Perk, may be best known for her song "Smelly Cat," about a certain foul-odored cat — seriously, what were they feeding it? — but a good cold made it clear she had a lot of range in that voice of hers.
17. California Dream, California Dreams
These high school friends looking to channel the Beach Boys made songs about surf dudes with attitudes and not wanting to be woken up when they're dreaming. While they would say goodbye to the limelight in 1996, the band, which looks it hasn't aged a day, reunited for one last performance on Late Night With Jimmy Fallon 2010. Surf was definitely up.
18. Hell Hath No Fury, Degrassi
Degrassi had its fair share of bands — The Zits, Downtown Sasquatch — but it's this angsty band of girls that stands out for taking on the patriarchy with guitars and boyfriend shaming tracks like "Mr. Nice Guy." The band solidified that it is true what they say: Hell hath no fury like a woman scorned.
19. Crucifictorious, Friday Night Lights
Your mom probably wouldn't like this Christian speed metal band from Texas, but she'd likely love the band's lead singer Landry (not Lance) Clarke, who totally has never accidentally killed anyone.
20. Blue Jean Committee, Documentary Now!
This classic yacht rock band from Chicago featuring Clark Honus and Gene Allen sang songs from a blue collar state of mind. But, the two didn't always see eye to eye, something the band's seminal documentary showed fans. It's why just like that Catalina breeze though, these guys were gone too soon.
21. Frozen Embryos, My So-Called Life
Lead singer Jordan Catalano may remind some fans of that guy who fronts that band 30 Seconds to Mars. I think he's name is Jared Leto, maybe? But, whatever, this guy is totally cooler, representing for all the slackers out there who just want to rock. But, don't be confused; that song "Red" isn't about some girl, it's about his car. Trust me.
After reading this, you may wish these bands were real and who can blame you. That's why I won't say you can't love these musical acts like the real thing. In fact, it's a compliment to the writer who created them.
Image: Warner Bros.