The Real Music Behind 'Vinyl's The Nasty Bits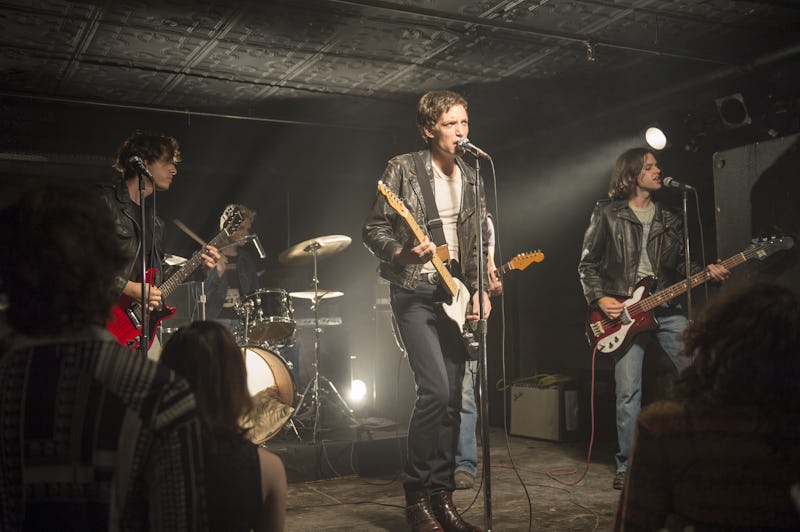 The new HBO series Vinyl manages to blend real music icons into a fictional story, all while chronicling the changing 1970s music industry. Part of the realism comes from the fact that rock legend Mick Jagger co-created Vinyl , along with Oscar-winning director and music documentary veteran Martin Scorsese. Fans of the series are starting to pick away at which plots, characters, and music are inspired by real players in the music industry. So they may already be wondering if Vinyl 's The Nasty Bits are a real band.
The proto-punk band is led by troubled frontman Kip Stevens, a fictional character played by Mick Jagger's 30-year-old son, James Jagger. But before you say nepotism, understand that as far as casting goes, James was pretty perfect for the part. In addition to coming from a family of rock 'n' roll royalty, the young Jagger is an actor and musician who fronted punk band Turbogeist, according to his interview with Billboard. In another interview with Billboard, Mick Jagger commented on casting his son, saying, "when I saw the role was being ­created, I thought, 'Well, wait a minute. They're ­looking for a guy who likes this kind of music, can play it, and can act as well.' He loves that kind of music ... So I thought I'd put James into the mix. I'm very pleased with him."
So while technically, The Nasty Bits are not a real band in that their members are fictional creations and the band itself did not exist in the '70s, they are made up by actual musicians. And there are many more real qualities that make the group so great on Vinyl. Here's what you should know about The Nasty Bits — best absorbed by reading about them while listening to "Rotten Apple."
The Band Itself
As an up and coming punk band, The Nasty Bits needed to appear young, broke, and unwashed. Enter Brooklyn's Beach Fossils. According to Pitchfork, the real band Beach Fossils was cast to perform with Kip Stevens, though the members have no previous acting experience. Founder Dustin Payseur told Pitchfork, "For the most part, [the directors] just said, 'Play like you're losing your mind.' And I said, 'I know how to do that.'"
The '70s Sound
According to Vulture, some viewers were questioning if The Nasty Bits sounded a little "too punk" for 1973. But, Vulture pointed out that, "This episode also drops references to 'Iggy' and 'Lou,' partly to remind sticklers that the Stooges and the Velvet Underground were very much a part of the musical conversation in the early '70s."
Real Musical Influences
In James Jagger's Billboard interview, he said he was inspired by '70s musicians when preparing for the role. "I don't know them personally, but there were people in the punk scene I could identify with for the role: Stiv Bators, Iggy Pop certainly, Richard Hell, Johnny Thunders maybe — a little bit of his attitude," he said.
Creating The Songs
Because The Nasty Bits didn't actually exist in the '70s, someone has to create their music, and James told Billboard that he wrote some of the pilot's songs with his Turbogeist bandmates, and have gotten help in the creative process from other musicians.
[Sonic Youth's] Lee Ranaldo was kind of producing it with these fantastic musicians: Wayne Kramer [of The MC5] played guitar on one track, and [New York Dolls'] David Johansen did vocals for the Dolls stuff [that the show uses]. We tracked them at [Jimi Hendrix's Manhattan studio] Electric Lady, which was such a surreal experience."
Making "Bored Stiff"
When Richie Finestra hears the song "Bored Stiff" on Vinyl, he knows he has to sign The Nasty Bits. Pitchfork delved into the history of this real song, performed by a fake band, reporting in the same article that it was written by "one of those great bands that almost got lost to history, the proto-punk outfit Jack Ruby." The mid-'70s band never released music commercially, Pitchfork explained, but in 2011 a CD of their demos was released and noticed by Vinyl music supervisor Randall Poster, who thought it worked for The Nasty Bits.
With so much music history in every song, I can't wait to hear what else Vinyl has in store for fans this season.
Images: Macall B. Polay/HBO (3); HBO