Tom & Sonja Can't Agree On 'RHONY'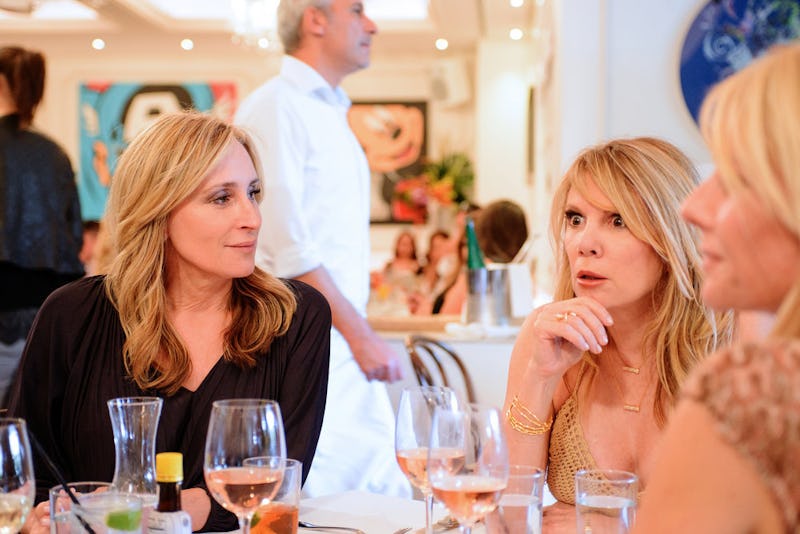 I thought that Slade Smiley had a complicated history with the women on Real Housewives Of Orange County, but Tom D'Agostino, Luann de Lesseps' fiancé on Real Housewives Of New York , is allegedly giving Smiley a run for his money. Both Ramona and Sonja allege that Tom dated them before he found Luann. But, Tom denied dating allegations to People magazine in July, but did acknowledge that they had some type of relationship. He told the magazine, "In terms of Ramona, we never dated," he said. "We went out a couple of times — maybe two or three times to dinner with some friends." He then added, "There was never any chemistry. No interest at all." And, for Sonja, he said, "Sonja, I've known for years. The funny part is, although I've known her for years, we got together once, but she's on this kick that it was more than that."
It seems like Tom's relationship with the other women is inversely proportionate to his relationship with Luann — the longer Tom is with Luann, the less important in revisionist history that his relationships with Ramona and Sonja are. And, Sonja seems hurt by the suggestion that their relationship was something akin to a one-night stand. "Frankly, I feel bad about the way he's treating our relationship," Sonja has said on the show. She's keeping her best face on because she wants both of her friends to be happy, but really, Sonja is hurt by Tom's behavior.
I mean, I would be, too. The more ambiguous the details of the relationship, the more the other women keep talking about it, thus hurting his fiancée's feelings, too. Everyone needs to come clean about what really went down, and hopefully this all blows over soon.
Images: Ivan Apfel/Bravo; Giphy