6 Trips To Take After A Bad Breakup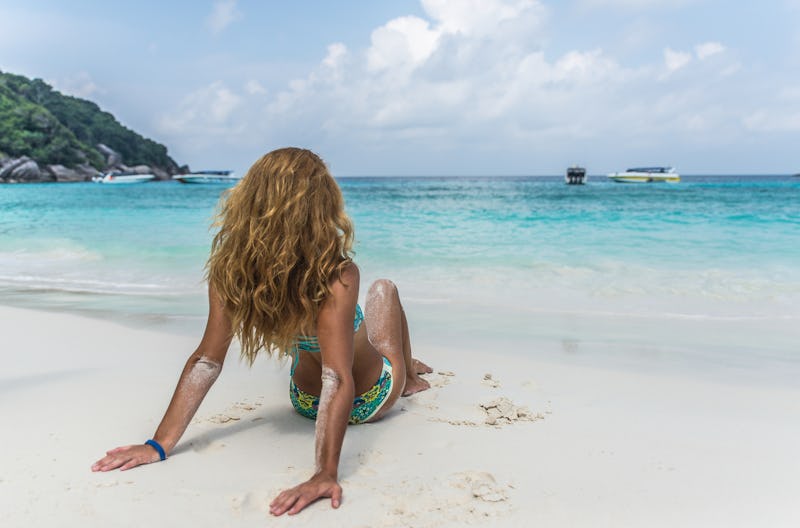 You woke up late, your coffee machine clogged, there was traffic, your friends dished about all of their issues via Gchat for hours, you had to work late, and then stepped in something you sincerely can't even say out loud. After the worst-of-worst days, the only thing you want to do is run, right? Retreating isn't always a bad thing — it can help you destress and relax when you need it the most. And one of those times is after a breakup. Your emotions are haywire, your heart hurts, you probably feel a little discouraged and your confidence needs a boost. That's why a post-breakup trip — either with friends or by yourself — is a great idea to get you back in the right head space.
"Going on a trip after a breakup can be beneficial because it gives you breathing room from the situation, and help you close the chapter on a relationship. You have the time to think and gain a new perspective on life. Think about setting new goals for yourself in facets of your life besides love," matchmaker and dating expert, Sarah Patt tells Bustle. "When you focus on something else, it can take away from the pain and hurt you may be feeling. Use the new surroundings on your trip as an opportunity to let loose and have fun while reminding yourself of who you are on your own. There are endless possibilities when it comes to love, so use this trip to remind you of that."
Here, experts give advice on the best places to head after you end a relationship:
1. Go To An All-Inclusive Resort
"Go to a spa alone. Soak in the healing hot springs. Let the therapists dig into your muscles. Eat healthy food. Go to bed early. Wake up and workout or stretch your way into a yoga class. Don't pressure yourself to meet and talk to new people. This trip is all about you being with you. Focus on being a human 'being' and not a human 'doing,'" dating and breakup coach, Laurel House tells Bustle. "In other words, you don't have to always be doing things, and talking to people. Sometimes you just need to be, and be comfortable being without the distractions that allow you to avoid thinking and feeling. This trip is about feeling, so that you can get to a point where you feel whole again — without being half of another."
2. Invest In A Yoga Retreat
"Head to a place like the Carillon in Miami Beach or Canyon Ranch in Tucson, Arizona for a place to set your mind free and bring clarity to who you are, as well as determine what you want in your future," Patt suggests. "This is a trip that you can take on your own, or with friends. If you want a chance for self-reflection, taking this trip alone is ideal. If you're looking for a relaxing distraction, bring one or two close friends along."
3. Have Fun In Las Vegas
"Have crazy fun with your girlfriends. Use this time to let go, let loose and have a good time. And remember, what happens in Vegas, stays in Vegas," Patt adds.
4. Check Off Something On Your Bucket List
"What a great way to put a breakup behind you, then to finally go somewhere you have always dreamed of," You will be so busy taking in all the things you have dreamed of, that you will no time to focus on what's their name," psychologist Dr. Nikki Martinez tells Bustle.
5. Let Yourself Dream In New York
"Head to the big city to let the bright lights remind you that the possibilities in this world are endless," Patt says. "Take the city by storm with your partner in crime and give yourself an excuse to splurge on a shopping spree."
6. Take Some Time At Home
"Going back to your hometown roots to see your close friends and family is a great way to remind yourself how many people love you in this world. It's a great way to collect your thoughts while reflecting and being reminded by those that love you most that your ex was never good enough for you anyways," Patt says.
Images: Fotolia; Giphy