The Latest 'Bridget Jones's Baby' Song Is Amazing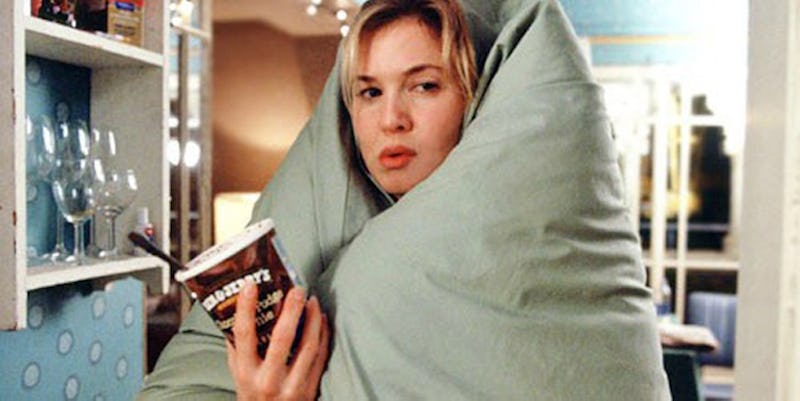 Even though the third movie in the franchise comes out Sep. 16, I'm finding myself antsy. That's probably why I'm trying to figure out what the "Still Falling For You" lyrics tell us about Bridget Jones's Baby . The first two film adaptations of Helen Fielding's books, Bridget Jones's Diary and Bridget Jones: The Edge of Reason came out in 2001 and 2004, respectively, so I've been waiting over a decade for any kind of follow-up. Every second matters at this point. Since we obviously haven't seen the movie yet, I've had my eyes peeled for any and all clues as to the plot, and one presented itself on Friday in the form of the song "Still Falling For You", by Ellie Goulding.
The song will be featured in the movie, and the lyrics do give us some hints as to what we can expect from the upcoming film.
Fire and iceThis love is like fire and iceThis love is like rain and blue skiesThis love is like sun on the riseThis love got me rolling the dice
These first few lines support what we already know about the movie so far, which is that Renee Zellweger reprises her role as Bridget Jones, who this time around is having to choose between two men: Mark Darcy, who we've already met, played by Colin Firth, and a new character named Jack, played by Patrick Dempsey. Either one could apparently be the father of Bridget Jones' unborn child, so it's really a roll of the dice to decide which one she spends her life with. (Or hey, neither.)
Beautiful mindYour heart got a story with mineYour heart got me hurting at timesYour heart gave me new kind of highsYour heart got me feeling so fineSo what to doStill falling for you
This portion does make me lean slightly toward Mark Darcy, however, because he's the one that Bridget has history with. Their relationship goes all the way back to the first movie, so "still falling for you" would make sense for a longer-term relationship where you're still learning more about each other. (IDK, guys, I just really want her to end up with Mark.)
It took us a whileBecause we were young and unsureWith love on the lineWhat if we both would need moreBut all your flaws and scars are mineStill falling for you
OK yeah, I think these lyrics are definitely pointing us toward Mark Darcy; all these references to them being "young and unsure" seem very connected to the fact that we started hearing about their love story a decade and a half ago. So while there are undoubtedly some obstacles along the way, I think all signs in Ellie Goulding's "Still Falling For Your" point toward Bridget and Mark ending up together.
Images: Miramax Films; Giphy