New 'Game Of Thrones' Characters Are Coming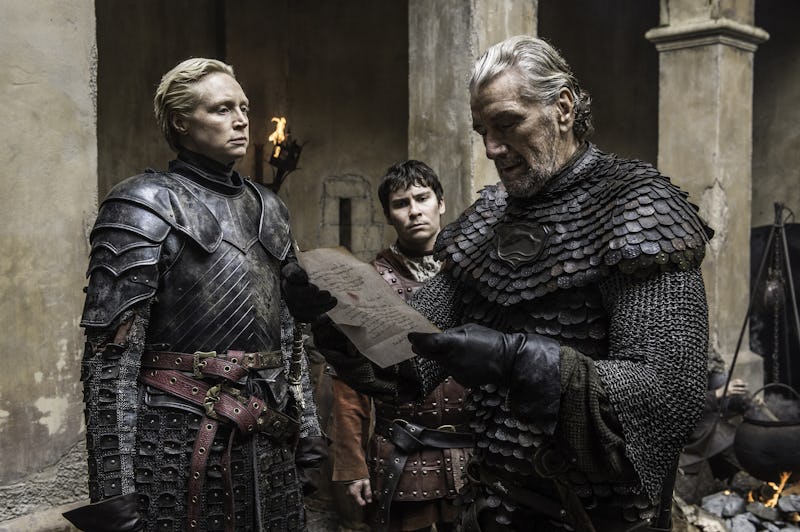 Winter is going to be longer than usual for Game of Thrones devotees thanks to Season 7's filming being pushed to late summer so the show will actually look wintery. I hope Ned Stark is happy. The good news is you don't have to wait for Game of Thrones Season 7 news, because the always industrious Watchers on the Wall got their hands on the first casting breakdown for Season 7 featuring descriptions of each role. While some of the roles sound like one-off guest spots, others have the potential to be meatier.
At this stage the book series holds precious few clues. There are some storylines the HBO series has left out, but that doesn't necessarily mean the show has any intentions of circling back to them. After all, Season 6 was largely completely original material and it turned out fantastic. Still, that does not mean the new character breakdowns are clue free.
The new priest, warrior, young lord, guard, and courtesan heading to Season 7 all offer hints about where they will be located and who they might be interacting with during their time on the show. With just two seasons of Game of Thrones left, the story is sure to be accelerating toward the finish line leaving little time for major new characters to be introduced, but even the characters with a tiny amount of screen time can have a major impact on the story.
The General
The role of a military man between the ages of 45-50 is being cast for a one week stint during filming in September. Described as a white military general with a sophisticated accent, you can bet this character has ties to one of the major families of Westeros. My best guess? He is either part of the Tyrell army Lady Olenna worked with the Sand Snakes to assemble, or he is part of Cersei's army in Westeros, in which case I hope he is not too attached to his head.
The Lieutenant
It sounds like Grey Worm may be getting a new brother in arms. This character is a strong, warrior type in his 20s who is of non-white descent. Given how much Daenerys' army has expanded, this character could be a Dothraki or from Dorne. Either way, it is almost a given he will be close to everyone's favorite Khaleesi, and he is scheduled to shoot scenes across three weeks from September to November — so whoever this lieutenant is, he will be sticking around for awhile.
Gate Guard
Now here is one character who may come straight from the books. The gate guard is described as a man in his 20s who should be witty, charming, and confident. The role is described as one "with an excellent series of scenes." Book fans know Brienne runs into Ser Hyle Hunt, a man she shares a history with, during her search for Sansa. When they re-meet, Hunt is working as a gate guard. While Brienne has found Sansa in the show, she was last seen sailing the Riverlands — giving the series ample opportunity to revisit this excellent plot point from the books.
Priest
Cersei did not quite wipe out all of the religious leaders in Westeros. Season 7 will feature a priest in his 60s who possesses "moral authority and gravitas." The role is specified as white suggesting his scenes will be in Westeros.
Warrior
If this character is not a Northerner or a Wildling, I will be shocked. Described as a character with fierce instincts who is quick to fight, this "bruiser" also has enough dialogue for the casting call to note it would be a great part for a top-end actor. The character is white and speaks with a non-posh accent which points to a new character being added to Jon's camp — or to the show finally introducing Rhaegar's old friend, Jon Connington.
City Guard
This is definitely a small role, but whoever this city guard is, he will be intercepting someone suspicious during his nightly rounds. This suspicious suspect could be anyone, but for now, I am going to bet on Arya making her way to King's Landing and intentionally getting caught in order to strike a few more names from her list.
Merchant
Someone is visiting an inn, and it sounds like it will either be Dany and her crew or Euron Greyjoy, since these are the characters currently travelling. The role of the merchant is an open casting by the sounds of it, so the character is more likely to show up in one of the more racially diverse trading towns like Essos than in King's Landing.
Young Lord
Now, this character is curious. Described as a handsome young lord in his 20s, the character description could describe anyone from one of the great families of Westeros, but there are precious few characters who fit the description and have not been introduced. Could this character show up in one of Bran's flashbacks or is the show considering introducing a certain secret Targaryen by the name of Aegon?
Lovely Lady
The only female part included in the casting call is for a young courtesan. The role is open to any ethnicity and is said to be a "good speaking part," but it also requires full nudity. Don't be surprised if the courtesan shows up at the same inn as the merchant. If she runs into Dany, then she may end up with an exciting future ahead of her, but if she runs into Euron she will definitely end up with the opposite of that.
It will be some time before you meet any of these characters, but isn't it reassuring knowing Game of Thrones Season 7 is already taking shape?
Images: HBO; Giphy (9)