Jordan Rodgers' Ex Posts About Him Again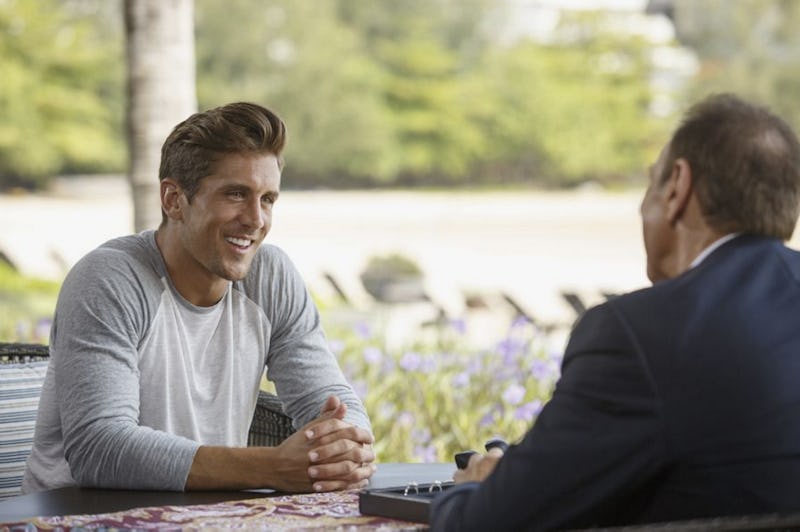 Even though JoJo Fletcher's Bachelorette season is over, the drama is continuing for the man she chose in the end. On Friday, Jordan Rodgers' ex-girlfriend, Brittany Farrar, posted another Instagram claiming he cheated on her while they were together. Farrar previously alleged Rodgers cheated on her in an Instagram post that went up at the beginning of the Bachelorette season. Rodgers has maintained that he did not cheat on Farrar, including during a conversation with Fletcher on the series. On the show Fletcher asked if he cheated on his ex, to which he responded, "No." But, he did say there was "talking to other girls" when he maybe shouldn't have, but said that nothing physical happened.
It is Rodgers' statements on the matter that Farrar is so upset about. She shared a lengthy message on Instagram that includes everything from claims that Rodgers is fame obsessed to talk of the chia seeds. The message begins,
When I broke up with my ex and gave back his old mattress and chia seeds- that was his ultimatum to me ("Give me another chance or I want my mattress and the chia I bought back!")- his lies stopped being my problem. UNTIL he went onto one of the most popular reality shows on TV and lied about our relationship.
It seems that Farrar believes Rodgers has branded her a liar by denying her claims that he cheated on her. As Farrar explains it, "If I don't have a choice in whether people back home are talking about me, then I might as well have my voice in this."
Farrar ends her post by saying that is going to be a two-parter, but as of the publication of this article, it has been 12 hours and she hasn't posted again.
Additionally, Entertainment Tonight claims Farrar also posted a video message in which she claimed Rodgers met the woman he allegedly cheated on her with while he was filming a scene for Pitch Perfect 2. ET claims that in the video Farrar shared a receipt that allegedly showed Rodgers bought flowers for this woman. That video appears to have been taken down.
Image: ABC/Matt Klitscher