Natalie & James Are #ShowmanceGoals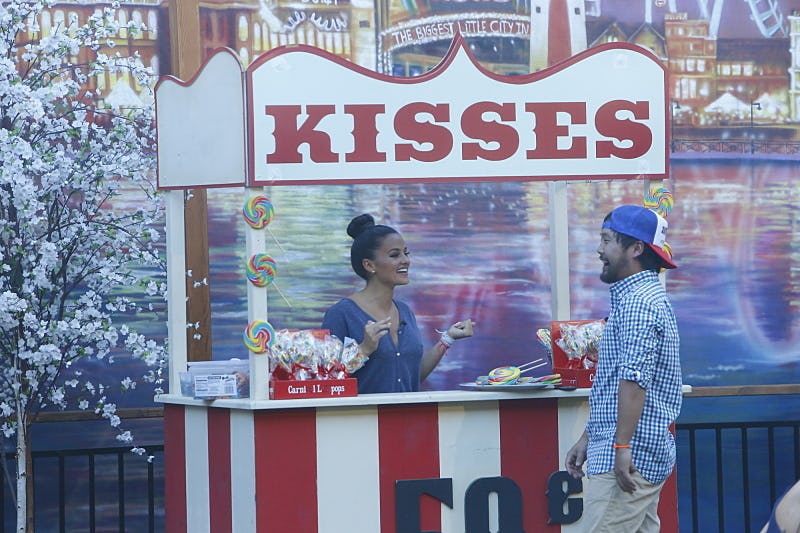 Unless you have a stone-cold heart while watching Big Brother 18, you can all agree unequivocally that Natalie and James have the cutest and best showmance of the summer. Step aside, Nicole and Corey. Outta the way, Zakiyah and Paulie. The two lovebirds that have stolen the hearts of a nation are, hands down, Natalie and James. It's a tale as old as time: the Big Brother vet comes into the house with his eye on this cash prize. Then, lo, he is charmed by a fellow competitor who is not only a wild card, but a prankster, great competitor and hilarious to boot. Will their romance be simply a summer showmance? Or will they stay together when the chilly autumn winds come sweeping down the plain?
Alright, I'll cool it with the whimsy but trust me when I tell you that Natalie and James are literal couple goals. They are perfectly matched for each other. It wasn't until Friday's special episode that we got to see the full timeline of Natalie and James' flourishing showmance but it made the whole episode worth watching. From the beginning, these two have been the real deal. Paulie may have had shady intentions in showmancing Zakiyah and Nicole and Corey are just a bit of a snoozefest. Not the case for Natalie and James. Instead, here's a couple that cares about each other, sticks by each other's side and knows how to have fun with each other. I wouldn't be surprised if these two continue their relationship outside the Big Brother house.
They Prank Each Other
James has long been known as the prankster of the Big Brother house yet it looks like he got a run for his money when he met Natalie. It may have all started when James switched out Natalie's moisturizer for mayonnaise but Natalie quickly returned the prank in kind. She froze his Crocs, with the crafty assistance of Bridgette. The prank war has been in full swing since then. Seeing these two able to have crazy amounts of fun in prank form shows just how at ease they are with each other. A couple that laughs together works well together; that's Natalie and James to a T.
James Takes Care Of & Cares For Natalie
I am actually melting just seeing this. James has made it a point to take care of and defended Natalie since they first got together. While Natalie can totally take care of herself (Girlfriend is an athlete, okay? Don't mess with her.), it's James' small gestures of kindness that speak volumes. A quick massage, helping her wax her armpits (hands down the best showmance activity of Big Brother) and —the icing on the cake—defending her honor vigorously when Paulie came after her all amounted to complete proof that James has been #TeamNatalie all along.
They Make "Big Brother & Chill" An Art Form
Oh, does chilling out in a secret, Parisian-themed room not sound like the best way to have showmance time to you? Then think again. This is one of the many times that Natalie and James have been caught on camera, talking, chilling and getting to know each other better. What could be more fun than getting to know your crush better than through a perfectly constructed chill session? Every time moments like this happen, you can legitimately see that Natalie and James are just adorable. They take time to get to know each other and bond, rather than spend all of their time plotting against the rest of the house. That's just perfect.
They Are Genuinely Good To Each Other
Can it get any better than their kissing booth moment? You could practically hear the wistful sighing on social media when this moment happened during Friday night's special episode. These two are the real deal and if that means it takes a cheesy County Fair kissing booth setup to solidify that sentiment, then so be it. I'm all about it.
So back off, you naysayers. Love is real. Natalie and James are going to prove it to us all. I have my fingers crossed things work out for these two crazy kids. They're definitely meant for each other.
Image: Bill Inoshita/CBS