Friday's 'BB18' Ep Could Bring Some Changes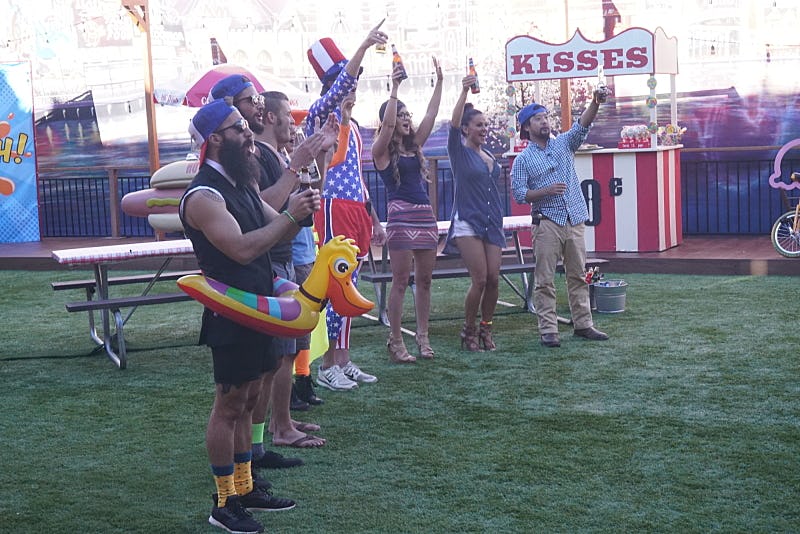 Now that Paulie is gone on Big Brother 18, the show will have to pull some interesting stunts to keep things moving along (and ratings up). They've been doing these special Friday night episodes on and off all season, and Julie Chen prepped viewers on what to expect for the next one, saying that "houseguests [will] compete for prizes, perks, and power, plus surprise guests [will] drop in on the houseguests and the next Head of Household competition begins." Um, is Friday's episode of Big Brother 18 a Jury Buyback episode?
What happens in a jury buyback episode is that a member of the Big Brother 18 jury, (the group of people who will later judge the last two remaining players to see who gets that big ole wad of cash they give away at the end), will play his or her way to get back into the regular house. Normally, I'd be totally on board with this, but if there is any chance of Paulie getting back into the Big Brother 18 house, I don't want it. Something is going on here, though — the official Big Brother Twitter feed was being really clandestine over something that the houseguests were filming for the show. Obviously, they wouldn't reveal what it is. Julie Chen, you're so secretive!
Who are the guests coming back to the show? Are they houseguests from seasons past? Houseguests from this season trying to reclaim their spots? This season has been so entertaining that CBS obviously has the hours of footage to add extra episodes in and out as they please, but I really just want to know what's going on. If it is indeed a jury buyback, I want Zakiyah to come in from the jury house and just knock the you-know-what out of everyone, game-wise. I want Zakiyah to win that cool half a million dollars and laugh at Paulie all the way to the bank.
Images: Bill Inoshita/CBS