When Will Frank Ocean's "Nikes" Be On Spotify?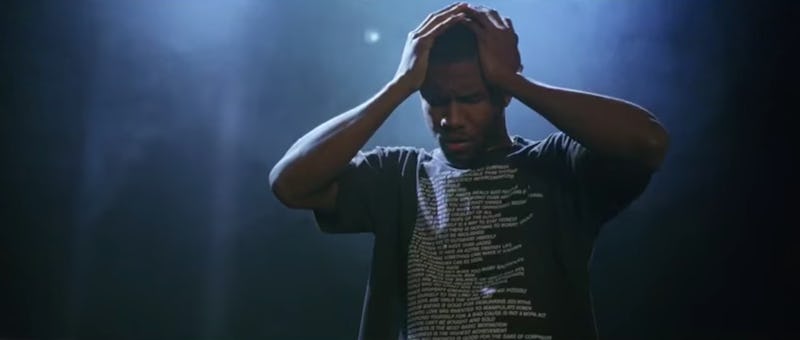 When it comes to being a Frank Ocean fan, it's either feast or famine 24/7. After four long years for Ocean fans, who have undoubtedly been dissecting every last gnomic clue, suddenly we've all received a whole lot of Ocean all at once. Ocean debuted his visual album Endless on Apple Music on Friday, Aug. 19 and then in the early hours of Saturday, Aug. 20, he dropped his out-there single and video for "Nikes" on Apple Music and his website. Unsurprisingly, the release of "Nikes" has many fans are theorizing may be the first single off his upcoming album (formerly known as Boys Don't Cry). But, if you don't have an Apple Music account and you're not a fan of You Tube, you might be asking yourself, when will Frank Ocean's "Nikes" be on Spotify?
Excellent question. Part of what seems to make Frank Ocean fans so crazy-intense about their idol is the limited amount of music we've heard from him so far. As such, we don't have a whole lot of data to trawl through — but his 2012 album Channel Orange might serve as a guide to how Ocean will proceed this time round. According to HipHopDX, back in 2012 when he was releasing channel ORANGE, Ocean was nervous about the album being leaked before it dropped, and, as a result, gave several misleading debut dates.
For instance: On June 8, 2012, Ocean announced the album would come out on July 17. Then, on July 9, during a television appearance, he announced the actual debut date: July 10. The album was available purely for digital download via iTunes for the first week, and then, on July 17, it became available via other digital distributors. So this could be one timeline we could refer to.
Obviously, it's tempting to use the chronology of a single as a guide, instead. However, the history of the album's most famous single "Thinkin' Bout You" is a little tricky. Ocean originally composed the track for Bridget Kelly's debut studio album — however, he later leaked a recording of himself performing the track onto his Tumblr, and although he quickly took it down, people already thought of it as his track rather than hers. As such, Kelly changed the name of her track to "Thinking About Forever" and Ocean eventually rerecorded the track with string backing and included it in channel Orange. As such, it's hard to use "Thinkin' Bout You" as a model for when "Nikes" will move to Spotify since the track's timeline is so complex and unconventional.
So if instead, we operate from the model of the entire album (which seems apt, since Ocean clearly still has some trust issues with giving real debut dates), then arguably "Nikes" may be available for streaming on Spotify on Saturday, Aug. 27, exactly seven days after it appeared on Apple Music. Which, if you're not an Apple Music user, you've got to concede is a wonderfully short time.
Images: Apple Music (3)