These Frank Ocean "Nikes" Memes Are So Real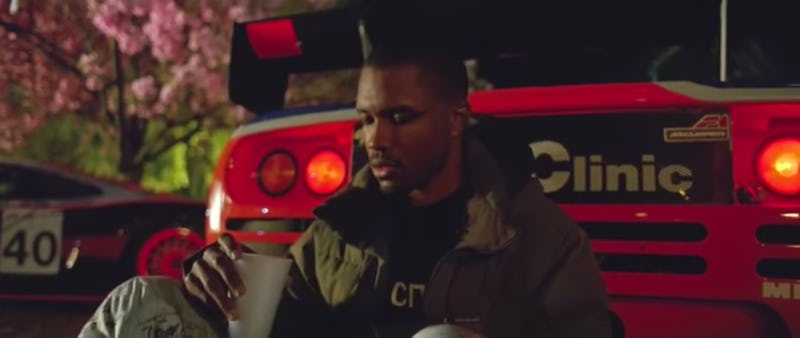 Nope, your half-hungover state has not got you hallucinating during your normal Saturday morning perusal of Twitter on your smartphone. True story: Frank Ocean has dropped a new single called "Nikes," (you can watch it on Apple Music or Ocean's website), which is presumably the first off the album formerly known as Boys Don't Cry — and yes, it's wonderful. Excitement's at fever pitch, since Ocean had already debuted his visual album Endless on Friday, Aug. 19, and we're all already feeling a little bit like it's Christmas Day and we've opened all our presents and eaten our body weight twice over in candy. A little buzzed, a little euphoric, so much to process and so many feels. So thank goodness for Twitter: the social media channel is full of Frank Ocean "Nikes" memes that had me nodding in agreement.
Yes, we're all doing our best to encapsulate our complex, tentative feelings about the new release. After all, we've been burned too many times: remember how Frank Ocean's new album was supposed to drop in early August? Or what about the time it was supposed to drop in July?! This has been a roller coaster, let me tell you.
Still, the flurry of releases this week suggests that everything's moving in the right direction at Ocean HQ, and if Rolling Stone has it right, we'll be hearing the album in full at some point on Aug. 20 or Aug. 21. Fingers crossed! Until then, whet your appetite with these memes.
1. For When You've Got To Let It All Out
You've played us and you've played us good, Ocean. But "Nikes" still got us right in the feels.
2. For When You Can Relate To Ocean's "It's Complicated" Relationship Status
For when your "We're not in love but I make love to you" dating sitch's got you thinking.
3. For Those Christmas-Came-Early Vibes
Because Ocean's every bit as sneaky as Santa Claus when it comes to dropping off gifts while you're snoozing.
4. For A Cautious Rebuilding Of Trust
Ocean, we've been burned too many times. Are you going to finally give us what we want this weekend?
5. For Frank Ocean-Themed Gift Bags
The gift that keeps on giving: print it out, cut it out and stick onto that Ocean mega-fan's next birthday present.
6. For When The Beauty Of "Nikes" Is Too Much
Glitter butts, Ocean on fire, some weirdly attractive winged eyeliner on our main man... It's a lot to handle. Make sure you take regular breaks to hydrate and breathe.
7. For When You Don't Totally Get It But You Still Love It
Honestly, any excuse to re-listen to this banger is A-OK according to yours truly.
8. For When You Need To Call Off The Search Party
Phew. Finally, concrete evidence that Ocean is still residing on planet Earth and hasn't hightailed it off to the moon as previously suspected.
9. For When You Know You've Found Your New Saturday Night Jam
Can't lie: this song is all sorts of catchy.
10. For Skeptical First-Time Listeners
Who can resist that beat? Nobody with a soul and a pair of functioning ears.
11. For Acknowledging The Spectacular Visuals
Even if you're not into the melody, you've got to admit: that video is EVERYTHING.
All hail the king: Ocean is back, bigger than ever, and now you've got a meme for literally every crazy feeling you're going through right now. You're so very welcome.
Images: Apple Music