Frank Ocean's "Nikes" Isn't About One Person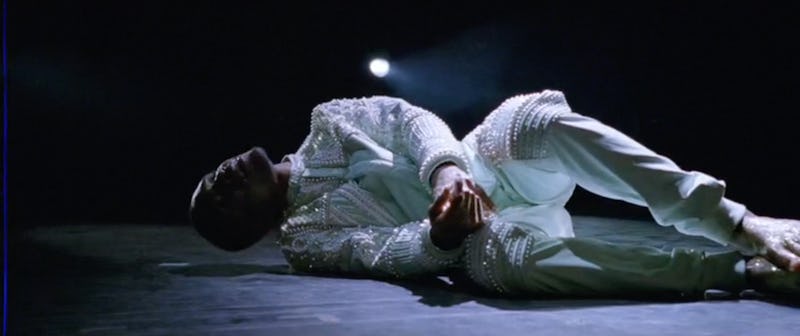 Frank Ocean's new (very NSFA) music video "Nikes" is full-on amazing: there's glitter, more glitter, Ocean looking amazing, fast cars, full on Studio 54 vibes, and imagery that will just change your life. But, what's even more striking about the track is its lyrics, which resemble those of the channel Orange track "Pyramids" in the sheer breadth of ground they cover. So if you've been asking yourself, "who is Frank Ocean's "Nikes" about?", well — I'm afraid the answer isn't that simple. There doesn't appear to be just one person the song is addressing, but instead a whole array of people and issues.
The opening line "Special shoutout to the icon dynasty, Slip-N-Slide Records," leads the intro suggests the song isn't dedicated to a person, but a thing: namely, the prestigious record label, which boasts artists like rapper/entrepreneur Rick Ross and the R&B group Jagged Edge. But what about the rest of the song? I'd argue it covers a few different themes: those who want to date him for his money, Black Lives Matter, and Frank Ocean himself. So let's take a tour round the hedonistic but often sobering world of "Nikes": It's too nuanced a song to be about just one thing.
It's About Those Who Want To Date Frank Ocean For His Money
The first verse opens on the following:
These b*tches want Nikes (This is a setup)They looking for a check (Oh my god)
These lovers aren't interested in dating just anyone — they're looking for someone clad in a pair of expensive sneakers, like Nikes. As the commentators on Genius have observed, note the word "check," referring to both a cash check and the Nike swoosh. A man with Nike footwear suggests they have found what they're looking for: a guy with lots of cash.
It's About Black Lives Matter
In the song, Ocean references three tragic deaths of black men who died too young:
Pour one for A$AP (rest in peace)RIP Pimp C (rest in peace)RIP Trayvon, that nigga look just like me
A$AP here refers to A$AP Yams who, like Pimp C in 2007, died of an accidental overdose in 2015. Trayvon, then, refers to 17-year-old Trayvon Martin who was shot and killed in 2012 by a member of the neighborhood watch in the area Martin was staying in, George Zimmerman. This isn't the first time Ocean has commented on the deaths in the African-American community. Following Martin's murder, Ocean posted a photo of himself in a hooded sweatshirt to Tumblr to show solidarity with Martin, who was wearing a hoodie when he was killed. Additionally, following Michael Brown's death in 2014, Ocean posted a video on Tumblr which compiled TV news interviews with witnesses who had been there when the teenager was shot.
It's About Frank Ocean Himself
Because, obviously: how could it be a Frank Ocean song without some personal observations? The line "I've been working on my bod" sounds pretty autobiographical, especially when you consider this self-portrait Ocean recently posted on Tumblr showing off a more muscular physique. Then there's lots of first person observations on partying hard:
Rain, glitterWe lay it out on this wet floor...Mesmerized how the strobes glowLook at all the people's feet dance
Now, this is pure speculation, but there was a whole lot of London-based dance talent on Ocean's Endless visual album. Think electro stars like Sampha, Vegyn, Arca (as well as less dance-y London talent like the Contemporary London Orchestra). Additionally, the vibrant east London based dance scene isn't exactly a secret: did he find inspiration for these lines himself there? Possibly. Conversely, the refrain of "don't take no pictures at the party" not only references 1999's Fight Club (don't talk about Fight Club) and the desire to pretend the party doesn't exist because there are no photos, but also recalls the rules against taking photos that high-end clubs often have. For instance: Berlin-based techno club Berghain, which is also where Endless contributor Wolfgang Tillmans lives — Tillmans' Instagram post confirms he took Frank Ocean there himself. So, we could speculate this verse is directly referencing these European links.
It's hard to say who exactly this song's about because it contains multitudes, which is the beauty of it and of Ocean's work in general — it's not about one person at all. Ocean jumps from dating prestige-obsessed individuals to love to human nature to the pain of losing another young African-American man to the way the light plays across an anonymous dance floor — and he does it all so expertly, you can hardly tell he's doing it until you process the lyrics fully.
Images: Apple Music (4)