Cobie Smulders & Clea DuVall On Real Interventions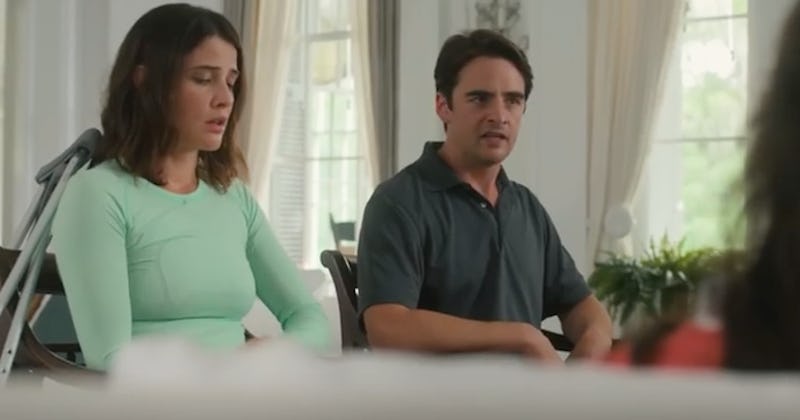 I can't imagine getting an unexpected intervention from five best friends (and a stranger) would be a pleasant experience. But I won't deny that I've been tempted to host one for friends… multiple times. The Intervention writer and director Clea DuVall has been in the same boat. In a modern-day version of The Big Chill, DuVall's movie (out in theaters now) tells the story of a pack of friends led by the hilarious Annie (Melanie Lynskey) who, after many failed attempts, give their unhappily married friends and parents of three, Peter (Vincent Piazza) and Ruby (Cobie Smulders), an intervention in hopes that they'll get divorced. DuVall, who makes her directorial debut with the indie dramedy, has said the film isn't based on a specific real-life incident, but on her "own judgmental self." Although she and Smulders understand the motivation behind an intervention, the two tell Bustle how they'd handle actually getting one.
"I think that the choice of having this intervention is misguided," says Smulders about the movie's plot. "I think it comes from a good place and wanting a friend to be happy." Still, the actress (who's married to Taran Killam) and mom of one doesn't know that she'd be down with friends trying to intervene in her relationship.
"I think it would depend what it was about," the 34-year-old explains. "In this movie, it's so personal and I feel like it doesn't matter how well you know a person, you don't know what happens behind closed doors in a relationship." The more she thinks about it, the more she feels it's pretty messed up. "It's quite cocky, isn't it really? To be like, 'I know what's going on with you two!' It's a bold move," she continues.
DuVall, who agrees with Smulders on some level, has a bit more understanding of why friends would want to give an intervention. Then again, it's her own life that inspired the movie. "I would always kind of talk behind people's backs about what they should be doing in their lives and then I had this moment of self-awareness," she told Deadline . DuVall's judgmental side was amped up to the "extreme," giving birth to Lynskey's character, Annie.
For DuVall, it would all depend on who was giving the intervention. If it were Lynskey, for example, who happens to be DuVall's real-life best friend, she wouldn't be offended as much as she'd be concerned. She explains what would be OK, saying, "If Melanie sat me down and said, 'This thing in your life is having a really negative impact on you and I can see something that probably you can't see'… I trust her so much." The 38-year-old explains how certain people, in addition to Lynskey, could express their concern and she'd look at the issue seriously. But at the end of the day, our friends and loved ones can only help if we let them.
"I think it sometimes is hard for us to see our behavior and see ourselves and the people around us can be mirrors if we let them be," DuVall explains. "I don't think it's always a terrible idea. But I wouldn't accept it from a lot of people." DuVall's co-star Jason Ritter, who sat across from her in the interview, perhaps wouldn't get the same type of response. "Like if Jason would [give me an intervention], I'd be like, 'Get out of my face,'" she jokes.
Maybe butting into a friend's relationship is overstepping. But remaining silent, as DuVall points out, could almost be worse.
Images: Samuel Goldwyn Films/Paramount Pictures (4)