13 Lovely Fall Quotes To Share On Facebook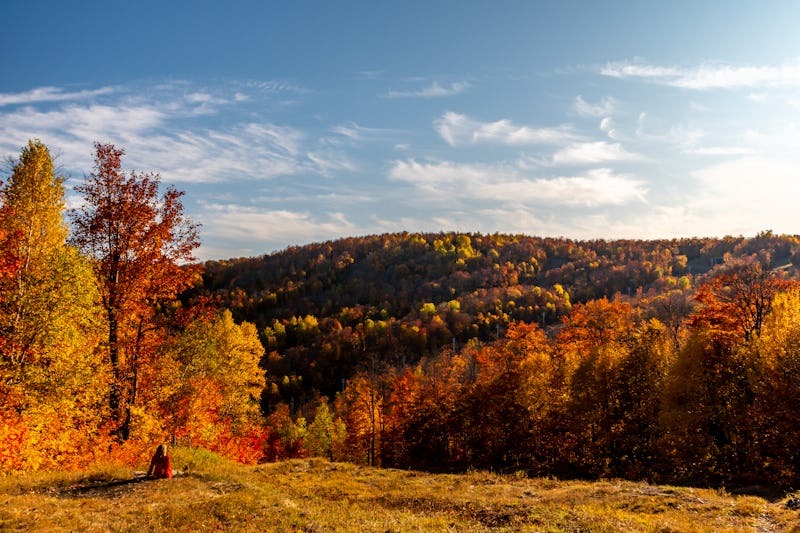 A&J Fotos/E+/Getty Images
Who doesn't absolutely adore the fall? It's a crowd-favorite for sure, so you are going to need some fall quotes to share on Facebook for the first day of autumn. The weather finally starts to cool down (sorry summer, but you're way too hot and humid), the leaves meet their ending with brilliant bursts of red, orange, and yellow, and all of the delicious spices come into play in the kitchen (I'm talking homemade apple cider and pumpkin spice bread loafs). Simply put, the season is magical.
If you're not quite ready for the fall and need a little bit of a boost to get you feeling inspired about the season, then these quotes should do the trick. They manage to capture everything that is noteworthy and memorable about the season. On the other hand, if you've been aching for fall to show its face, then these quotes are going to send you over the edge... good thing the first day of fall is finally right around the corner, huh?
No matter how you're feeling about the season, there's no stopping its arrival on Sept. 22, so you might as well embrace it. Also, it will last through Dec. 20, so you had really better enjoy it while it's here. Read up, you guys.
1. "Now Autumn's fire burns slowly along the woods and day by day the dead leaves fall and melt." — William Allingham
2. "Autumn is a second spring when every leaf is a flower." — Albert Camus
3. "The autumn wind is a pirate. Blustering in from sea with a rollicking song he sweeps along swaggering boisterously. His face is weather beaten, he wears a hooded sash with a silver hat about his head... The autumn wind is a Raider, pillaging just for fun." —Steve Sabol
4. "Summer ends, and Autumn comes, and he who would have it otherwise would have high tide always and a full moon every night." — Hal Borland
5. "I know the lands are lit, with all the autumn blaze of Goldenrod." — Helen Hunt Jackson
6. "My sorrow, when she's here with me, thinks these dark days of autumn rain are beautiful as days can be; she loves the bare, the withered tree; she walks the sodden pasture lane." — Robert Frost
7. "Autumn's the mellow time." — William Allingham
8. "The spring, summer, is quite a hectic time for people in their lives, but then it comes to autumn, and to winter, and you can't but help think back to the year that was, and then hopefully looking forward to the year that is approaching." — Enya
9. "I saw old Autumn in the misty morn stand shadowless like silence, listening to silence." — Thomas Hood
10. "There is a part of me that will forever want to be walking under autumn leaves, carrying a briefcase containing the works of Shakespeare and Yeats and a portable chess set. I will pass an old tree under which once on a summer night I lay on the grass with a fragrant young woman and we quoted e.e. cummings back and forth." — Roger Ebert
11. "Delicious autumn! My very soul is wedded to it, and if I were a bird I would fly about the earth seeking the successive autumns." — George Eliot
12. "When autumn darkness falls, what we will remember are the small acts of kindness: a cake, a hug, an invitation to talk, and every single rose. These are all expressions of a nation coming together and caring about its people." — Jens Stoltenberg
13. "By all these lovely tokens September days are here, With summer's best of weather and autumn's best of cheer." — Helen Hunt Jackson
Images: A&J Fotos/E+/Getty Images; Giphy (3)