How To Add Bee Pollen To Your Skin Care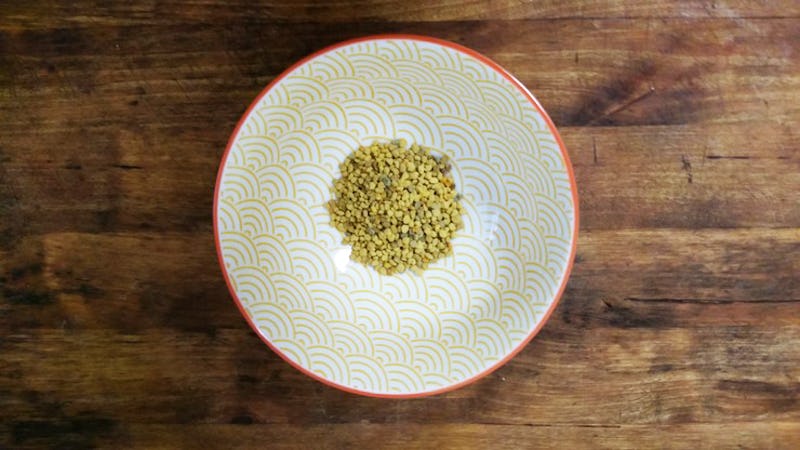 Recently, on a frantic trip to the vitamin store, I was tempted by a row of bee pollen bottles displayed next to my favorite brand of honey. I was no stranger to the claims that the benefits of bee pollen extend to skin care. Still, I hadn't the time to my usual routine of sitting on the floor of the Vitamin Shoppe researching new ingredients and this was one purchase that came with serious, possibly fatal risks, since I'm cursed with a slight bee allergy. The thrill of danger wasn't as powerful as the thrill of a new ingredient to play with and with those thrills combined? I grabbed the bottle and hoped to not just see another day, but that the current bee pollen buzz in the natural community would be as sweet as they honey the bees produced.
Let's shelf the safety concerns for now (I assure you I'm not writing from my grave) and discuss why I couldn't resist bee pollen: Bee pollen is made to feed young bees, so it contains a high amount of vitamins and minerals, including all essential amino acids, vitamins B, C, E, and D, and over a dozen fatty acids. According to studies by Swedish dermatologist, Dr. Lars-Erik Essen, a pioneer in the topical use of bee pollen, the composition of bee pollen allows it to stimulate cell renewal because of the amount of nucleic acids. With all antioxidants and my own lack of impulse control, you can see why I couldn't resist. I whipped up a homemade bee pollen cleanser when I got home, and luckily had no physical or internal reactions — except for a small pimple on my chin completely vanishing by the following day.
Making your own bee pollen products can be tricky and before we move onto all the fun I had making these five skin care recipes, allow me to scare the crap out of you with these very serious safety issues: Even though, the cleanser worked out fine for me, allergic and anaphylactic reactions have been documented when using bee pollen for internal and external use. Additionally, sources at Science Based Medicine have cited cases of photosensitization of the skin from topical use of bee pollen. A great point made in this article is that just because something comes from nature does not mean it's entirely safe.
Once you're confident that you can use bee pollen safely (I recommend doing test patches away from your face when you start), you can have as much fun as I did with these recipes below.
1. Bee Pollen Honey Face Cleanser with Chamomile
This honey cleanser was the recipe I mentioned that first had me singing bee pollen's praises. It's super easy to make and for me, it was incredibly effective and healing. The best way to work with bee pollen granules is to gently muddle them before including in a recipe.
I started by adding half a tablespoon chamomile powder and buds to the bottom of a two ounce resealable container. Then I added one ounce of honey and mixed with my finger, followed by another half tablespoon of chamomile powder and buds. Next I added another ounce of raw honey and half tablespoon of muddled bee pollen granules, then mixed everything vigorously.
I found my new cleanser to be gentle enough for daily use (the chamomile is very soft and won't be a heavy exfoliate). This cleanser can be stored in the fridge, but it should last you several months before the bee pollen turns.
2. Bee Pollen Lotion
Since bee pollen had already proven to be effective on my acne, I was excited to incorporate it in a lotion that would keep my skin protected from the drying elements. For my homemade creams, I like to follow the ratios for beeswax, oil, and water as shown in this recipe for a sunburn salve. Once my beeswax has been melted in a double boiler, I put my oil and water directly in the blender with a tablespoon of bee pollen (for an 8oz cream), adding the beeswax last and quickly powering up the blender.
3. Bee Pollen, Avocado, and Cantaloupe Anti-Aging Mask
This mask was super fun to make and apply. I used two ounces of avocado; an ounce of cantaloupe pulp; one tablespoon of organic, hormone-free milk; and a teaspoon of muddled bee pollen. This recipe has all the vitamins to alleviate those fine lines that I'm not ready to embrace quite yet and it's very moisturizing without feeling oily. I used a blender to mix everything together and then applied directly on my face. When using fresh fruits and dairy for skincare, I like to make enough for just one use to ensure my perishable ingredients stay fresh.
4. Bee Pollen Body Tea with Calendula and Turmeric
My routine of infusing water with healthy dry ingredients to promote the healing of old scars, skin tone, and acne has worked wonders for my skin — so much so, that I never miss using soap. For this tea, I placed two tablespoons of dried calendula and a teaspoon of organic turmeric in a teabag, then added six ounces of filtered hot water in a mug. I added one tablespoon of raw honey and half a tablespoon of bee pollen directly to the water.
I like to let the tea cool naturally before storing in the fridge for daily use in the shower. This amount will usually last me a week, but it should stay fresh inside the fridge for about three weeks.
5. Bee Pollen Hair Mask For Hair Growth
According to sources at Black Girl Long Hair, bee pollen may be a natural ingredient for hair growth. Since I've started my bee pollen teas in the mornings, I've noticed that all of me is feeling better and maybe Rapunzel-length hair is in my future. Alternatively, you can make a bee pollen tea with hot water and bee pollen granules for a hair growing mask.
Image: Kristin Collins Jackson (7)