See Millie Brown's Prep For 'Stranger Things'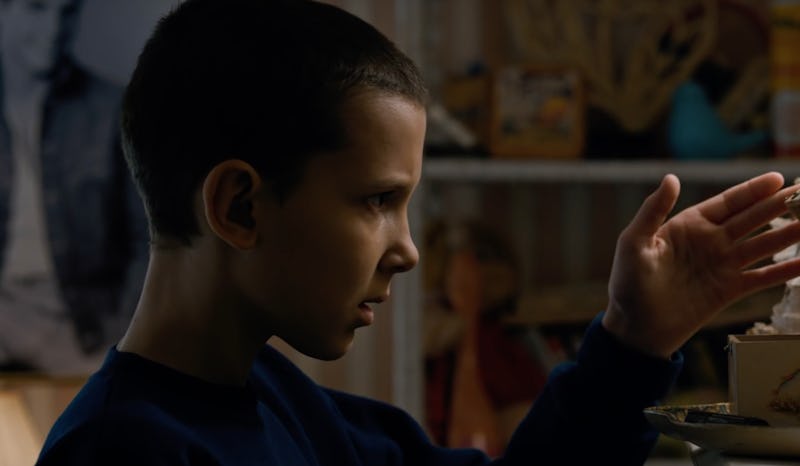 Confession: I'm one of the biggest fans of actress Millie Bobby Brown on Earth. The pint-sized star has totally captured my heart during this summer and for good reason. On Stranger Things , Brown plays Eleven, a girl full of secrets, special powers, and thousand-yard stares — all of which the 12-year-old actress consistently and impressively nails each and every time she's on screen. Eleven is not only supernaturally gifted, though, but also her coming-of-age story that Stranger Things offers is unique. She is part tough tomboy, part outsider, trying to re-contextualize herself in the heartland of America in the '80s. Considering she plays Eleven as brilliantly as she does, it's no surprise to see through all of her social media postings that Brown is a deeply empowered girl — like, for instance, in the totally inspiring video she recently posted documenting the biggest step in transformation into Eleven.
Brown ascended to stardom partially because her look as Eleven is so iconic. Eleven's tendency towards tomboyish-ness not only serves as a subtle negation of the '80s' standards of feminine beauty, but it gives young girls an icon to look up to when they want to shirk traditional beauty standard. Watching her go through the incredibly powerful and transformative process of shaving her hair is a beautiful thing. Look at her embracing this big change (it's perfection):
There's no doubt in my mind that this video could inspire a wave of girls and women to want to shave their head. Even though Brown got a bit emotional (to be fair, who wouldn't?), what shines through even clearer is that the process literally and immediately transformed her. As soon as the clippers were put down, Brown's posture and facial expression shifted. She was meant to be Eleven and shaving her head proved it to be true.
If you're inspired to follow in Brown's footsteps but might be a bit nervous, just read this interview she did with Vulture and take a page out of Brown's playbook:
I had very long hair and I cut it all off for the part. I read the script and I was so happy with my character and I thought, This is how it's gotta be. My mom and my grandpa were like, "No, you can't do that." It took me 12 years — well, 11 years — to grow something. [My hair] wasn't thick, but it was long. And then they shaved it all off and it was very hard for my parents. But I convinced them. I was like, "Dude, it grows back. It's fine."
That's right, guys. It grows back. So go ahead, take the plunge. Shave off those locks and channel your inner Eleven all day, every day. Goodness knows I'm seriously contemplating it now after seeing that video. For now, though, I'll just have to admire this amazing young woman and work on my "Eleven is going to get supernatural right now" stare.
Image: Netflix US & Canada/Youtube