It's Not All Smooth For 'BiP's Jared & Caila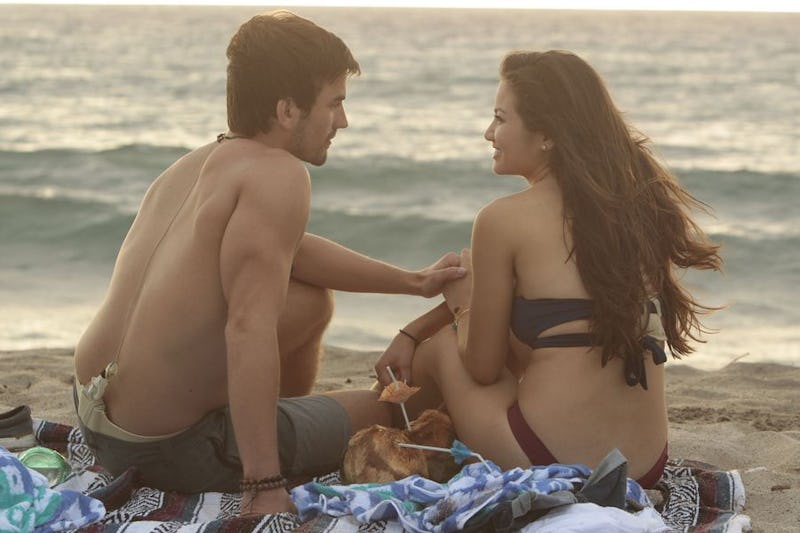 Just when you think your faves have found love on Bachelor in Paradise, a new arrival's date card throws a wrench into it all and changes the game. Fans have seen that happen this season with Josh squashing Nick's chances with Amanda and now Brett driving a wedge in between the budding romance between Caila and Jared. But did their love survive the bump in the road, and are Caila and Jared engaged after Bachelor in Paradise ? ABC has been teasing the fact that Season 3 will end with multiple engagements, so it's possible these fan faves make it to the end.
Unfortunately, an examination of both Jared and Caila's social media accounts have no clues — nor traces of each other. Jared told People that he hopes to get "wifed up" soon, which doesn't exactly indicate that he's engaged. Caila wrote up a vague, yet poetic "pre-cap" of Monday night's episode on her blog Mouthful Caila, titled "Like Paradise, I'm Not Perfect," which itself could be a hint that her and Jared's relationship doesn't end in a ring.
"Even after the novel-esque horseback ride into the sunset — that butterfly feeling is missing, but his kind and humble heart is telling you to trust him," she wrote. "Feeling a little confused, all you want to do is not hurt anyone else's feelings ... But before the first sip of mimosa graces your lips, trouble arrives."
That "trouble" for Jared and Caila seems to have been Brett Melnick, who brought a lamp during Andi Dorfman's season and then asked Caila out for a "booze cruise" double date on Bachelor in Paradise 3. But should this surprise fans, especially considering their respective date histories on just this season? Jared went on a date with Emily, but before any romantic feelings materialized, Caila arrived and whisked him off to a horseback-riding date. "There's just some inner confidence and mysteriousness about Jared," Caila told The Huffington Post. "When you see him, he has this smirk and this smile that's very engaging."
Even though Emily was not happy with the new coupling, Jared and Caila seemed to be nurturing their new romance — until Jared's Bachelor in Paradise 2 ex Ashley Iaconetti came to Playa Escondida. Ashley openly wept about Jared and Caila being together — and their betrayal — to Jorge the Bartender and anyone who would listen. Ashley had arrived in Mexico with hopes of rekindling things with Jared and was hurt when she claimed that Caila lied to her about going on the show.
As Caila recalled to The Huffington Post, she didn't initially have plans to appear on Bachelor in Paradise. "But I came anyway, and that's kind of how Paradise works," Caila said. "You want to be a surprise. I thought it would be fun to see who was there. And, you know, girls don't really like surprises. They really want a heads up."
And, while Caila and Jared's status is unknown, Caila told HuffPost that she hopes that she and Ashley I. can be friends again. "I still to this day think she's super sweet and super genuine, and hope one day we can get back to where we were," she said. After all, romance may be fleeting, but true friendship is forever.
Images: Rick Rowell/ABC