Emma Stone Breaks Your Heart In 'La La Land'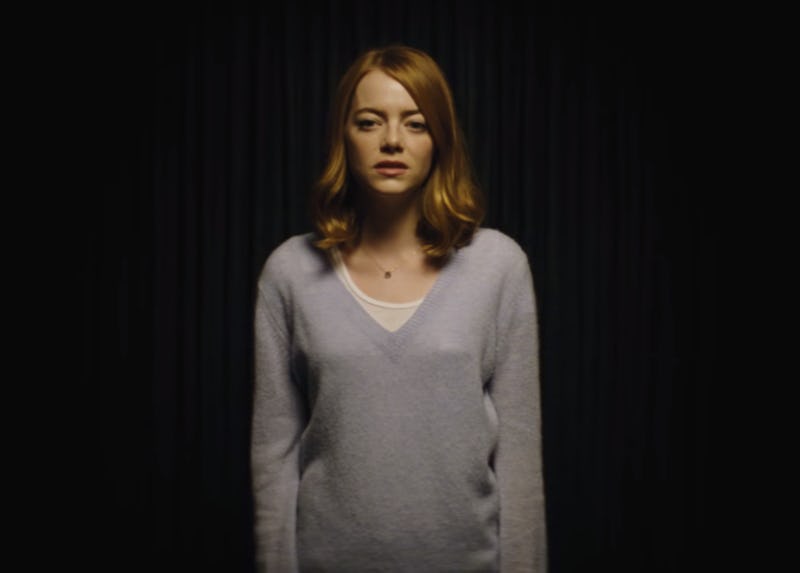 La La Land looks all kinds of amazing, and the first teaser trailer featuring Ryan Gosling singing his heart out almost brought tears to my eyes (I'm a major sap!). The follow-up La La Land trailer, which features Emma Stone in full song, is every bit as heartbreaking and emotional, and shows just how visually stunning the movie from Whiplash director Damien Chazelle is going to be. But what do Stone's La La Land lyrics mean? The song is super emotional.
Much like the Gosling version of the trailer, La La Land looks set to be an epic tour of old Hollywood romance, mixed with modern day misery. Filled with beautiful shots of the Los Angeles skyline, alongside dance numbers featuring Gosling and Stone, La La Land is going to tug on your heart strings and look aesthetically impressive while doing it. Even though the two actors danced together in Crazy, Stupid, Love, their recreation of the iconic Dirty Dancing scene is nothing compared to the scale of this production.
But what exactly is Stone singing about? Her character in La La Land is an aspiring actress who starts to find the pressures of Hollywood difficult to navigate, especially as her career starts to impact on her relationship, and the lyrics definitely reflect this.
"Here's To The Ones Who Dream"
The first shot of the singer shows her wiping steam from the bathroom mirror. Clearly, Stone's character has huge dreams in La La Land, and wants to believe that they can come true. This pensive shot of her looking at her reflection suggests that not everything goes quite to plan.
"Foolish As They May Seem"
Who hasn't thought that their dreams are foolish, one time or another? Spinning on the sidewalk, Stone gives us a glimpse of the fairytale, classic Hollywood musical that is to come.
"Here's To The Hearts That Ache"
Standing and staring at Gosling playing the piano, all of our hearts start to ache. Clearly, this is a lyric we can all relate to.
"Here's To The Mess We Make"
In a shot that tells us a lot about the plot of La La Land , Stone is crying, but has come home to Gosling having cooked dinner for her. She runs and jumps into his arms, as the majority of us wish that we could. The "mess" referred to in the lyrics seems to be the couple's relationship, and the inevitable messiness that comes from big love stories.
"She Captured A Feeling"
Delivered directly to the audience, this lyric implies that we're viewing the relationship from Stone's point of view. She's attempting to capture a particular feeling, perhaps summing up how a romance feels early on, and, according to her, it's not unlike an old Hollywood musical.
"Sky With No Ceiling"
In a truly magically moment, Gosling lifts Stone into the air and then lets go of her, at which point she floats up into a starlit sky. This lyric could refer to that feeling you sometimes get when you're in love, and nothing feels impossible.
"The Sunset Inside Her Frame"
In some grainy footage of the pair kissing, the mysterious lyrics "the sunset inside her frame" allude to a perfect moment captured forever and framed on a wall. Perhaps Stone's character is looking back at photos of a past relationship?
"Here's To The Ones Who Dream"
In several stunning shots, we're given a glimpse of the magical cinematography featured in La La Land, from impressive sets, to incredible costumes, to beautiful lighting.
"Foolish As They May Seem"
In La La Land, it looks as though Gosling and Stone are foolish in love. But they look great as always.
"Here's To The Hearts That Ache"
There is a lot of kissing in this movie.
"Here's To The Mess We Make"
However messy things get, Stone and Gosling end up looking perfectly pristine. The lyrics are tinged with sadness, and it definitely feels as though the romance in La La Land goes very very wrong.
The film looks and sounds absolutely amazing. Stone and Gosling are perfectly cast in this old-fashioned Hollywood romance, and I can't wait to see them dance together again on the big screen.
Images: Lionsgate Movies/YouTube