'Stranger Things' Will Bring Justice For Barb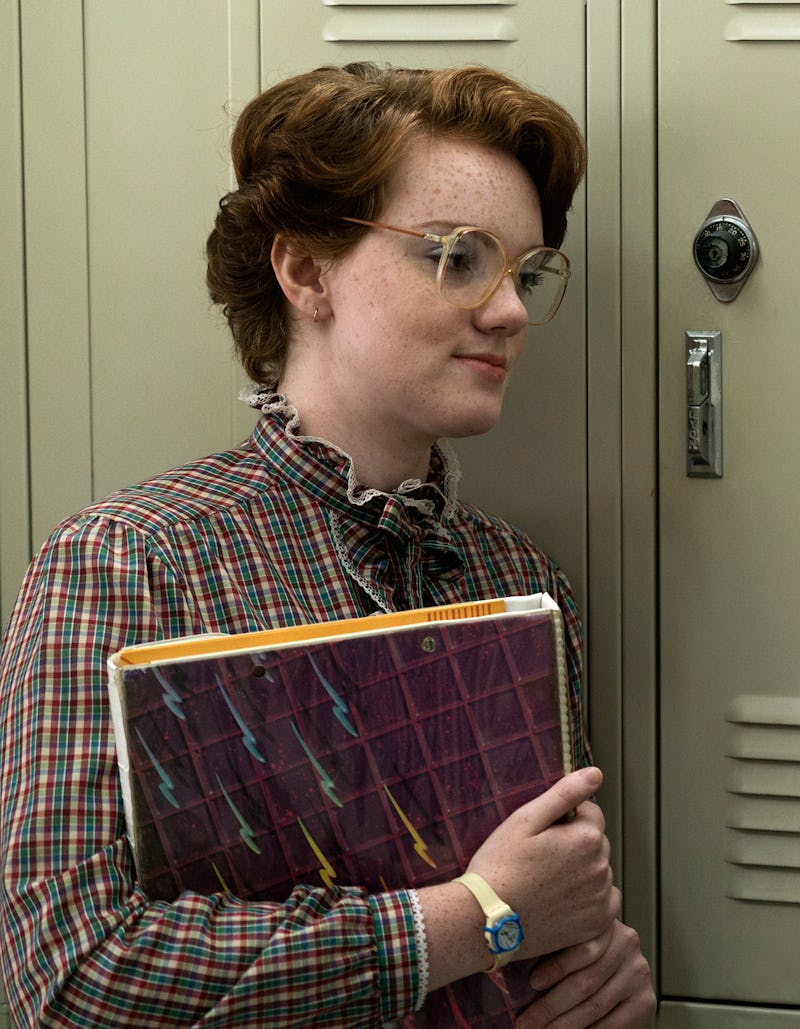 If you managed to get through Season 1 of Stranger Things (Netflix's cross between The Goonies and a love letter to the '80s) without falling in love with any of the characters, I don't think we can be friends. Topping the list of one of the most beloved characters in Stranger Things Season 1 is Shannon Purser's Barb. As the glasses-wearing, voice of reason best friend to Nancy, Barb has become a fan favorite — despite not actually appearing all that much. Still, it has me asking: Will Barb be in Season 2 of Stranger Things ? Now, to discuss this question, we're going to have to really dive into the show, so there are spoilers for Stranger Things Season 1 ahead.
As we all know, Barb met an untimely demise in Season 1 — seemingly at the hands (claws?) of the Demogorgon, although we don't know for sure what happened — as it was confirmed in the season finale when Chief Hopper and Joyce Byers travel to the Upside Down to find Will. Of course, it's this focus on Will even though Barb went missing soon after (along with other people from Hawkins, Indiana if Dr. Brenner is to be believed), that has inspired #JusticeForBarb.
So, will we get to see our favorite sensible high school student back for Season 2? I hate to be the bearer of bad news, but probably not. In a recent interview with IGN, Stranger Things co-creator Matt Duffer said specifically of Barb appearing in Season 2: "I can't see it happening." Sorry friends, it looks like we won't get to see Purser don Barb's giant-framed glasses and high-waisted jeans when Stranger Things returns — although, technically, Netflix has yet to officially renew Stranger Things despite chief executive Reed Hastings telling The Guardian they "would be dumb not to."
Still, #JusticeForBarb has not gone unnoticed by Duffer and his brother/fellow co-creator Ross. In the interview with IGN, Matt explained that Barb's presence and the impact of her disappearance on residents of Hawkins will be a theme of Season 2:
Barb will not be forgotten. We'll make sure there's some justice for Barb. People get very frustrated, understandably, that the town doesn't seem to be really dealing with Barb. That stuff is all happening. We're just not spending any screen time on it.
It's not like her parents are like 'Oh Barb left. She died!' Season 1 actually takes place over the course of six or seven days – it's a really short period of time. So part of what we want to do with hypothetical Season 2 is to explore the repercussions of everything that happened.
Of course, those of us who just want to see Purser back in the role of Barb are disappointed she won't be back for Season 2. Barb deserved better than an off-screen death while the majority of Stranger Things' main characters ignored her sudden and out-of-character disappearance — with the exception of Nancy. That said, if we can't have the actual Barb back for a second season, I suppose I'll settle for some #JusticeForBarb.
Images: Curtis Baker/Netflix; Giphy