See The Cover For Josh Sundquist's Debut YA Novel!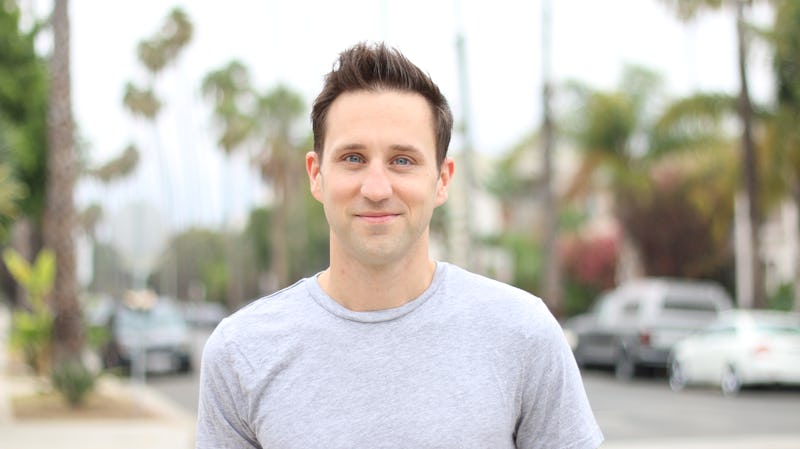 Josh Sundquist definitely knows how to get through to teens. The Paralympian ski racer and US Amputee Soccer player speaks directly to hundreds of thousands of young adults via his YouTube channel. There, he posts segments like "Dear Teen Self" — a video series where he (willingly, bless him) recounts his awkward high school adventures and attempts to parse out some meaning and inspiration from them. It makes sense, then, that when it came time to write his first novel, he would write it for teens. Bustle has all the details on Josh Sundquist's debut novel, Love and First Sight , as well as a first look at the cover!
Love and First Sight is Sundquist's first foray into the world of fiction writing. The motivational speaker has previously written two memoirs: Just Don't Fall , which details the loss of his leg due to childhood cancer and his career as a professional ski racer; and We Should Hang Out Sometime, which hilariously recounts his awkward attempts to find love (or at least a girlfriend) in all the wrong places.
Fiction writing, Sundquist says, was the logical next step for someone who's already shared most of his life experiences online and in the pages of his previous books. "I've written two memoirs, which means I've already overshared pretty much anything interesting that's ever happened to me," he tells Bustle.
His debut novel is a heartwarming coming-of-age novel that explores the ways we see and relate to the world around us. Love and First Sight is a first-person narrative told from the point of view of Will, a blind 16-year-old who has just started at a new high school. As he gradually begins to find his place in the new environment, he falls for a quiet girl named Cecily. But his life (and their relationship) gets turned upside down when he's given the opportunity to participate in an experimental surgery that could give him eyesight for the first time in his life. When Will is finally able to see the world around him, it isn't exactly as he imagined. For one thing, Cecily doesn't meet society's definitions of beauty — which contradicts everything her friends told Will when he still couldn't see. He knows it doesn't matter, so why does he feel so betrayed? The novel is a poignant exploration of the nature of trust, companionship, and attraction, as well as an unconventional look at the true meaning of beauty.
"I'm excited to release this novel, because writing it has changed the way I see the world," Sundquist says. "I mean that literally, as in I notice different things with my eyes now than I did before. And I really want readers to have that same experience."
Love and First Sight will be available on Jan. 3, 2017 from Little, Brown Books for Young Readers. Bustle has a little treat to make the wait more bearable — we are proud to present an exclusive first look at the cover for Love and First Sight:
Sundquist says the cover perfectly captures the energy and voice of the novel. "It was love at first sight," he says.
Love and First Sight by Josh Sundquist, $12.36, Amazon