How To Use Pokemon Appraisal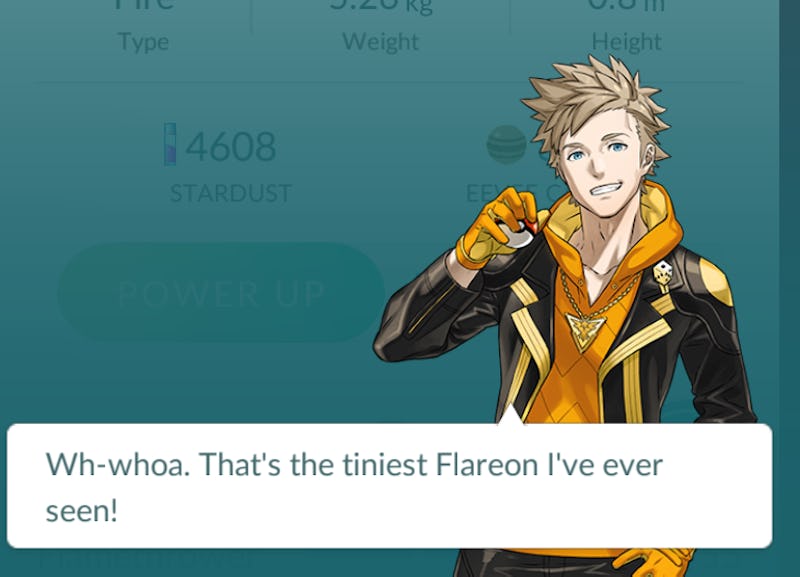 The latest "Pokemon Go" update has been released as of this very morning, and get pumped, 'cause version 1.5.0 offers a cool new feature that is sure to peak any trainer's interest: Pokemon Appraisal. If you are wondering how to use Pokemon Appraisal, this fun addition is very easy to navigate, and can help you get a sense of just how powerful your Pokemon line-up really is. A blurb on the iTunes App Store is tantalizingly vague in its description: "Trainers will now be able to learn about a Pokémon's attack and defense capabilities from their Team Leader (Candela, Blanche, or Spark) to determine which of their Pokémon have the most potential for battle." Soooo kinda like Pawn Stars — but for Pokemon?
Players who download the update will get to interact with their team leaders for the first time since hitting level five. What were before just colorful silhouettes have become full-fledged characters in the game. We saw the trainers' faces for the first time in late July at the "Pokemon Go" panel in San Diego's ComicCon, and now they're here to chat about the strengths and weaknesses of your favorite 'mons.
Since I am a member of Team Instinct, Spark appraises my Pokemon — complete with his '90s boyband hair and a jolly laid back attitude. If you are on Team Mystic, Blanche will guide you along with her icy glare, and those on Team Valor can enjoy Candela's mischievous smirk. Your team leader will size up whatever Pokemon you choose and tell you whether it is ready for battle. They will also isolate the Pokemon's best quality, whether it is Attack, Defense or HP (hit points).
Once you download the update, try out Pokemon Appraisal by tapping on the Pokeball in the center of the screen to access your menu options. Click on "Pokemon" and select the one you want to have appraised. I am starting with my Flareon because it is my most powerful Pokemon at the moment (I know, I'm slacking). Surely, Spark can't say anything bad about this cute little guy?
After you choose your Pokemon, click on the blue circle with the three horizontal lines in the bottom right-hand corner. This will give you the appraisal option with what looks like a little badge next to it:
Once you start the appraisal your team leader will appear at the bottom of your screen and give you the run down. Simply click on the speech bubble to navigate through everything they have to say.
I was feeling pretty dang great about myself after Spark complimented my Flareon.
Team leaders will also often comment on the size of your Pokemon (which doesn't really have any effect on its performance in the arena). While my Flareon was clearly powerful, Spark exclaimed, "Wh-whoa. That's the tiniest Flareon I've ever seen!" After his review I felt confident in choosing Flareon as my starter Pokemon when going into battle.
While Spark seemed super confident in my Flareon's abilities, I wondered if my other Pokes would hold up under such scrutiny.
Not well, it turns out ...
The more Pokemon I had appraised, the more my previous confidence began to wain. Spark said a few of them "can really battle with the best of them!" or were "pretty decent" but now I can't help but hear the sarcasm in Spark's tone when he looks at my tiny Bellsprout and say "Oooohhhh that's a nice Pokemon!" Guess I better beef up the 'ol Pokedex before I let my team leader take a look at it again.
Images: Screenshots/"Pokemon Go"