105-Year-Old Asks For Firefighters For Her B-Day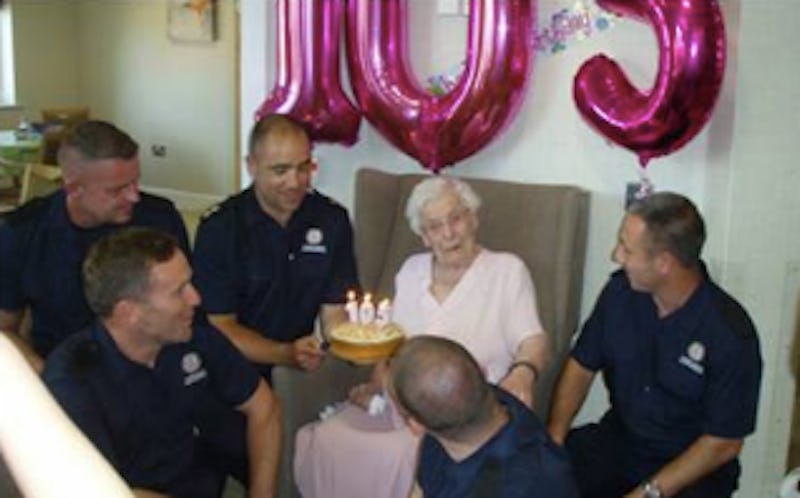 British centenarian Ivena "Ivy" Smailes got the surprise of a lifetime when a few hunky members of the fire and rescue service made her wish come true. The 105-year-old asked for sexy firefighters for her birthday on August 17, and the local men in uniform were all too happy to answer the call. While I immediately cue the Magic Mike soundtrack in my head, it was not that kind of party. Five hunky firefighters dressed in full gear joined the 40 person celebration held at the eldercare facility Addison Court Care Home in Crawcrook, England. One of them even climbed through the third-floor window and presented Ivy with a candle-topped cake. Now that's service!
Debra Carter, a worker at the facility where Ivy lives, says that Ivy is always looking for interesting ways to make each birthday memorable. "[Ivy] sends us little challenges for her birthday every year and this year she asked for firemen," Carter told ABC News. "We had the local fire brigade come ... through the third floor balcony window." Carter added that this request was not out of the ordinary for Ivy, who is steadily working through a long bucket list of fun activities. "For her birthday last year she tried to get us to climb a tree. She always tries to find something we can't do."
Just because Ivy was born in 1911, doesn't mean that she isn't hip to today's trends. Carter elaborates that Ivy especially requested that the firefighters have some serious ink. "Ivena's been with us for three years now, and she's got a fantastic sense of humor," Carter told Metro. "On her bucket list this year she wanted a cake delivered by a fireman with tattoos. We've managed to find one and the fire brigade have been fantastic about it. They were arguing over who was going to climb the ladder and deliver it to her."
The Tyne and Wear Fire and Rescue Service chronicled the special day on their Facebook page, posting pictures of the company prepping to ascend the ladder to the party. Could the secret to longevity be an attraction to hunky firefighters? (Fingers crossed!)
Friends and family enjoyed cake (a Victoria sponge), and live performances of some of Ivy's favorite Elvis Presley and Frank Sinatra songs. Ivy even took her first selfie to celebrate the joyous occasion. All party reviews were positive from the birthday girl as well. "It was great! Out of this world," Ivy told ABC News in an interview. So what devious plans might she have for 106? Carter has a pretty good idea already, adding, "She's already said that next year she wants to meet Prince Harry." Don't we all?
You can check out the "burly" firefighter delivering the cake in this adorable video:
If the devoted workers at Ivy's home keep up the good work, who knows? Maybe next year the whole royal family will climb through the window!
Images: Tyne And Wear Fire And Rescue/Facebook, Metro