30 Ways To Indulge Yourself Under $30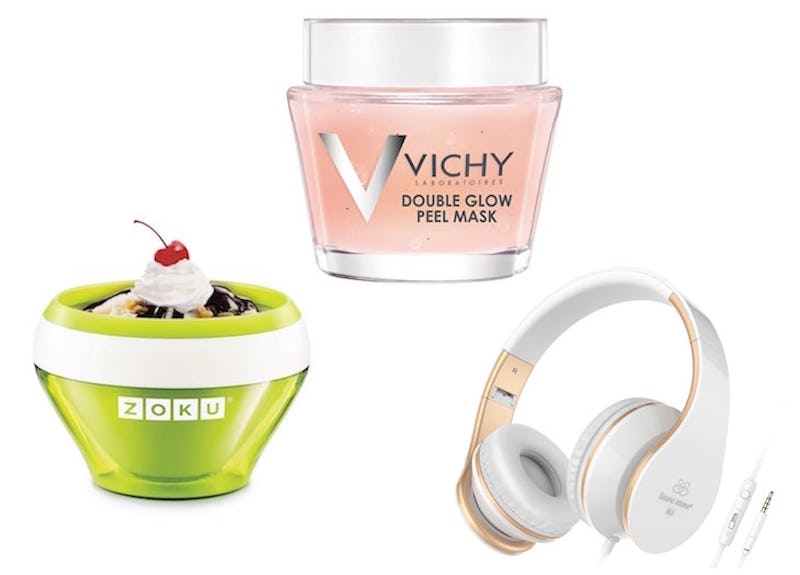 If you watch "Parks And Recreation," then you know all about 'Treat Yo Self Day.' It centered around knowing how to indulge yourself and sparing no expense while doing it — but just for 24 hours. If you hit the breaks on spending though, and look for cheap ways to treat yourself (especially indulgences under $30), you can make 'Treat Yo Self Day' a weekly event.
You want that ice cream maker? Treat yourself. You want that foot spa? Treat yourself. Seriously though, sometimes I really just want to curl up on the couch in my bathrobe under a comfy blanket, and throw on a face mask. There usually isn't a special occasion sparking my desires to do so, so I just do it. And it feels so good.
Everyone has a way that they indulge themselves, and it doesn't have to come with an expensive price tag. You can find indulgent gifts to buy yourself (or a seriously stressed-out friend) that come in under $30. And after using them, you'll feel like a million bucks (because treating yourself makes your whole week better). So, the next time you want to indulge in something, follow in Tom and Donna's footsteps and "treat yo self" because you deserve it.
For The Sleep Lover:
1. Pillow Spray For A Relaxing And Calming Sleep
This Works Deep Sleep Pillow Spray, $29, Amazon
Reduce anxiety with a calming sleep spray made with essential oils like lavender, patchouli, chamomile, and cinnamon. Presumably you're hitting the hay every night — so this is a treat yourself gift that keeps on giving.
2. Rotate Essential Oils For An Aromatherapeutic Sleep
Aromatherapy Basic Sampler Gift Set, $17, Amazon
Choose from lavender, tea tree, lemongrass, sweet orange, eucalyptus, or peppermint depending on your mood. Lavender and lemongrass are perfect for relaxing your mind and body before bed.
3. An Oil Diffuser To Fill Your Room With The Relaxing Aromas
Essential Oil Diffuser, $25, Amazon
Create the most relaxing environment you can think of with an oil diffuser that not only improves air quality in your living space, but provides light therapy and adds moisture to soothe dry skin.
4. A Cooling Pad For Your Pillow, So You're Always On The Cool Side
Gel'O Cool Pillow Mat, $25, Amazon
Tossing and turning is common when your body temperature spikes in the middle of the night. Ensure that you stay cool at night with a top rated cooling pad (with more than 1,500 reviews on Amazon) that sits on top of your pillow and gives you the best sleep possible.
For The Homebody:
5. A Super Soft Blanket To Wrap Yourself Up In
Chanasya Throw Blanket, $14, Amazon
If you love staying at home and curling up with a good book or a new film, a comfy throw blanket is an absolute essential. Plus, it'll look great draped over your couch when you aren't using it.
6. A Comfy Bathrobe To Lay Around In
TowelSelections Turkish Cotton Robe, $28, Amazon
There is nothing better than hanging out in a bathrobe, especially when you're indulging yourself a little bit. Choose a lightweight terry cloth robe for ultimate comfort.
7. Cute & Cozy Slippers To Keep Your Toes Warm
Urban CoCo Cozy Slippers, $10, Amazon
Complete your new ensemble with some comfy and cute slippers. These are cushioned with thick foam for extra comfort.
8. A Page-Turning Book That Keeps You Entertained All Day
The Girl On The Train, $10, Amazon
Sometimes you need a day to just sit on the couch and not move. When those days come around, a good book becomes your best friend. Find a page-turning thriller that you can't put down.
For The Creative:
9. An Art Set For Hours Of Creative Fun
Gallery Studio Art Set (82 Pieces), $25, Amazon
Show off your creative side with colored pencils, oil pastels, watercolor, drawing pencils, and more. Perfect for a relaxing afternoon.
10. Plus, A Sketchbook To Draw All Of Your Ideas In
Strathmore Series 400 Sketch Pad, $10, Amazon
Now that you have a new set of tools, you need a sketch pad to use them with. This one includes 100 sheets of all-purpose paper, so you can use pencils, pastels, or paint with it.
11. Or An Adult Coloring Book To Play Around With
Adult Coloring Books, $8, Amazon
Coloring relaxes the mind. This book features a collection of 48 images inspired by traditional henna, perfect for helping you unwind after a busy day.
For The Spa Lover:
12. Facial Peel To Leave You With Radiant & Luminous Skin
Vichy Double Glow Facial Peel Mask, $20, Amazon
With AHA and volcanic rocks, the peel will gently exfoliate skin to remove dead cells. You'll be left with beautiful, glowing skin.
13. A Hair Mask That Boosts Shine
Klorane Mask With Magnolia, $26, Amazon
This hair mask is packed with magnolia, an ingredient that boosts shine. It smoothes the cuticle and nourishes hair fibers, leaving you with stunning, just-left-the-salon hair.
14. 24K Gold Under-Eye Patches For A Well-Rested Complexion
LA PURE 24K Gold Eye Treatment Mask, $26, Amazon
You deserve some luxury in your life, and what better way to incorporate it into your "treat yo self day" than with 24K gold under-eye patches? This set gets rid of harmful toxins, hydrates skin, and increases blood circulation. That means no more dark circles or puffiness.
15. Coffee Scrubs To Slough Away Dull Dead Skin Cells
Natural Arabica Coffee Scrub, $14, Amazon
Coffee scrub is loaded with antioxidants and is an excellent exfoliator. The all-natural scrub, containing coffee, sugar, and shea butter helps get rid of dead skin and leaves glowing, softer skin behind.
16. Foot Spa To Keep Feet Soft
Conair Foot Spa with Vibration and Heat, $25, Amazon
Prevent feet from becoming rough and calloused by spending some time soaking them in a foot spa. Treat yourself to a little foot soak a few times a week and your feet will be thanking you. This one has a heat feature that keeps the water at the perfect temperature and massages your feet.
For The Person With A Sweet Tooth:
17. An Instant Ice Cream Maker, So You Can Have A Scoop Whenever
Zoku Ice Cream Maker, $26, Amazon
You probably don't need an instant ice cream maker (but that's why they call it indulging, right?). Just pour your chilled ice cream mixture into the bowl, mix it up, scrape the sides, and watch as it freezes.
18. And Coconut Caramel Sauce To Drizzle All Over The Fresh Ice Cream
Hey Boo Coconut Caramel Sauce, $13, Amazon
Drizzle on this dairy-free sauce all over your bowl of ice cream. Made with all-natural ingredients like coconut milk, cane sugar, sea salt, and organic agave syrup, it's sure to satisfy your sweet tooth.
19. A Chocolate Bar Library, Because You Can Never Have Enough Gourmet Chocolate
Mini Vosges Exotic Chocolate Library, $25, Amazon
With flavors like Red Fire, Naga, Barcelona, Caramel Toffee, and Bacon, you'll probably have a hard time savoring this collection of gourmet chocolate.
20. An Electric Cupcake Maker, For A Small But Delicious Batch
Nostalgia Electric Cupcake Maker, $19, Amazon
Everyone loves a good cupcake, and now you can cook up a batch of seven in only five minutes. Simply add in your favorite mix, and you'll have warm, delicious cupcakes in minutes.
For The Traveler:
21. A Leather Passport Wallet, So You Can Travel In Style
Visconti Hunter Distressed Leather Passport Wallet Case, $25, Amazon
A passport case is not only an indulgence that makes you feel stylish and luxurious, but it's also super helpful for keeping all of your things together. Find one that also has a slot for credit cards and cash, and you won't ever have to dig around in your bag at the airport.
22. A Cute Luggage Tag To Make Your Bag Look Prettier
Shacke Luggage Tags, $12, Amazon
Luggage tags — or those things that you don't really need — as most suitcases come with a place to write your name. But, they instantly personalize your bag, making it an indulgence that is totally worth treating yourself. Plus, it makes it way easier to spot your bag at the carousel.
23. An Eye Mask That Blocks The Light, So You Can Sleep En Route
Flight 001 Molded Eye Mask, $18, Amazon
Eye masks are a super important travel luxury. Don't leave home without one! This way, the next time you want to catch some Zs on a plane or bus, you can do so in complete darkness.
24. A Lavender Oil Infused Travel Pillow, So You Can Have A Relaxing Sleep On The Go
Z ZONED DOUGH Memory Foam Pillow by MALOUF, $25, Amazon
Sure, you could get yourself a regular old travel pillow. But in the spirit of treating yourself, go for one that's not only made out of high quality memory foam, but it's also infused with lavender, allowing you to have a more calming and relaxing sleep, no matter where you are.
For The Wine Connoisseur:
25. An Electric Bottle Opener To Open Wine With Ease
Oster Electric Wine Bottle Opener, $20, Amazon
Remove the cork from your next bottle of wine in seconds with a cordless electric corkscrew. It'll make your "treat yo self" days that much easer.
26. Use An Aerator Decanter Set, So You Can Enjoy Your Bottle Of Wine Sooner
Wine Aerator Decanter Set, $13, Amazon
Don't wait for your red wine to breathe. It takes too long. With this little gadget, all you have to do is open up your bottle with your new electric wine opener, and pour through the decanter for perfectly aerated wine.
27. A Vacuum Sealer To Close Opened Wine Bottles, So That They Don't Go Bad
Vacu Vin Wine Saver Pump, $9, Amazon
You should never let a good bottle of wine go to waste (seriously, that should be a crime). Now, you can treat yourself to your favorite glass of wine whenever you want without having to finish the bottle. Simply stick in the stopper and use the vacuum sealer to create an airtight seal, so it doesn't go bad.
For The Techie:
28. Water-Resistant Bluetooth Speakers, So You Can Listen To Music Whenever and Wherever
Cambridge SoundWorks Speaker, $28, Amazon
A speaker that is super lightweight, delivers high quality sound, and is waterproof is hard to come by. So, the next time you want to indulge in good music, don't worry, you can. Listen at the beach, poolside, in your car, in your house; wherever you want.
29. Noise Canceling Headphones So You Can Get Some Peace
Sound Intone Headphones, $20, Amazon
Sometimes when it's time to treat myself, I want to have a day completely to myself. That's where noise canceling headphones come in handy. This way, I can sit back, relax, and block out any distractions that may pop up.
30. A Camera Lens Kit For Your Phone, So You Can Take Photos And Videos Like A Pro
KetDirect Photo Lens Kit , $29, Amazon
If you've always dreamed about making cool videos and taking Instagram-worthy shots, but you don't have the money to invest in a professional camera, clip on lenses for your phone are a great way to treat yourself. This lens creates high quality photos and videos without the expensive price tag.
Images: Amazon (30)
Bustle may receive a portion of sales from products purchased from this article, which was created independently from Bustle's editorial and sales departments.