Treat Yo Self With These 13 Cheap, Fun Ideas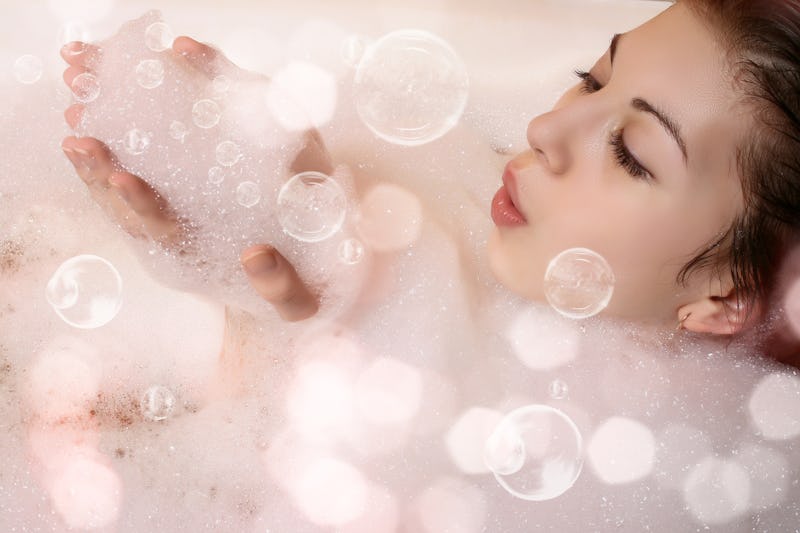 There's no doubt that 2015 hit the ground running. January flew by, and it seems like ever since New Year's Day the hours, days, and weeks have vanished in a blur. Plus, if you reside somewhere up north you're probably sufficiently chilled to the bone due to those icy temperatures. You also [probably] resent Punxsutawney Phil for seeing his shadow last week, but there's no need to be a Bitter Betty for the next six weeks. Because even though you have to wait a month until the next government recognized holiday — and even though you have to endure at least another month of cold temperatures — there are simple, enjoyable ways to relax and decompress from life overall. After all, it's important to appreciate yourself and take some selfish time to simply relax. Donna and Tom from Parks & Recreation said it best: "Treat yo self."
Even if it's taken as a joke on the show, the whole theory behind "treat yo self" is a valuable one. No matter what job, position or role you hold, taking personal time to reflect and decompress is essential to maintaining a good balance in life. It's easy to get overwhelmed and stressed out when life falls into a rigid schedule. Plus, when you're worrying about how to defrost your toes once you get home, it's obvious that the dreary winter cold doesn't help anything at all.
That being said, spare an evening, a few hours or even a few minutes (if that's all you have) to treating yourself. Whether you're online shopping, sipping tea and watching a Leonardo DiCaprio movie, or wading in a bath tub, the benefits of spending time on yourself are endless. Below are 13 simple, cheap, and relaxing ways to "treat yo self" to a night in. So feel free to pick one or all — the "treat yo self" choice is yours.
1. Draw A Warm Bath
Treating yourself starts on a personal level, and there's nothing more personal than a warm, bubbly bath. Grab your favorite Lush Bath Bomb and draw yourself a warm bath. Feel free to pour yourself a cup of wine and to grab your favorite book or magazine. Spend an evening wading yourself in water, relieving your muscles and letting go of built up tension — washing away last week and preparing you for the week to come.
2. Draw A Foot Bath
In the event that you don't have a tub, don't worry: There are still ways to treat yo self. One way is to draw a mini bath to wade your feet in. Invest in a large, wide plastic bowl (super inexpensive and multi-purposeful) and warm up some water inside. Throw some bath salts inside and dip in your feet. It may seem odd at first, but your feet will be thanking you after they feel like clouds. Bring a friend and make a girl's night in of it, like British vloggers Zoella and Tanya Burr.
3. Make A Face Mask
So many different common household ingredients and combinations make amazing face mask material. Find a recipe you like online, like this tasty one with rosemary and coconut oil or this tumeric, honey, black pepper and lemon concoction, and mix away. Once it's all mixed, apply it on your face and feel your pores smile as you rinse it away. Face masks can clean and brighten skin, no matter what type of skin you have. Don't be afraid to add this to your weekly skin care routine.
4. Give Yourself A Manicure And Pedicure
The salon is always a luxurious option, but not always the only way to go. If you're out of time or money, give yourself a manicure and pedicure just the way you like it. Pick out your favorite color, or try out some cool nail designs. And if you don't like what you've come up with, the best part is that you can start all over again at your own request.
5. Shop Online
While Tom and Donna may be advocates of fragrances and fine leather goods, there's no need to limit yourself to what you want to treat yourself to. Thankfully, these days nearly everything is sold online. So whether you're in the market for a new tooth brush or a statement necklace, don't be afraid to splurge a little and buy yourself a nice, quality item you know you'll enjoy. Be aware of your financial limits, but don't be too frugal either. Make Tom and Donna proud!
6. Drink A Warm Drink
As good as a smoothie or frappuccino sound at the end of the day — especially in the winter — nothing is as tasty as a warm cup of tea, latte, or hot chocolate. Coffee is also an option, unless you're treating yo self in the evening, in which case it may be a bad idea. (Although, decaffeinated drinks are an option and may be beneficial.) But any warm liquid, no matter your fancy, will do.
7. Consume Dark Chocolate
A perfect companion to your warm drink is a bite of dark chocolate. While chocolate may not seem like the best thing to indulge on, dark chocolate is proven to have many benefits, from decreasing memory loss to stopping diarrhea. Grab yourself a nice bar from the grocery store and wash it down with your warm drink. I guarantee your taste buds will thank you.
8. Update Your Pinterest
Between daily chores and responsibilities, there's barely enough time in the day to actually enjoy social media. Treat yo self to a night of Pinterest, Tumblr, or whatever your favorite online blogging outlet is. You could lust over a pair of pretty shoes, gain style and design inspiration, or even come across a new recipe you want to try out; the great thing about Pinterest is that it's never ending.
9. Drink An Alcoholic Drink
Whether you're a big martini fan or enjoy a nice glass of red wine, alcohol is a guaranteed way to wind down and relax. Visit your favorite bar for a drink, or stay in and drink while wading in a bath or browsing Pinterest. You can even stick to a mimosa and make Donna proud.
10. Throw Some Stuff Out
If you missed Boxing Day over the holidays, now is probably a good time to think about relieving your home of extra stuff you don't need. Donate clothes to your local charity, and go through your old cosmetics and throw out the old stuff. While this might seem more like a chore than a treat yo self celebration, at the end of the day it's time dedicated to making your life lighter and easier.
11. Throw A Dance Party
Step 1: Make a playlist with all your favorite songs on it. Step 2: Plug it into your speakers and turn up the volume. Step 3: Pretend like you're Beyoncé. Dance to your favorite music, and sing to the songs you know all the lyrics to. There's nothing more refreshing than letting your guard down and having a small, personal dance party. Who cares if you look like a fish out of water or are singing completely off key? The best part is that you're the only person there to laugh at yourself.
12. Binge On Netflix
This list would not be complete without a mention of Netflix. Dying to watch that last season of Breaking Bad? Change into your pajamas and snuggle with your favorite companion: Netflix. Lose yourself in television, film, or weird sci-fi documentaries in the privacy of your own quarters.
13. Sleep
No explanation needed here. Get to bed early, or sleep in late. What could be better than a few extra hours of snooze time?
If these suggestions aren't enough to convince you, just ask yourself: Who ever actually regrets treating themselves?
The answer is no one.
Images: Fotolia; Giphy