These Are The Best Ways To Make Ramen In Your Dorm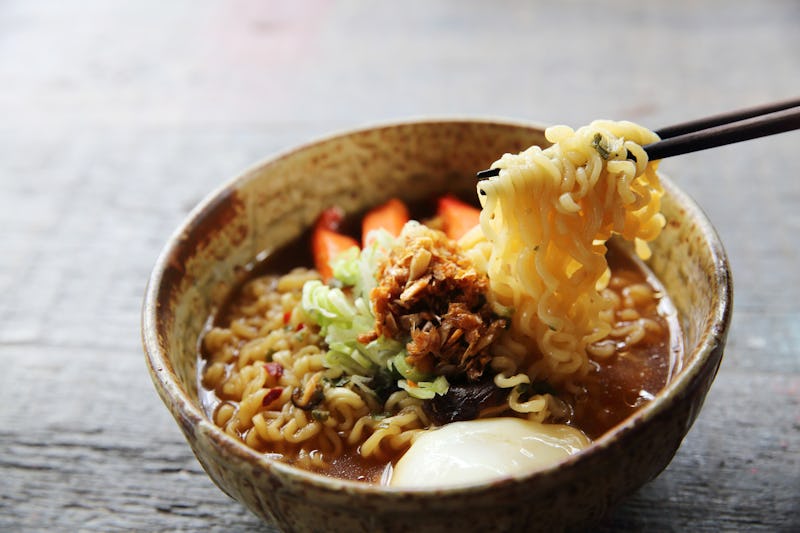 Most of us are at least passingly familiar with ramen. Who could refuse those delicious (and most importantly, deliciously inexpensive) noodles that are so easy to make? That's why I was thrilled to find the recent AskReddit thread, prompting users to share their best ramen recipes for college students. Dorm room cooking wan be a challenge, but instant ramen doesn't require anything except access to hot water — and it's both easy and inexpensive to doctor your noodles into something spectacular, even when you're not working with a whole lot.
Ramen is a universal crowd-pleaser, whether you're eating lunch solo or heating up a makeshift midnight snack to share with your roommates. And it isn't just for college kids, either, although it's certainly dorm room staple; I mean, I've already long since finished college, and I still love ramen. After all, why should the cheap and convenient noodle recipes end just because you're no longer living in a dorm?
Of course, what you can do to make your ideal ramen varies depending on what kitchen tools you have available. For some people, you might be limited to just a microwave or an electric kettle. For others, if you have a slow cooker handy, you can basically make a gourmet meal based around a super affordable packet of noodles. If you have a nice variety of spices and sauces, that can help, too! Though we all know the seasoning packet that comes with a package is a real life-saver, especially when our cupboards are pretty bare.
I've chosen my personal favorite cheap and easy ramen recipes below, but be sure to check out the full thread over at AskReddit for even more awesome recommendations.
1. Add A Little Jerky To Your Dish
Round out your ramen with a little salty protein. Jerky also makes for a convenient and cheap snack, too. Also noteworthy for non-meaters is that, yes, vegan jerky exists. Hurrah!
2. Add Some Vegetarian Protein To Your Bowl
Tofu is pretty cheap, lasts forever in the fridge, and sucks up whatever flavors you mix it with. Baking some tofu (many dorms have communal kitchens) and popping it into a bowl of delicious noodles is an easy way to get some healthy protein into your meal.
3. Make Your Liquid As Flavorful As Possible
Whether you're using a homemade broth or something from a box or can, cooking your noodles in a flavorful liquid instead of just plain water adds a nice touch.
4. Marinate Your Toppings For The Best Flavor
If you eat ramen regularly, or you just like to plan ahead, it's a great idea to marinate your proteins, vegetables, and other toppings before you actually cook your noodles. This gives your food time to really absorb the flavor and become more nuanced and rich.
5. Make These Fancy Noodles To Impress Your Roommates
If you want to become everyone's favorite roommate, whip up some fancy noodles in no time flat.
6. Canned Soup And Ramen Might Be A Match Made In Kitchen Heaven
Strange, but true: If you have some cans of soup in your cupboard you need to get rid of them, using them to cook your ramen noodles is apparently a delicious and fool-proof way to create a unique and easy dish. Don't knock it until you try it, am I right?
7. Hoisin Sauce and Sriracha: The Classics
If you want your ramen to be super quick, yet super flavorful, always keep some hoisin sauce and sriracha on hand. These sauces can go really well with other dishes, too, making them nice and versatile in the kitchen.
8. This Three-Step Process Is Absolutely No Joke
If you eat ramen on the regular, you might as well develop a specific system that works for you. This Redditor's method sounds like it's virtually a science, and I have to say, I'm so convinced that I'm going to try it myself soon!
9. Breaking Down The Cost Makes This Taste Even Sweeter
When you're working with a budget, few things taste better than knowing your money is going far when it comes to your meals. That's why it can be super handy to break down the cost per ingredient, per meal and see how far your dollar really stretches.
10. Treat Yourself To A Creamy Sauce
Who doesn't love the creamy comfort of a homemade sauce? Especially if you're missing your parent's home cooked meals, this one is sure to warm your stomach — and your heart.
11. Peanut Butter Goes Well With Everything — Including Your Noodles
Have a jar of peanut butter in your pantry? Perfect. Add a scoop to your ramen and you've given yourself a new flavor — and some protein, to boot.
Image: Fotolia