How Bustle's Office Looks After ~Going Green~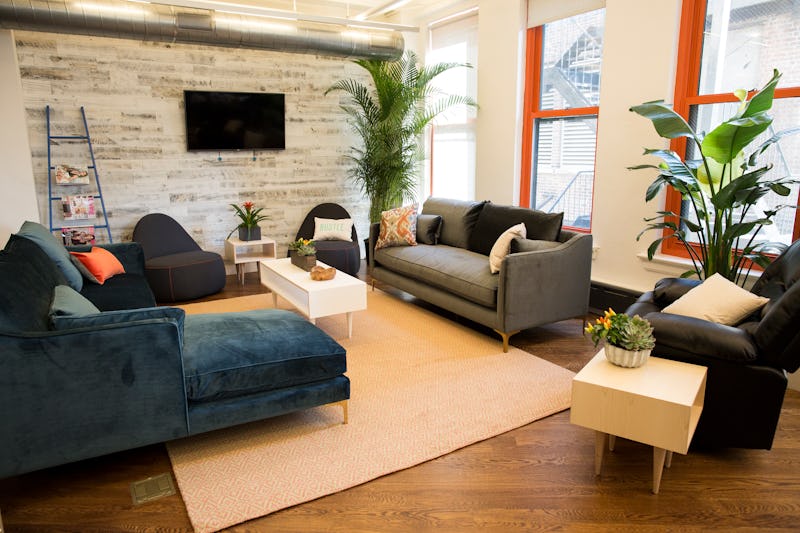 Going green isn't just about the day-to-day mindfulness of recycling and reducing waste, but part of our lifestyles as a whole — the conscious decisions you make in where you purchase your food, how you conserve energy, and what kinds of products you choose to buy. As one of the company's many charitable initiatives, John Paul Mitchell Systems' Tea Tree brand partnered with Reforest'Action to shed light on the importance of promoting this lifestyle, pledging to plant 500,000 trees by the end of 2016, which will sequester 85,000 tons of CO2 during the trees' lifetime. In an effort to demonstrate just how crucial (and stylish!) it is to promote eco-friendliness in our own lives, John Paul Mitchell Systems took the Green Takeover initiative to Bustle, and gave the communal area of Bustle's office a totally green revamp.
Interior designer Joy Moyler, whose 25 years of design include clients ranging from Ralph Lauren to John Mayer to Leonardo DiCaprio, headed up the vision for this project. The entire design incorporates environmentally-conscious furniture, paint, and contracting, demonstrating just how worthwhile it is to invest in the green movement, and how achievable it is to use green products to create a more breathable, open space in the process.
Here is what the space looked like before Moyler added her much-needed eco-friendly flair:
(Yes, that is a nap pod on our floor. Are we millennial enough yet??)
The furniture that was here prior to the takeover was moved to another part of Bustle's rapidly expanding office and incorporated into the new design (waste not, want not!), leaving a canvas for Moyler and the contracting team from Eco Brooklyn to work their magic.
It didn't even take a day for the new version to come to life, leaving the communal Bustle space with an earthy, minimalist, relaxing vibe adhering to Moyler's unique vision. Here's what the space looks like post-Green Takeover, with help from Interior Define, Urban Green Furniture, Benjamin Moore, Hook & Loom, and Stikwood.
Interior Define, whose sofas are composed of kiln-dried solid wood that is Carb 2-compliant and formaldehyde-free, provided the sapphire "Caitlin by the Everygirl" Chaise and "Caitlin by the Evergirl" sofa that frame and give strong definition to the space.
Brooklyn-based urbangreen, an eco-friendly, sustainable real wood furniture brand, provided the Midcentury Modern End Table, Midcentury Modern Coffee Table, and Leaning Ladder Magazine Rack.
The designers used Benjamin Moore's Natura Waterborne Interior Paint in Orange Parrot to give the windows their liveliness, which is echoed in the Hook & Loom Oslo Eco Cotton Rug, woven from new yarns spun from fibers harvested from old clothing without any chemicals, latex, or dyes. To finish off the chic urban green feel to the space, Stikwood wall coverings of reclaimed and sustainable woods replaced the formerly empty walls.
Seeing how beautifully a space like this can be tied together using all eco-friendly brands is yet another reminder of how easily we can be mindful of where our purchases come from and minimize our carbon footprint. But even if you're not planning on furnishing a space any time soon, there are plenty of ways you can join the Green Movement — check out John Paul Mitchell Systems' Tea Tree brand and Reforest'Action's website for information on how to plant your own tree in the United States, Peru, Guatemala, or Haiti, and contribute to the reforestation cause.
Images: Emma Lord/Bustle (Before Pics); Bianca Consunji/Bustle (After Pics)