Kylie Jenner Has A Favorite August Lip Kit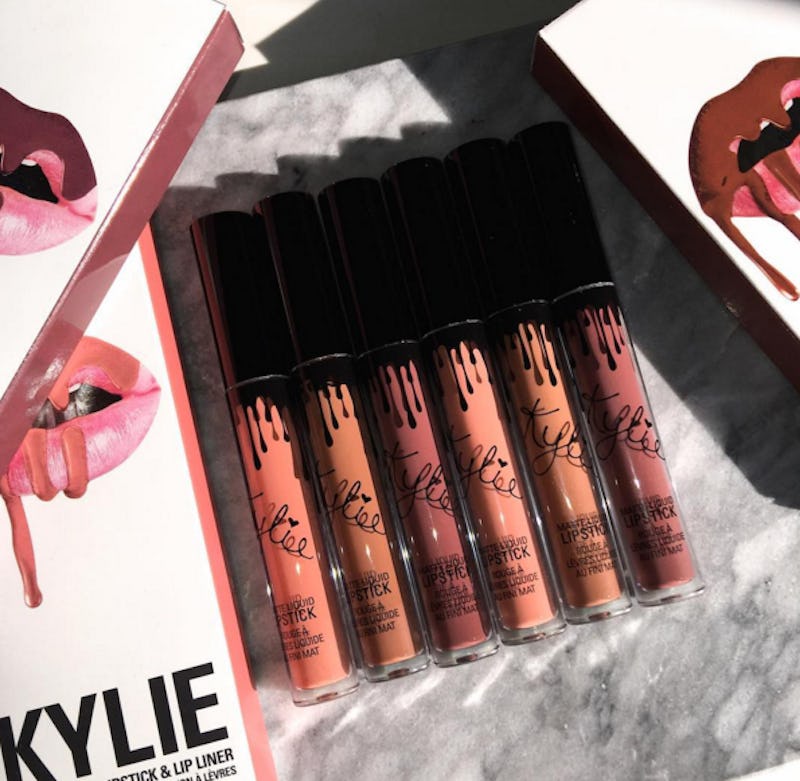 I don't care how many times this girl launches new products, it'll never get old. So, when she unveiled three new matte lipstick shades, fans we're totally prepared to freak out over her color selections. Now that she's announced all three shades it's time to find out which of the August Lip Kits is Kylie Jenner's favorite. Her choice should come as no surprise.
Love Bite, Brown Sugar, and Dirty Peach are each amazing in their own right. But, Jenner selected the coral-hued Dirty Peach Lip Kit as her favorite of the bunch. This lippie is a lighter, peachier version of the 22 shade, which was named after Jenner's lucky number. Jenner also included a bright orange eyeshadow in her palette. So, all signs are pointing to the fact that Jenner's got a thing for orange-y shades. And I mean, who could blame her? They're great for spring, summer and fall, and I can't think of a single person who wouldn't love a lipstick they could wear practically all year long.
According to the Kylie Cosmetics Twitter account, not only is this lippie her favorite of the August Lip Kits, it's among the top shades she's ever created. And that's a big deal, if you ask me.
I mean, there's no denying this shade is gorgeous.
It'd be hard to pick a favorite out of this stunning bunch.
Jenner's really outdone herself this time.
Dirty Peach looks great on a variety of skin tones.
Plus, it's a standout, even when compared to the similar tan and orange mattes.
Can we talk about how incredible this lipstick will look when paired with all of your Bronze Kyshadow combos?!
If you're a fan of the rust-colored Ginger, you're going to love its lighter cousin, Dirty Peach.
Think of it as a more sherbet-like version of 22.
Take it from Jenner, there's no going wrong with an peach pout.
Image: kyliecosmetics/Instagram (1)