17 Animal Movies You Obsessed Over In The '90s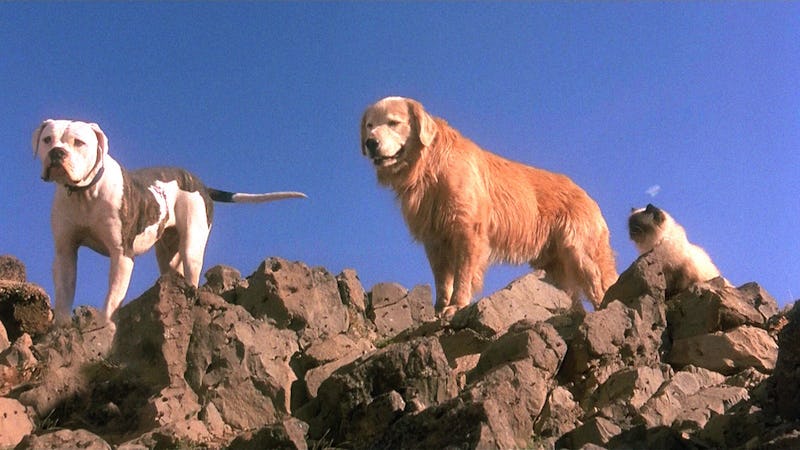 I don't know about you guys, but I smile way more at the dogs I pass by in the street than I do at their owners. I'm pretty much obsessed with any furry, four-legged creature, so, obviously, I will not turn away when presented with the opportunity to play with a puppy passerby. One day I'll make the leap and actually adopt a dog of my own, but until then, I have my neighbors' dogs (and cats, and, ferrets, and chinchillas) to obsess over instead. Of course, part of the reason for my pet obsession and general love of all of the world's fluffy creatures has to do with the movies that I watched as a kid. For some reason, '90s movies were really pushing an animal agenda, and I was totally onboard for it.
Not all '90s movies that featured animals did so in the same way. For every super depressing/uplifting movie about a "boy and his dog," there was one where anthropomorphic animals ruled that land without much thought at all to what humans were up to — if we even existed in this universe. No matter how they did it, animals made these '90s movies a whole lot better. Here are the ones we adored way back when:
1. Beethoven (1992)
Beethoven was 185 pounds of pure love — and mess. Though the St. Bernard stood up to bullies, he also ruined plenty of duvets with the powerful shake of his perpetually-muddy fur. Still, who could resist that face?!?
2. Balto (1995)
Kevin Bacon voiced Balto, a wolfdog hybrid with an identity crisis (the other dogs don't accept his wolf heritage, because they're essentially dog racists) who treks through a snowstorm to bring medicine back to his Alaskan town. It's the ultimate underdog story... err, underwolfdog story.
3. Homeward Bound: The Incredible Journey (1993)
When a motley crew of pets end up lost in the wilderness while their family is away, they must band together in order to find their way back home to their beloved owners. Homeward Bound confirms your belief that your pets really do love you as much as you love them, even if it also breaks your heart at the thought of losing them.
4. Air Bud (1997)
Oh, you think a dog can't play basketball?! That's just because you never fit him with the proper sneakers. Let Air Bud school you.
5. Babe (1995)
What's a pig who has lost his place in the world to do? Spark social change on his farm, of course. Babe the Pig reminds us that it's okay to be different, but it's very important to be kind.
6. The Lion King (1994)
It took '90s kids years to realize that everyone's favorite Disney movie was basically Hamlet, but with a happier ending. Oh, and with lions.
7. A Bug's Life (1998)
Do bugs count as animals? Eh, whatever. This heartwarming story about a very well-meaning ant who never seems to get things right is weirdly relatable for any former '90s kid who feels like adulting is super hard.
8. Shiloh (1996)
Jeez, this movie is tough. All poor Marty wants to do is rescue adorable beagle Shiloh from the grips of his abusive owner, but it's an uphill battle purely because Marty's neighbor Judd seems to enjoy being the worst. All works out in the end, but man, did this movie play with your emotions.
9. 101 Dalmatians (1996)
The live-action version of this Disney animated feature really hammered home just how disturbed Disney villain Cruella De Vil was. She literally says that she's cool with bashing puppies over the head, which basically makes her public enemy number one. Here, she's played by Glenn Close — and one of her henchmen is played by a pre-House Hugh Laurie!
10. A Goofy Movie (1995)
Parents — they just don't understand. Especially if they're a part of Mickey Mouse's Disney squad. This animated movie, a sequel to Disney animated series Goof Troop, places Goofy and his son Max in a father-son buddy comedy, and weirdly, it works — and holds up to this day.
11. Mighty Joe Young (1998)
This heartwarming story of an orphaned gorilla and his loving owner (played by a young Charlize Theron) is going to make you cry. It will. Let it happen.
12. Once Upon A Forest
Ignore the cutesy trailer — this movie is intense. Like, animals-dying-from-poison-gas intense. But it's also a good story with an important — if super depressing — environmental message.
13. Tarzan (1999)
Though human Tarzan gets most of the attention in this movie, his animal friends make up a great supporting cast. Also, Phil Collins elevates this movie to a whole new level.
14. Dr. Doolittle (1998)
This movie is delightful, but also kind of problematic: if the world accepts that animals not only have the ability to talk, but have exceedingly human personalities, shouldn't everyone be going vegan ASAP?
15. White Fang (1991)
This movie has everything: a cute dog, action, adventure, and a baby Ethan Hawke.
16. You Lucky Dog (1998)
Kirk Cameron plays a dog psychiatrist who discovers he has a psychic connection with one of his pup patients (yes, really) in this Disney Channel Original Movie. So many questions, but mostly: are dog psychiatrists real things?!
17. Free Willy (1993)
Consider this the predecessor to Blackfish.
Now, excuse me, but I have a dog to go hug.
Image: Buena Vista Pictures