This 'Princess Diaries' Star Wants A Third Movie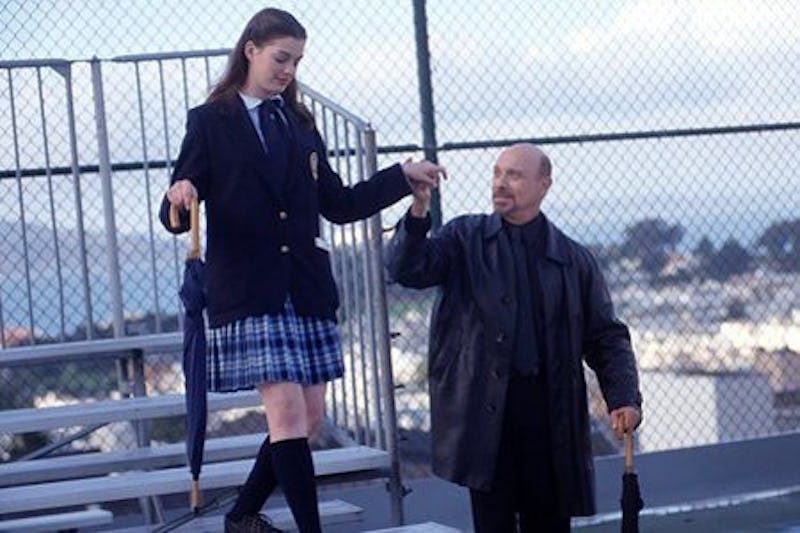 In 2001, The Princess Diaries reminded us with one, special character that "nobody can make you feel inferior without your consent," and helped Mia Thermopolis — and the rest of is watching at home — all learn what it meant to stand up for our individuality and weirdness. It was, of course, Joe, the bodyguard. The Princess Diaries, directed by the late Garry Marshall, was based on the 2000 novel by the same name, and thanks to characters like Mia and Joe, helped us all learn to accept and love ourselves for who we are. So, it's no surprise that the actor who played Joe, Hector Elizondo, is as decided to the franchise as us fans, and wants The Princess Diaries 3 to be a film, just like we all do.
Sitting down with Variety Latino, Elizondo opened up about the possibility of reprising his role as everyone's beloved bodyguard in the Disney film. "It's not official, but certainly, everybody wants it done," said Elizondo. "It's been discussed. Garry talked to me — may he rest in peace — about his involvement in it. I know Annie would like to do it. I know Julie would like to do it. I would like to do it. So we're on board, it's a question of when and a question of getting a good story. I'm ready! It's time to go back to Genovia!" ("Annie," of course, is Anne Hathaway, aka Mia, while "Julie" is Julie Andrews, aka Clarisse Renaldi.)
It sure is, Joe. After rumors began to swirl about Marshall officially announcing his plans to film a third film, the anticipation has not settled. Tragically and unexpectedly though before anything could get off the ground, Marshall passed away from pneumonia following a stroke at his home in Burbank, California on July 19. He was 81 years old. It's hard to imagine actors wouldn't have been game to return: In fact, she even said she'd like to, according to Marshall in March 2016. The film became Hathaway's breakthrough role that set the stage for her illustrious career, and during an interview with Huffington Post in 2015, Hathaway remarked that it was "a great first job." But, the teen film also made it easy for her to be typecast as the nice, good girl. "It was a big hit — but at the same time, it was a hard thing to be like, 'Robert Rodriguez, I swear I can do one of your movies!'" Hathaway said. "It was hard to get into rooms to be taken seriously for roles that weren't princesses, so I think partially that was why I've tried to have as big a range as I have."
Currently, the project is at a standstill succeeding Marshall's devastating death, and it's unclear what its future will be. With Marshall is longer wish us, it would be bittersweet to hire a new director to carry out his vision — but Elizondo feels, according to Variety Latino, that it would be a good tribute. "I'd love it to be a woman [direct]," he said. "We don't have enough of them. That would be nice. First, you have to have a good story. Whoever directs it has to understand the story. God knows there are female directors out there. That would be lovely. I'm sure they'll come up with a more than competent director...I'm ready to do it anytime."
Images: Buena Vista Pictures; Giphy