Another JonBenét Ramsey Special Is In The Works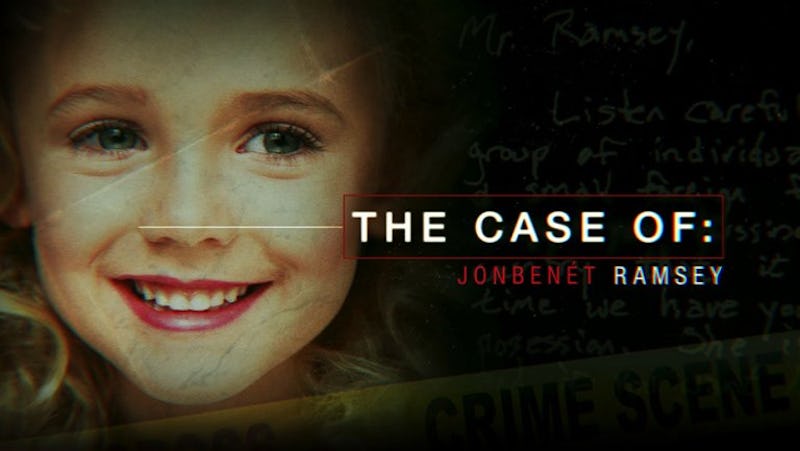 As 2016 marks the 20th anniversary of JonBenét Ramsey's unsolved murder, it should come as no surprise that the case will be be getting the "true crime series" treatment. Given the popularity of shows like Netflix's Making A Murderer, FX's The People v. O.J. Simpson, HBO's The Jinx, and of course, the popular NPR podcast Serial, it was kind of inevitable — and as it stands, there are four JonBenét Ramsey specials slated to air in 2016. But, what's the difference between all the JonBenét Ramsey specials? A fair question to ask.
First, some backstory: On December 26, 1996, John and Patsy Ramsey's six-year-old, beauty pageant daughter went missing. Before discovering JonBenét's body in their family basement, the two parents found a ransom note. What unraveled afterwards was a frustrating investigation that ultimately led to 20 years of investigations and no killer arrested. Now, four different JonBenét specials will each take a shot at trying to put together the 20-year-old puzzle.
Let's start off with CBS' version. CBS will air a true-crime miniseries, produced by Tom Forman (from 48 Hours and Extreme Makeover: Home Edition) called Case Closed: JonBenét Ramsey. The show will feature some of the case's original investigators and bring in new experts. The series will be three parts, each two hours long, with the first one premiering on September 18. So far, that's all we know about it. Well that, and according to this trailer, the investigators build an impressive replica of the Ramsey house.
On August 1, it was announced that Investigation Discovery would premiere a "three-night television event series" focusing on the JonBenét Ramsey's murder. Deadline reports a list of interviewees for the special that include investigators, journalists, detectives, and a former Boulder Police Sergeant, who was in the house the day JonBenét's body was discovered in 1996. This one will premiere on September 12.
Then, Lifetime jumped on board, indicating that they have begun production on a film titled Who Killed JonBenét? Like CBS' series, the film will revisit aspects to the story that have gone unsolved, as well as "recently surfaced information" that focuses primarily on the day after Christmas in 1996, the same day Ramsey was found dead in her basement. However, Who Killed JonBenét? will be an original scripted movie starring Eion Bailey (Band of Brothers), Michel Gill (Mr. Robot), and Julia Campbell (Romy and Michele's High School Reunion). It will premiere sometime in the fall.
Most recently, A&E announced its own two-hour documentary special, titled The Killing of JonBenét: The Truth Uncovered. The Killing of JonBenét will feature JonBenét's father, John, and some never-before-seen evidence, including diary entries he wrote during this time and an interview with JonBenét's brother, Burke, from 1998. This special also promises the unveiling of "exclusive and shocking DNA evidence." It will premiere 13 days before Case Closed, and seven days before the the Investigation Discovery special on September 5.
CBS, Investigation Discovery, Lifetime, and A&E are all counting on people's recent interest in the true crime genre to gain views, and given that JonBenét's case is still unsolved, I'm sure they will. However, with all these specials premiering so closely together, it will be a challenge for audiences to tune into all four of them.
Images: CBS