Hooray! 'Louie' is Coming Back...and Soon!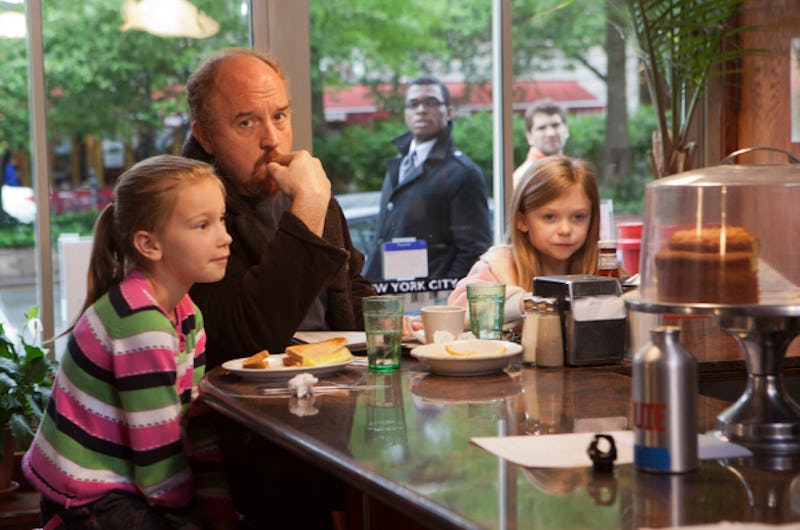 The long, long, longlonglong wait for the fourth season of Louis C.K.'s FX series, Louie, is nearly over. After a 19-month self-imposed hiatus, the preternaturally hilarious C.K. has made his way back to our television screens with a wealth of riches. Because we're not just getting the 13 episodes the network — oh no no, that would be too easy! — we're actually getting 14 new episodes of Louie, which will air back-to-back for 7 weeks of pure, unadulterated C.K.
On May 5th starting at at 10:00 PM FX will air not one, but two (!!) episodes of the Emmy Award-winning show every following Monday until the finale on June 16th. According to FX CEO John Landgraf, "Louis said he needed extra time between seasons three and four of his show because – even though Louie was the most critically acclaimed television comedy series in America – he needed to make it even better. Based on the first three episodes we've seen, remarkably, he accomplished his goal."
This is all incredibly exciting news for fans of the comedian whose humor has come to define — if not reign over — the modern comedy landscape. C.K.'s talents as a writer, director, producer, comedian, and dad all converge on the city of New York with a winning sense of self and timing that's unlike most comedies on television. Forever determined to take the riskier path has proven to bring C.K. myriad successes, including a 2012 Emmy Award for Outstanding Writing for a Comedy Series in addition to becoming the first comedy series on a basic cable network to receive an Emmy Award nomination in the category of Outstanding Comedy Series the following year. While we loved seeing him in things like American Hustle, his just-released first feature Tomorrow Night , and Woody Allen's Blue Jasmine, we're really tickled to see C.K. return home to TV.
Image: FX Networks