Tom Hanks Revealed Wilson's Fate On Twitter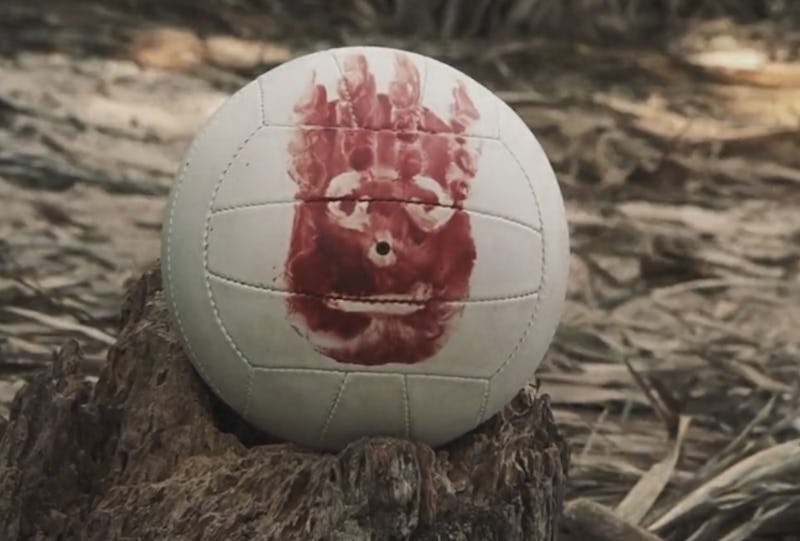 As far as I'm concerned, Tom Hanks can do no wrong. From his incredible performance in Carly Rae Jepsen's "I Really Like You" video, to his roles in a plethora Oscar winning movies, Hanks never disappoints. Currently promoting his new movie Sully, the actor participated in a Twitter Q & A on Sunday, and his answers will give you all the feels. Especially since Tom Hanks revealed Wilson's fate after Cast Away , and we've been waiting for this news forever. Even though it came out in 2000, Cast Away is still one of the most-referenced movies of like all time, and much of that is down to Hanks's unique relationship with a volley ball in the film. Not that I need to tell you that.
Hanks was as hilarious as you'd expect him to be during his Twitter Q & A session, when he took over the IMDb Twitter account for #AskTomHanks to answer a multitude of fan questions. Instead of only sticking to Sully-related enquiries, his upcoming movie about the pilot that landed a plane in the Hudson, Hanks answered questions about his entire career. And to the person who asked him, "Do you have the original Wilson in your home," I only have masses of gratitude. Who hasn't ever wondered what happened to the world's most lovable volley ball? Now, please prepare yourselves, because this might not be the Wilson news you were hoping for.
Exactly as you would expect, Hanks's response to the question was perfect but completely devastating: "He floated away." It would seem that the You've Got Mail star didn't have to pretend to be sad during the filming of that infamous Cast Away scene, since he really did lose Wilson in the water forever. Having seen the movie numerous times, I'm well aware that Wilson floats away, and it might be the only time I've legitimately sobbed about an inanimate object, but there was still a part of me that hoped Hanks had his volley ball best friend at home somewhere safe. But, alas, Wilson floated away in real life too. We should probably all have a moment of silence, right?
The actor answered lots of questions during his Twitter takeover, and not all of the answers will make you cry quite so much. For instance, when asked, "How did this role differ from other roles that you've done?", Hanks replied, "Two words. White hair." It's the actor's sense of humor, along with with his movie choices, that make him one of the greats. The Sleepless In Seattle actor also revealed that he was happy that Sully wasn't filmed in 3D, showing his preference for more traditional modes of filmmaking. Since Sully is directed by Clint Eastwood, the film is guaranteed to focus on Hanks's amazing acting skills rather than over the top post-production special effects.
Wilson may have floated away for real, but he will remain in all of our hearts forever. Now and go and re-watch Cast Away immediately.
Images: DreamWorks Pictures