Daniel May Be Living The Single Life Post-'BiP'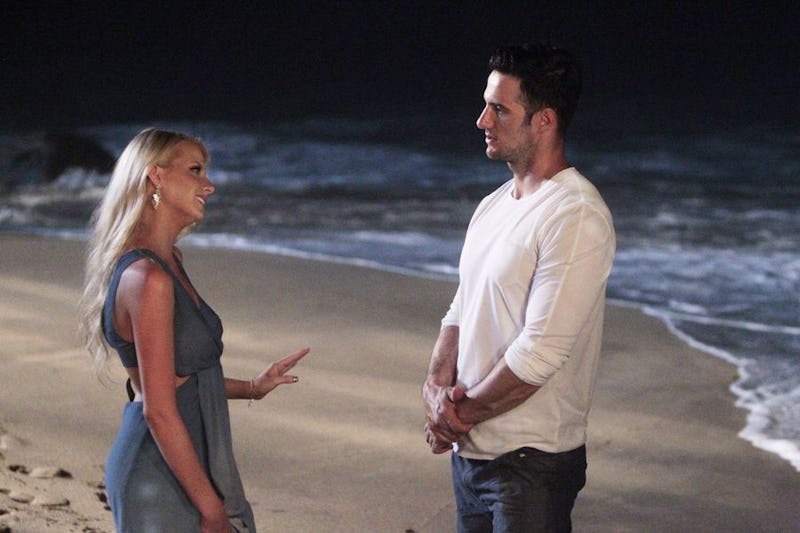 Of all the contestants on Bachelor in Paradise Season 3, the show's resident Canadian, Daniel Maguire, may be one of the most fun to watch. He's gone from Chad Johnson's only ally in either the Bachelorette or Bachelor in Paradise houses to someone I wouldn't mind seeing as the next Bachelor. But, for those of us who enjoy Daniel's antics on Season 3, there is one question I need answered and it's not whether he's the next Bachelor: Is Daniel single after Bachelor in Paradise ? Because what's the point of watching former Bachelor and Bachelorette contestants look for love in Mexico if our favorites don't find that ultimate romantic connection?
Shortly after entering Paradise, Daniel seemed to hit it off with fellow contestant Sarah and they exchanged roses for the first two weeks. However, when it came time for the men to give out their second round of roses, Daniel may have let the power go to his head a little bit (or a lot) and he ended up giving his rose to Haley — effectively saving both twins from elimination while Sarah was sent home. But, the women are in power during the following week, and Haley is setting her sights on Ryan B. from Kaitlyn Bristowe's season of The Bachelorette. So, that leaves Daniel without anyone to give him a rose in the next ceremony, which means his time in Paradise may be limited and he'll be going home to the single life. But don't worry, he's been keeping busy post-Paradise.
Working Out
It seems his time in Paradise may not have been fruitful in romantic love, but it didn't affect his love of the gym.
Providing His Services As A "Bachelor Babysitter"
I have so many questions. Is he the Bachelor? Is he babysitting the Bachelor? How well does that pay? Nevertheless, you keep up that side hustle, Daniel.
Living Up to His Canadian Citizenship
At this point, we've seen plenty of Daniel's love of maple syrup (but, does he actually love it or is it required eating for all Canadians?). However, I'd like to see him branch out a little bit — what about hockey or Tim Horton's or literally any other stereotypical Canadian thing?
Hanging With Bachelor Nation
Now, he may be hanging out with Sarah post-Paradise — according to his Instagram, they even watched the show together — but Sarah made an Instagram post of her own making it pretty clear that they're just friends. Plus, Daniel's also been hanging out with other Bachelor Nation buds, like Nick Viall and Bachelorette contestant Jon Hamilton.
Teaching?
OK I'm not convinced Daniel actually taught a math class, but I also wouldn't put it past him. Of course, given his ability to keep a straight face even when saying ridiculous things, it would certainly make for an entertaining class.
So, Daniel may leave Bachelor in Paradise without a real romantic connection, which is a bummer for those of us who just wanted this Canadian eagle to find love. But if he doesn't find someone in Mexico, I will be leading the campaign for him and Nick to lead an entire season of a double Bachelor. Cool? Cool.
Images: Rick Rowell/ABC