Daniel Has Some Interesting 'BIP' Tattoos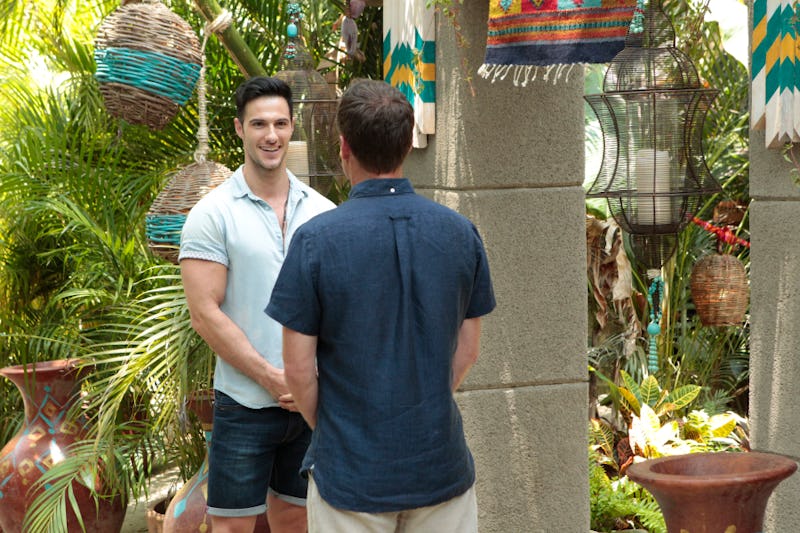 Daniel is far and away the strangest character to come about in Bachelor Nation in the past few seasons (even more strange than Ashley). He's Canadian and loves to talk about the fact that he's Canadian, but he also loves to wax poetic on everything from the "pigeons" on Bachelor In Paradise and why it's good to have sex with virgins to whether to bring silverware to Paradise and teaching the twins what the continents are. Daniel has words to spare. He also has a few interesting tattoos, and luckily (maybe, I'm not sure), Daniel showed off those butt tattoos during Bachelor in Paradise.
Apparently, he has a different tattoo on each of his butt cheeks. Butt tattoos can be questionable in general (do we remember the butt tattoos on Vanderpump Rules ? Because those were bad), and Daniel took them to a new level. He even wore a Speedo swimsuit to show them off. One is a smiling banana wearing sunglasses, and the other is a rabbit (or a kangaroo, according to one contestant) smoking a pipe. One piece of ink for each butt cheek. I don't even want to think about what could be underneath the Speedo. Are these tats real, though? They look pretty vibrant and a little like temporary ones, to be honest. But, I also wouldn't put it past him for them to be real. Unfortunately jury's out on this one for now until he tweets about it or something.
Do I think it would be strange for Daniel to have these? Not at all. He's the most colorful character on Bachelor In Paradise, and he definitely adds a much-needed dose of comedic relief to the show. The producers have barely had to do the "contestant talking to animals" edit because Daniel just talks to himself or the twins and that's enough. Ashley Salter, eat your heart out! Or many just a pomegranate.
Daniel has quite the sense of humor, and I'm sad that he sent Sarah Herron home. She seemed to be the only one who spoke his kooky language, and I'm sure she would have loved him for him, questionable ink and all.
Images: Rick Rowell/ABC