A Letter From Gene Wilder Shows His True Character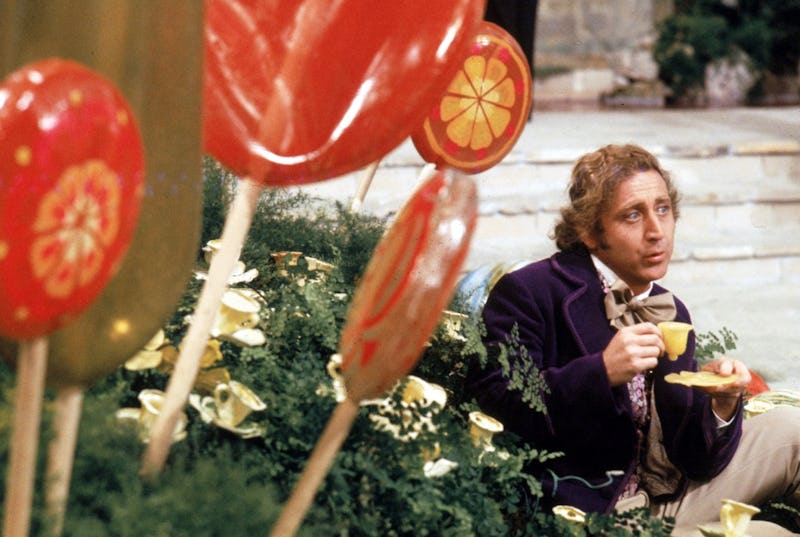 The late great screen comedian Gene Wilder, who passed away this Monday at the age of 83, crafted an impressive number of iconic roles over the course of his storied career. There's panicky accountant Leo Bloom in The Producers, boozy gunslinger The Waco Kid in Blazing Saddles, and the eccentric Dr. Frankenstein in Young Frankenstein. But the character he'll always be best known for is undoubtedly the enigmatic chocolatier Willy Wonka. From the factory owner's unforgettable entrance to his ditty about the wonders of imagination, Wilder's performance in 1971's Willy Wonka And The Chocolate Factory is the stuff of cinema legend. And a letter Gene Wilder wrote to Willy Wonka director Mel Stuart reveals just how involved the actor was in the crafting of the character — not just in front of the camera, but behind the scenes as well.
Wilder penned the note on July 23, 1970, as production was about to commence on the soon-to-be-classic children's movie. In it, the actor critiques the costume designer's sketch of Willy Wonka, offering his own opinion on what the designer should change and how the character should ultimately look:
Dear Mel
I've just received the costume sketches. I'll tell you everything I think, without censoring, and you take from my opinion what you like.
I assume that the designer took his impressions from the book and didn't know, naturally, who would be playing Willy. And I think, for a character in general, they're lovely sketches.
I love the main thing — the velvet jacket — and I mean to show by my sketch the exact same color. But I've added two large pockets to take away from the svelt, feminine line. (Also in case of a few props.)
I also think the vest is both appropriate and lovely.
And I love the same white, flowing shirt and the white gloves. Also the lighter colored inner silk lining of the jacket.
What I don't like is the precise pin pointing in place and time as this costume does.
I don't think of Willy as an eccentric who holds on to his 1912 Dandy's Sunday suit and wears it in 1970, but rather as just an eccentric — where there's no telling what he'll do or where he ever found his get-up — except that it strangely fits him: Part of this world, part of another. A vain man who knows colors that suit him, yet, with all the oddity, has strangely good taste. Something mysterious, yet undefined.
I'm not a ballet master who skips along with little mincy steps. So, as you see, I've suggested ditching the Robert Helpmann trousers. Jodhpurs to me belong more to the dancing master. But once elegant now almost baggy trousers — baggy through preoccupation with more important things — is character.
Slime green trousers are icky. But sand colored trousers are just as unobtrusive for your camera, but tasteful.
The hat is terrific, but making it 2 inches shorter would make it more special.
Also a light blue felt hat-band to match with the same light blue fluffy bow tie shows a man who knows how to compliment his blue eyes.
To match the shoes with the jacket is fey. To match the shoes with the hat is taste.
Hope all is well. Talk to you soon.
All my best,
Gene
As you can see, Wilder got many of his requests fulfilled, including the sand-colored trousers and the tasteful matching of the hat and shoes. Coming from someone else, such a long list of criticisms might have come across as harsh or — at the very least — presumptuous. (Remember, Willy Wonka was only Wilder's fifth feature film following a bit part in Bonnie And Clyde, his star-making turn in The Producers, and two now-obscure comedies.) But Wilder's passion for the film comes across in every word of his letter. It's clear he understood the character and wanted to create the best possible version of Willy Wonka in order to withstand the test of time. Mission accomplished, I'd say.
The specificity of Wilder's vision is exactly what made him such an iconic actor. He didn't just memorize his lines and come up with a few quirky ideas for his performance; he knew the character inside-out. They say that comedy is all about timing. But Wilder this letter makes it clear that Wilder brought that sense of masterful precision to every aspect of his work — not just for landing punchlines, but for creating a memorable character from the ground up… including his clothes.
That's precisely why, according to The Hollywood Reporter critic Daniel Fienberg, "Most comic actors can go a career searching for a single iconic role. Gene Wilder had somewhere in the neighborhood of 10."
Images: Paramount Pictures (2)