Remember Gene Wilder With 'Young Frankenstein'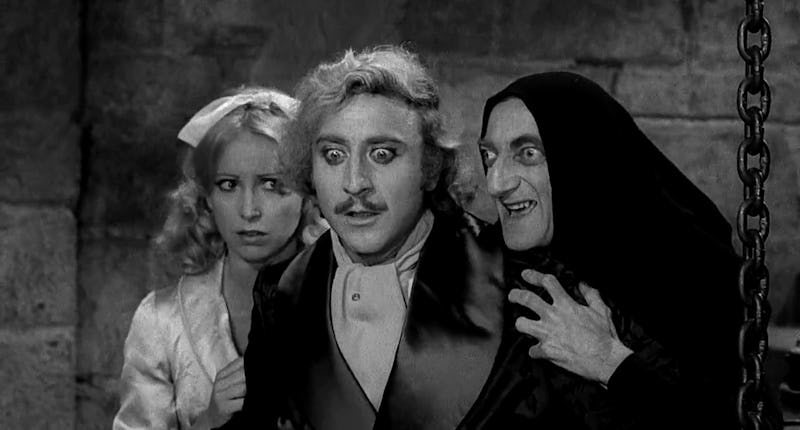 It's a sad day in Hollywood today. Comedic great Gene Wilder has died, according to the AP. As fans come out to mourn this legendary actor, shocked and sad tributes have begun to appear all around the internet. But the one thing I can't stop myself from thinking about is what an amazing talent the world has lost today. For many of us, Gene Wilder was a wild talent, one whose roles in films and television defined our childhoods. Most of us remember Wilder as Willy Wonka, but the movie that I loved and grew up watching of his had nothing to do with a chocolate factory. Instead it had everything to do with Wilder's amazing wit and comedic timing. I mean, Gene Wilder as Willy Wonka is definitely an iconic role, but, for me, it was Wilder's performance in Young Frankenstein that is the one that I think of first on a sad day like today.
And that might have something to do with the fact that Young Frankenstein was a staple in my house growing up. Long before I got the jokes and the innuendo, my cousins and I would watch that movie on repeat. At every family function, at every Sunday dinner, we watched Gene Wilder spoof Frankenstein with his amazing physical comedy and commitment. Really there is no role of Wilder's quite like his role as Dr. Victor Frankenstein.
For me, that is where I first fell in love with Gene Wilder, and it didn't take a chocolate factory for me to do it. If anything, Young Frankenstein is the opposite of Willy Wonka. There aren't any bright lights or sweet treats. It's a dark comedy shot in black and white, and against that classic backdrop, Gene Wilder absolutely shines. Just look at his amazing sense of comedic timing and physical comedy in this scene.
The world has definitely lost an enormous talent today, one whose work defined so many of our lives. Gene Wilder was not the kind of actor who did anything half-heartedly, and his long list of iconic roles proves that. But perhaps the role that proves it most is this one in Young Frankenstein. It's one of his best, if you ask me, and one of the films that I will definitely remember him by.
Now excuse me while I go watch this classic on repeat. I can't think of a better way to pay homage to this incredible actor.
Image: 20th Century Fox