12 Reasons Nick Is 'Bachelor' Material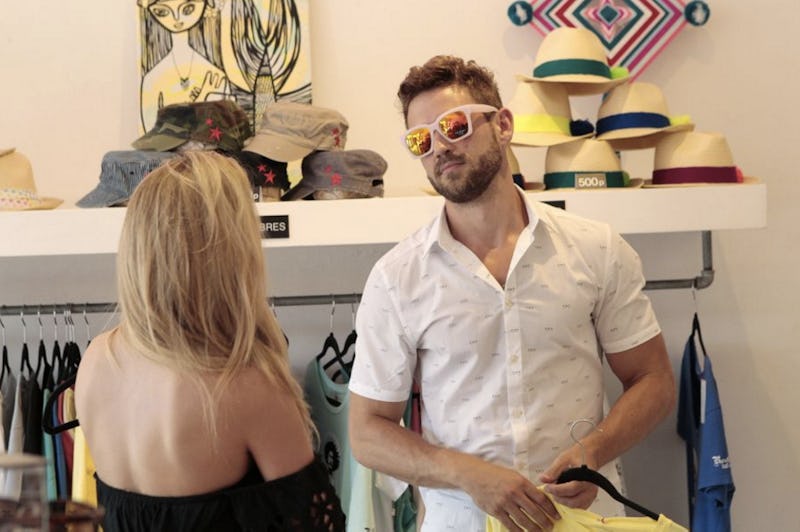 To put it mildly, Nick Viall has been through a lot in front of the reality TV cameras — but I don't think he should throw in the towel just yet. He should take things a step further and become the next Bachelor. I'm not the only one who has been feeling this way lately. Nick Viall was The Bachelor material all along.
Every member of Bachelor Nation is very aware that he almost proposed to women, but got dumped twice on The Bachelorette. And if you've been watching Bachelor in Paradise, you know that Nick got involved in (another) love triangle with Josh Murray. This poor dude has been through so much on TV. It's about time for him to find some success in love.
Nick was villainized by some fans and the other guys on the shows during his time on The Bachelorette and now people are really pulling for him while his fate seems unclear on Bachelor in Paradise. Don't get me wrong, I'm pretty pumped that so many people are pulling for Nick to land the lead role on The Bachelor these days, but I just feel bad that it's taken this long for Bachelor Nation to feel this way. He has been Bachelor material the entire time — for many reasons.
1. He Is Serious About Finding Love
Nick has always been all in when it comes to opening himself up to the possibility of finding love. He would be the perfect person to take on the journey of staring in The Bachelor.
2. He Says What We Are All Thinking
A lot of these dudes try to look good on TV and say what makes them look good on TV, but Nick is always keeping it one hundred. That's what we need in a Bachelor.
3. He Will Understand What The Contestants Go Through
Nick went through every episode on two seasons on The Bachelorette, so he'll know exactly how to communicate with the women and make them feel comfortable throughout the process.
4. He Is Someone Who Fans Are Invested In
Bachelor/ette fans have been watching Nick on TV for years, so it makes sense for him to finish out his journey as a reality TV star with a happy love story of his own.
5. He Has Been Controversial
Nick was hated on during his first two seasons and honestly it just makes him more interesting. I feel like more people want to see how Nick will handle being the Bachelor over the rest of the contenders for the job.
6. He Deserves To Find Love
Nick has been shot down by women in a very public way. He has to be building up some karma to end up with a happy relationship of his own soon, right?
7. He Has A Way With The Ladies
Nick is a charming guy. Just ask Andi Dorfman, Kaitlyn Bristowe, or anyone else who has been graced with his presence. He would not be a boring bachelor. This guy would make moves and have the ladies swooning.
8. He's Easy On The Eyes
Just look at Nick. Plenty of people will be tuning into The Bachelor just to check him out... and I'm sure the contestants wouldn't mind staring at him in person.
9. He's Not Perfect
We do not need another goody two shoes Bachelor. We need to watch someone who is realistic, flawed, and relatable, and Nick truly fits the bill.
10. He's In His Thirties
A lot of the people on The Bachelor and The Bachelorette recently have been in their early twenties, which seems kind of early to throw in the towel with dating and commit to finding a spouse on a reality TV show. Nick has a had a good amount of life experience that will allow him to make good choices when it comes to picking a partner.
11. He Makes Good TV
There is never a boring moment when Nick is on screen. Aside from providing some great eye candy, he is intelligent, hilarious, and genuine.
12. He Is More Exciting Than The Other Obvious Options
We've all heard the buzz about Luke Pell and Chase McNary being considered to take on the leading role on The Bachelor , but they are just way too nice and normal. They are not as outgoing as Nick is. He would be way more entertaining to watch.
Let's step away from the trend of picking the Bachelor based on the previous Bachelorette season. Let's give the fans what they really want and let's hope that Nick is able to (finally) find the woman of his dreams.
Images: ABC/Rick Rowell; Giphy (4); bacheloretteabc/Tumblr (1)