Nick Viall Has So Much 'Bachelor' Potential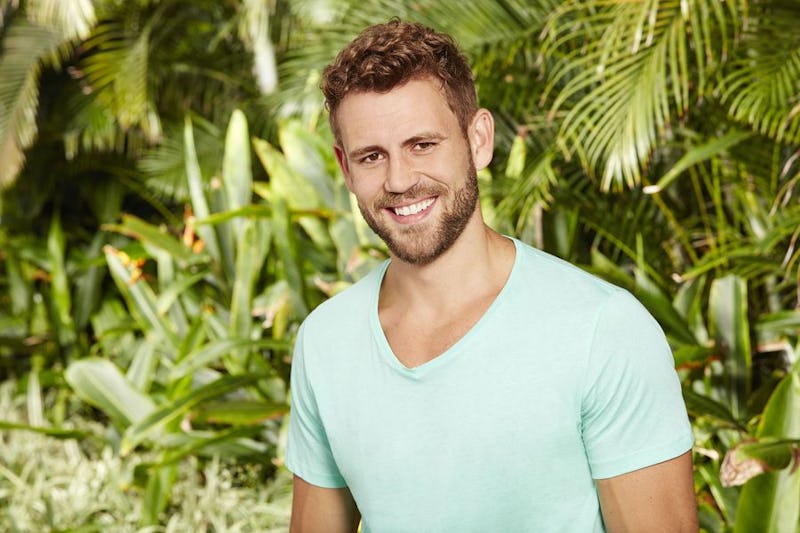 OK, I know most of us in Bachelor Nation are still wholly focused on Bachelor in Paradise — and that's totally understandable since Ashley I. brought her unique brand of drama to Puerto Vallarta — but we also need to talk about something serious: Who the next Bachelor should be. As JoJo Fletcher's season of The Bachelorette wrapped up, there were plenty of favorites, including Luke Pell and Robby Hayes, but what if ABC breaks from tradition just a little bit. For instance, will Nick Viall be the next Bachelor? People certainly seem to want him, as evidenced by the Change.org petition to get Nick to be Bachelor.
Typically, at least for a number of seasons now, the next Bachelor is chosen from the top contestants of the previous Bachelorette season (likewise for the Bachelorette). Technically, Nick has had two previous chances to be chosen for The Bachelor, first when he came in second on Andi Dorfman's season of The Bachelorette, then again when he came in second on Kaitlyn Bristowe's season. However, Nick was, arguably, portrayed as the villain of each of his previous Bachelorette seasons, so producers may not have wanted to choose him for fear that he wouldn't be embraced by Bachelor Nation (although I'm just speculating here, contestants who get the "villain edit" don't tend to be in the running for the next season's lead). But, I'm here today to tell you, I think Nick has officially turned his Bachelor narrative around — with a lot of help from Bachelor in Paradise.
Let's look at the way Nick has been portrayed in Season 3 of the Bachelor franchise spinoff because, if I'm being completely honest, I think Bachelor in Paradise has been setting up Nick as the next Bachelor since day one. Seriously, as someone who hasn't quite liked Nick in the past (which is my nice way of saying I downright hated him during Kaitlyn's season), I was won over during the Season 3 premiere thanks to his running commentary on the situation, especially about Hurricane Chad.
We know Nick is ready for a relationship, as he's proven by returning to the franchise for Bachelor in Paradise. Plus, in the love triangle narrative between Nick, Amanda, and Josh, Nick has been portrayed by the show as the wounded party. He and Amanda were exploring their connection when Josh swooped in and "stole" (air quotes because you can't actually steal a person) her from Nick. But, even as Bachelor in Paradise has tried to make Nick look like the victim in the situation, he has said in his confessional interviews that he just hopes Amanda is happy. So, while he's taking the high road, Josh looks more like a villain.
All that said, though, the biggest argument for why Nick should or will be the Bachelor came in episode 5 when he was talking to Ashley I. about her focus on Jared. He was straight with her (in a way that, let's be honest, it seems like Jared never has been) when he said, "This isn't love. It's infatuation, it's an obsession," and, "You're not going to be with him, I'm sorry." This was one of the most genuine and honest interactions I've seen on Bachelor in Paradise and if Nick is going to bring this kind of honesty to a whole season of The Bachelor, then where can I sign up?
Of course, there is is a possibility Nick may not be eligible to be The Bachelor, considering last we've seen of him in Paradise he was hitting things off with Jen. Since the trailer for Season 3 showed Nick looking at engagement rings, he and Jen may find love and The Bachelor will need to look elsewhere for a leading man. However, if Nick and Jen don't work out, I hope the Bachelor producers give him a call because there's only so many times I can watch this guy get his heart broken on national television — and we've already exceeded that limit.
Images: Craig Sjodin/ABC